Dreamworks brings the exciting world of Dragon Adventures to Windows Phone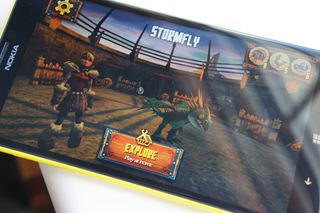 How to Train Your Dragon 2 is well underway in cinemas, but Windows Phone owners are now able to transform the real world into the fantasy realm they know and love from the films. DreamWorks Dragons Adventure is a new game that really lets the player immerse themselves in a world with dragons and there are some neat graphics and animations to boot. Previously available for the Lumia 2520, it's now out for Lumia Windows Phone owners.
The goal of the game is to essentially train your dragon, rescue captured dragons from the evil dragon Trappers (enough dragons for you yet?) and explore. There are multiple regions of the world to visit and play through, each sporting unique quests that need to be completed. Different terrain, objects, and weather brings the game alive and prevents it from becoming stale quickly. What's more is players are encouraged to leave the house and play while on the go.
It's a super cool concept and one we strongly recommend everyone check out, even if you're not a fan of the films. Unfortunately for those wielding hardware with 512MB of RAM, Dragons Adventure requires 1GB. Even with the more advanced Windows Phones we experienced some performance issues and some lengthy loading times. Beware!
Also, did we mention this game was a Windows exclusive title? It's also possible to use the companion app to start up quests and more. Overall, it's a really nice experience. The game supports the Lumia 2520, 1520, 1020, Icon, 928, 925 and the recently announced Lumia 930, as well as all Surface RT and Surface Pro tablets.
Thanks, Fazaaz, for the tip!
Rich Edmonds is Senior Editor of PC hardware at Windows Central, covering everything related to PC components and NAS. He's been involved in technology for more than a decade and knows a thing or two about the magic inside a PC chassis. You can follow him over on Twitter at @RichEdmonds.
Its a more or less complete revamp of the original buggy one that came pre-installed with the 2520. Hopefully they've worked out the annoying bugs

Soon enough you'll see a sh*tty comment from that M0TH3R FRAGILE dude. -_-

LOL yeah, I think he needs to be blocked, I'm getting tired of his craps.

Only 5 seconds later .. That escalated quickly :D

It's just not that hard to guess. LOL

No Xbox,no download. -_- Lol,jk.Just can't download it because of 512mb ram. xD

LOL!
BTW, I don't have much space left either. Both phone memory and SD memory are at its limit :/

Lol,I have space,just got bored of Asphalt 8,but 512mb ram is a curse ;_;

In that case, you should've gone for 525 assuming you're a core gamer (But I think it MIGHT have not been launched by the time you purchased the 620, right?)

At least Lumia still has some exclusives these days lol

Can't download. Lumia 920

920 isn't mentioned in article.

That part wasn't on the article at the time I commented, I think

I don't understand not being available for the 920.

Pete here from Microsoft. The game producer uses a 920 as his daily driver so we are right there with ya! We wanted to be sure we nailed the performance on the 920 first. It's looking good so you will see it soon.

Will be avaliable for lumia 1320? Since it has almost the same spects as 920. :)

Exclusive for Windows ??? That's welcome......:)

Can't play on my surface 2☹ don't want to play on my Lumia 1520. The screen is still too small for entertainment

No.....
No download, no play, no xbox, no 512Mb ram no fair, its just like racist...

Why are players encouraged to leave the house and play on the go? I didn't quite understand that bit.

Oh. Can't get it on my Surface 2 OR my Lumia 920?! I feel obsolete and they're both less than 2 years old! :(

The app description states that it is only available for select Nokia devices, so it is not available for Surface pro. I know not why it's not available for 920 but perhaps it's the age of this handset that excludes it.

Unfortunately, they still don't have Rise of Berk, which I prefer.

No 820? It is 1gb ram too

Technically the game supports all Windows Phone devices with at least 1 GB. Not only those listed there ...

Why it is compatible with L925 and not with L920 is beyond me. They had melted the plastic faster than aluminium while playing this game :) ?

I have it a full movie saved to sd card

Its not letting me download on my 1320... (UK)

It's not available for Nokia Lumia 820, 920, 1320, 638 & 525 even though they have 1 GB RAM.

Must need cyan as it tells me not available for my device or region.

cant dowload,why???lumia 525

Only Lumia 2520??! Why the hell can't I download this to my Windows computer?!?

Maybe Nokia paid them to make this games? That's why it is Lumia exclusive, stop whining.

Who owns Nokia devices nowadays and produces their own range of slates this could work on?

doenst work on my surface pro

And to address some other comments, the game works on all Surface devices. http://apps.microsoft.com/windows/en-tt/app/dreamworks-dragons-adventure...

Freaking poor my lumia 820 >:((

Why the hell Nokia Lumia 1320 is not supported...it is better than 925 & 928.....add support.....or remove this shit

The closest thing to Panzer Dragoon on a mobile device and my 920 gets no love :(

Exclusive for Windows and yet most WP users won't be able to play it, sigh...

Says its not available for surface rt.

Its not available for 525!!

I have to admit to feeling a little awkward being a grown man and having them ask for my parents email to unlock a character. Am I too old for this game? :)

Looks good but lags ugly even on a lumia 1520 with 8.1 DP

How the hell did they ditch 920 -_-

I hope and pray it will be available on our 920

Let us know if it becomes available on more models. I'm keen to play it on my 920.

Lags hugely on my 1520. Threw it off.

Why not available for lumia 1320
Windows Central Newsletter
Get the best of Windows Central in in your inbox, every day!
Thank you for signing up to Windows Central. You will receive a verification email shortly.
There was a problem. Please refresh the page and try again.