First look at DuckTales Remastered for Windows & Windows Phone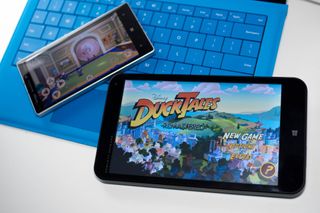 We'll have a full review for DuckTales Remastered soon, but we figure you need to see some gameplay now especially since it costs $9.99 without a trial. This action/adventure game brings Scrooge McDuck to an epic adventure across the world to discover the five Legendary Treasures. This game retains the authenticity of its 8-bit predecessor and features an expanded story with all new, improved graphics. Want to see it in action? Watch our first gameplay video.
DuckTales Remastered is a classic side-scrolling platformer game. You explore different worlds, collect gems, attack enemies, and defeat villains in boss fights.
Help Scrooge McDuck explore the Himalayas, Amazon, Transylvania, African mines, and the Moon. Each world has different environments, enemies, and bosses. The controls are very easy. There are two action buttons on the right with the directional pad on the left. Tap the jump button to hop over gaps or get on higher ground. While in the air, you can tap or hold the pogo button to make Scrooge jump with his pogo stick.
You can jump on enemies with the pogo stick to jump even higher. Many levels also have some type of rope to climb on. This requires you to tap the up button on the D-pad whenever you're near one.
Playing on easy mode gives you a map, which you can access while pausing a game. It shows you where you are, where you've been, and any points of interests. The map definitely makes it easier to finish a level.
We think a lot of people are going to like this game, but we've experienced a couple of crashes on our Lumia 930 while playing DuckTales Remastered. Our progress was not saved either. We hope an update fixes that soon because $9.99 for a mobile game isn't cheap.
DuckTales Remastered is buy once, buy everywhere, so it works on both Windows and Windows Phone. It's a fun game for your phone or tablet, but the couple of crashes we've experienced prevent us from recommending it for download right away. Perhaps wait for an update. Stay tuned a full review.
This 1gb ram phone has disturbed me.

How does it play on the 830?

looks...ummm expensive!!!

This should of been remastered on PC and Xbox first. I believe there is one on PC and the 360 already but still this shouldn't be $10 on phones, its a port

using that mentality, non of the console versions should cost msrp. it's the same game, and it costs less than the console variants.


It was over 20 euro on steam, when the pc edition first was released. 9.99 is absolutely a fair price for this game, it isn't some freemium crap, but a real fullfledged game. I rather pay a normal price for a good game than all those mobile games that get you hooked and then make you pay to win! Mobile games 9 out of 10 are a shitload of crap anyway! Posted via the Windows Central App for Android

515 ₹ ?? Really Disney ?? Gameloft provide their best games for free (most of) but you cant.

₹515 for a classic game based on a classic cartoon series that's been completely remastered. That's more than fair. If you want to play you have to pay. Not everything is free.

Yeah but those games are completely filled with in-app-purchases. Ducktales is an actual game, not just a crappy "free" to play.

Exactly. It's funny how people fail to see most of Gameloft's so-called "Free games" are the most expensive games. Of course, that's a different story if you download a game but never finish it.

But gameloft doesn't provide that good graphics for windows phones, they least care about it, try comparing the graphics with the same hardware, you will find more good graphics on android phones and a Lil less buggier than windows, you will know the difference try it by yourself, only dead trigger 2 has the top notch graphics and its same on every platform. Gameloft just cares about IOS.

And micros transactions is the only alternative.... So $9.99 is a deal

Haha.....i think Microsoft threw in the towel....(**grabs popcorn**)

I am 90% sure this week release windows 10. If Microsoft again launch a video this week I am sure windows 10 not release this week.
previously Microsoft say windows 10 released in march last. When march last is coming Microsoft post in blog many devices will get windows 10 this preview to public wait patiently. after a week mean previous week Microsoft release a video to public impressed the video and wait a week more. And now this week I don't know what Microsoft do.

I applaud them for making a paid game, but since I hate virtual controllers it's not for me. A trial would be nice anyway.

Does it support Xbox gamepad on Windows 8?

Yes, it supports Xbox controller on Windows 8.1, and I have to say - it's only way to properly enjoy this game.

so does game save work on both?

It's tough to shell out $10 without being able to try it and see how the controls work and how it runs on your device.

i wish theyed encorporate xbox one/360 controller for tablets/pcs. i hate onscreen buttons.

I've been using a 360 controller on my Windows tablets/PCs for years.

Yea, it works on Windows.

I could never find it in the app store on my PC though

The link is in the article.
http://apps.microsoft.com/windows/en-us/app/ducktales-remastered/7643fa29-cc92-4a27-a3e2-620ac27acfd5

How long is the gameplay? For $10 it better be longer then a hour!

3.5 to 6.5 hours on HWTB site, main story to completionist respectively.
I have it on the PS3 and played it for 5 to 6 hours. Well worth the money especially if you've played and enjoyed the original back in the day. I'm not a fan of touch screen gaming so a controller is a must.

What's the difference between this version and the one that's been available on Steam for a year and a half now? Just touchscreen controls?

Should be the same as the version released on Steam and Xbox Live Arcade. Just ported to be a Windows universal app

I like the universal purchase system, at this price it makes it worthwhile, if it didn't have cross platform access I'd have thought twice about buying it.

The game runs well on my Surface Pro 2. I used an Xbox One controller and it handled great. Haven't tried it yet on the Surface 2. I don't expect my Surface RT to handle it well. I also tried it on my Lumia Icon and I thought the performance was bad. Too many times the framerate would drop so it would stutter. Also, the touch controls are barely passable. I guess if you're used to touch controls with these platformers, they'd be okay but it takes patience. On easy or normal, these controls are okay. But at typical difficulty, it's hard to do multiple things at once with touch.

strange, I have had a near perfect experience on my Lumia 920. no stuttering, just takes a moment after a screen fade for the loading animation to pop up sometimes. No issue with touch controls, and i hate touch controls, much rather use a dpad anyday, but touch is useable. Now if I had cloud based saves (using one drive even, I'd be happy.

this Remastered version makes me puke, but a new game is a new game and it's good it came to both, Windows Phone and WIndows desktop/tablet

You must be trolling. :-\

Do the gameplay stats sync across devices?

$9.99 for a mobile game is not cheap. $9.99 for a mobile game without achievements..? Unacceptable. Even GTA San Andreas cost me less (no achievements but one of the best games in history)

I bought it on xbox. I deserve a free download. Throw moga support on the game and I'm in...

Yeah... 10 bucks for a crashing game os right up there in my wish list, NOT!!

progress saves at the end of a completed stage, not before or during and no cross platform saving :( I have 2 different games going on with my phone and surface pro 2.

9.99!?! Are you serious??

Game hay mà đắt vãi . Tận 10$ ( 200.000 ₫ ) @@

I suppose ill need to wait since it isn't in the Windows Store Beta for W10TP. Looks fun, but those bugs are not minor bugs.

.. Trail? Wont buy it else

Hate the 2.5D graphics ... Release a full 2D version and I will gladly pay $10

lolz, no way at that price. It'll be a few bucks/squids on Steam soon enough.

My review https://m.youtube.com/watch?v=dbI-A3oXgho

Hey Windows Central, I've got a great news story for you. Windows Phone users still tight arses. Has a nice ring to it.

How times have changed. When this was a new game for the NES people were paying about $40 for a copy, which would be over $70 today. Now people bitch about paying $10 for a remastered version that improves upon the original. It's either this or a miserable ad-heavy freemium experience that strips all the fun out of the game.

I found it to be laggy in my Lumia 930. At least I actually can save all my progress with no problem

Once again i would like to thank Lumia engineering team for releasing Lumia 630 with only 512MB RAM and many less costlier lumias with 1GB RAM later on. *Sigh* Go bang your head on a wall once in a while, or just use that hollow shell to store something else.
Windows Central Newsletter
Thank you for signing up to Windows Central. You will receive a verification email shortly.
There was a problem. Please refresh the page and try again.