Dynamic Lock aims to keep your PC secure by locking your device when you're no longer present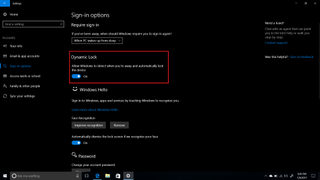 If you're a fan of Windows Hello but dislike how there's no option for it to automatically lock your PC when it detects you as no longer present, we have some good news for you. The latest Insider Preview builds of the Windows 10 Creators Update include a feature called Dynamic Lock, which will attempt to detect when you are no longer present in front of your PC, and lock the device for extra security.
Now although this feature is referred to as Dynamic Lock in build 15002, we're told that internally it was referred to as Windows Goodbye, a fitting name if you think about it. Instead of logging you in, it locks you out for extra security. This will be super beneficial for those in enterprise, who may have sensitive info on a machine that they are frequently having to step away from. In case you forget to manually lock your device, Windows will be able to do it for you with Dynamic Lock.
We're not exactly sure what Windows will look for to determine if you're no longer present at your device as Microsoft is yet to document this feature. It could simply be a rebranded version of "after 15 minutes of inactivity, lock my device", or it could be a much more 'dynamic' feature, utilizing Windows Hello enabled equipment, proximity sensors and more to detect if a user is present and determine how long they've been away for.
Updated: Looks like this feature works when paired to a mobile device via Bluetooth. Walk away from your PC with your phone, and your device will lock. Pretty neat!
It's pretty safe to say that Dynamic Lock won't lock your PC immediately after you've stepped away, so it shouldn't become an annoyance if you're someone who is constantly stepping back and forth from their device.
Also in the realm of Windows Hello improvements, the Hello set-up experience has been jazzed up slightly, with a more detailed camera preview when setting up facial recognition. There's plenty more features and changes showing up in the latest Windows 10 Insider Preview builds, so make sure you stay tuned at Windows Central for more.
Get the Windows Central Newsletter
All the latest news, reviews, and guides for Windows and Xbox diehards.