Dynamic Theme is a must-have Windows app for your Lock Screen and background photos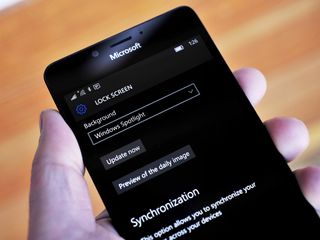 Microsoft's Windows 10 and Mobile OS offer users lots of ways to customize the Lock and Start screen, but all is not perfect.
One area of contention amongst users is Windows Spotlight, which sets a curated image as your daily lockscreen. The feature is fantastic. Nonetheless, it is not available on Windows 10 Mobile and users cannot directly save those images for later use.
Dynamic Theme is a new app built for Windows 10 and Mobile, and it solves these problems.
What it is
Dynamic Theme is a free app for phone or PC. It UI design heavily mimics the Windows 10 system settings layout making it feel quite native.
What the app does is pull the daily Bing and Spotlight images to your device. You can then set those as your lockscreen or background. You can even have the app save those images to your device with ease for later usage.
Why it's cool
The app just works. It's simple and straightforward.
To use, just select Background for options to set an image for the Start screen on phone or PC. Choose amongst System Settings, Photo, Bing, Windows Spotlight, One Bing image, One Windows Spotlight image or Slideshow.
Do the same for Lock screen and decide whether you want those choices local or to sync to your other Windows 10 devices.
Not sure what the daily Bing or Windows Spotlight image looks like? Just hit the preview button.
Under the submenus for Daily Windows Bing and Spotlight images, you can enable notifications for when a new photo is released including a particular time and set it on the Live Tile for Dynamic Theme.
You can also optionally have the app auto-save either the Bing or Windows Spotlight images to re-use later.
Why get it?
The app is free and ad-free and very well designed. It fills a hole in functionality left by Microsoft and does it well. The options are robust, and the app does what it says it does.
There is nothing not to like about this app.
If you like Bing or the Windows Spotlight images get it now on your phone or PC. It's an outstanding addition to the Windows Store and it should be in your app collection too.
Download Dynamic Theme for Windows 10 and Mobile (opens in new tab)
Daniel Rubino is the Executive Editor of Windows Central, head reviewer, podcast co-host, and analyst. He has been covering Microsoft here since 2007, back when this site was called WMExperts (and later Windows Phone Central). His interests include Windows, Microsoft Surface, laptops, next-gen computing, and arguing with people on the internet.
Needs Glance screen support! ~~~~~~~~~~~~~~~~~~~~~~~~~~~~~
ROJO > ARLINGTON, TX > LUMIA 1520 ≥ 950... WAITING FOR 6.2" SURFACE PHONE

Dev looking for a job at MS? This looking built in is no joke.

No kidding. I had to double check that I wasn't in settings. Good job dev!

Per usual, your logic is flawed. It doesn't matter what you're 'Pretty sure" of when facts dictate otherwise, or you have absolutely nothing to back up your claim. Go troll elsewhere.

Yeah, you make 0 sense buddy. Back up your claim with anything at all. You can't.

I do hope you are a teenager Kevin, and not an "adult". You have zero logic as Axmantim says, for example "But your lack of a constructive reply only adds weight to my comment​" so one person flaming you, supports your theory about Microsoft? How is that even a logical thing to say. I'm really giving consideration to the fact you might be on some medication, as you really are posting irrational stuff.

Lol what did you just write?

What is your boy above talking about? ~~~~~~~~~~~~~~~~~~~~~~~~~~~~~
ROJO > ARLINGTON, TX > LUMIA 1520 ≥ 950... WAITING FOR 6.2" SURFACE PHONE

Same opinion here. Had to double check. Unbelievable.

Is this app better than brilli wallpaper changer

I prefer my startscreen app

I found this app to not make any sense to me. Spotbright is simple and works great. +640/Win10

Wow :) Nice. This an SpotBright

Good tool. I purchased SpotBright too. Both devs did a very good job.

Awesome needed something like this.

Can get to work on my phone :/ Edit: It worked :)

Yeah I thought this was Windows 10 settings

Excellent app, you really think is part of the os.

Good...but iam already using it..without an app

Can't use folders if they aren't in the Pictures library.

Been using this app for a while. It's really good and would recommend it.

Yes.. I installed it today.. Excellent app. At first I thought it is under phone settings.
Sent from Lumia 535DS

Seems very good app, I dont need this because I use one picture for long time as Lockscreen. Usually changing it when feeling like that.

Lockmix suits me, I keep the same picture for weeks/months at a time, but enjoy having all the extra things on the lockscreen that Lockmix allows.

Funny that a single guy makes a better work than the whole Windows team. This app is just pefect. It even work with the Glance screen. :)

What? How do you know that he's not in a relationship?

It's obvious, just go to the contact settings... ;)

Isn't it about time MS updated it's file explorer for mobile with some new features, and an updated look that mimics W10's file explorer??
......
That's what I liked about WinMo5/6... At the very least it at least attempted to look, and act, like WXP/7... I still think WM10 needs a slightly more PC experience.. Downloadable Themes, more downloadable customization like music plugins, and skins.. Give developers a way to have fun with the OS, and maybe they will be more excited with it.. It kinda worked for WinMo... Just saying.

What next a man in a motor cycle helmet playing ZZ top on a Warlock? You just want everything at once?

I do! Guilty..
.....
On a side note... You said Windows Mobile, and everything at once, in the same paragraph... That's like mixing nitro G. With plutonium... ~~~~~~~~~~~~~~~~~~~~~~~~~~~~~
ROJO > ARLINGTON, TX > LUMIA 1520 ≥ 950... WAITING FOR 6.2" SURFACE PHONE

It probably wouldn't make sense for them to make the File Explorer on the phone look like the Win32 File Explorer on PC given that they're already working on a UWP File Explorer for PC. I'm guessing that that app will end being the one for both PC and phone.

The Native Bing locksceen setting on my 950 stopped working with the last update to the preview build. It now just always shows the windows 10 hero image. Hope this solves the issue. I like having a new image a day.

need ability to set background on core apps too

Allow pinning of gif images on start screen as LIVE tile.

You want your battery to last 6 hours?

Windows phones have awesome battery life. In addition, flipping live tiles is also animation. Does your battery die in 6 hours now?

Will this change automatically everyday?
Does the colour settings change to? Sent from Lumia 950

Yes man .....there are 5 options....15 minutes, 30 minutes, 1 hour, 6 hour nd 1 day...
Posted from my Nokia Lumia 730 Windows 10 Mobile

Btw no colour setting is there right now...

This is actually really awesome. Love it

Very nice app :) already downloaded and set up...very pleased with flexibility it provides...

A great app. Love it Posted from Windows Central for Windows 10

Now waiting for Subway surfers nd WhatsApp for W10M... Posted from my Nokia Lumia 730 Windows 10 Mobile

What about animated lockscreen API promised by Mr. JoeB ???

Is it just me but the pics I use that I took on my 950xl does not fit and is way too zoomed in. Also it I choose a folder to get the images from it uses something entirely different. So far nothing has worked about this app

Really nice app, but it suffers the same issue as other background apps in that when it changes the background image, it switches your Start screen style from Tile Picture to Full Screen Picture, and you have to switch it back manually. I'm assuming this is a bug in W10 Mobile, and I wonder if it's possible to fix it in the app, when it actually does the switch?

I'm confused, Bing still works on my lock screen. It's right in my settings. My lock screen changes every day.

This is very nice. I have the image set to SPAN because I have dual monitors at work. Just beautiful.
Windows Central Newsletter
Get the best of Windows Central in in your inbox, every day!
Thank you for signing up to Windows Central. You will receive a verification email shortly.
There was a problem. Please refresh the page and try again.