EA, Respawn working on three Star Wars games, including Jedi Fallen Order follow-up
A new game following the Jedi, as well as two other, very different adventures.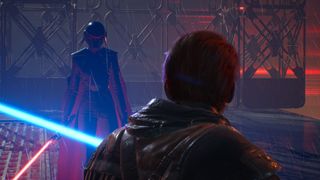 (Image credit: Windows Central)
What you need to know
EA is losing the exclusive license to Star Wars video games in 2023.
EA and Respawn Entertainment will continue to work on Star Wars games.
Respawn Entertainment is now developing three new games, including a Star Wars Jedi game.
Publisher Electronic Arts and developer Respawn Entertainment are partnering with Lucasfilm Games on three new Star Wars games, as shared on Tuesday. These games include a new Star Wars Jedi title, as well as a first-person shooter and a strategy game.
Respawn is developing the new Jedi game and the shooter in-house, while the team is partnering with developer Bit Reactor on the strategy game. Bit Reactor is a new team founded by veterans of Firaxis who have worked on the XCOM series. This "new phase" of EA and Respawn Entertainment's partnership with Lucasfilm Games is being overseen by Vince Zampella, founder of Respawn.
It's currently unclear if this new Jedi game will be a direct sequel to Respawn's prior effort, though it seems likely. Star Wars Jedi: Fallen Order launched in 2019 to critical acclaim and commercial success, reaching over 10 million players in the months following release.
"We are excited to continue working with the superbly talented developers at Respawn," said Douglas Reilly, VP of Lucasfilm Games. "They have demonstrated excellence in telling epic Star Wars stories along with best-in-class gameplay across different genres and we are looking forward to bringing more amazing experiences to the galaxy far, far away."
EA is losing the license to exclusively develop Star Wars games, as Lucasfilm Games seeks to partner with developers around the world. Ubisoft Massive is working on an open-world Star Wars game, while Quantic Dream's Star Wars: Eclipse was revealed at the Game Awards 2021.
Samuel Tolbert is a freelance writer covering gaming news, previews, reviews, interviews and different aspects of the gaming industry, specifically focusing on Xbox and PC gaming on Windows Central. You can find him on Twitter @SamuelTolbert.
I bet EA will make their best star wars game yet and don't perform any of that anti-gamer/consumer bs this time around now that the exclusivity clause is going bye bye ... Lol jk. It's EA. They're thinking, "let's try for 1 more cash grab while we can."
How can they push the limits this time? Child labor through the meta verse where kids are ACTUALLY mining bitcoin rocks to give the most immersive vr experience. And it's not slavery or against child labor laws because the children are paying them and not the other way around

Hmm, a STAR WARS FPS?
Dark Forces remade or continued?

A new Republic Commando or something like it would be awesome

I'm pretty excited to see what kind of crazy level design they are going to do in the FPS. Considering Titanfall 2 had the greatest level design in a shooter last gen, I have high hopes.

It sure seems like there will be too many SW games to play soon. What does this make 8 announced or rumored in the past year?

Here's hoping they revive the Boba Fett game Star Wars 1313. I remember seeing a short clip of the tech in that game before it got canceled and it looked great. Also, bounty hunters. Nuff said.

Give a listen/read to the book Blood Sweat and Pixels. It gives a great story behind that game and many others. Apparently what they showed was mostly just made for E3 if I remember right, like most demos there. Limited-time deal: Blood, Sweat, and Pixels: The Triumphant, Turbulent Stories Behind How Video Games Are Made https://smile.amazon.com/dp/0062651234/ref=cm_sw_r_apan_glt_i_dl_F0WCDSX...
Windows Central Newsletter
Thank you for signing up to Windows Central. You will receive a verification email shortly.
There was a problem. Please refresh the page and try again.