Star Wars Eclipse: Trailer, platforms, and everything you need to know
This will be the first Star Wars game set in the High Republic.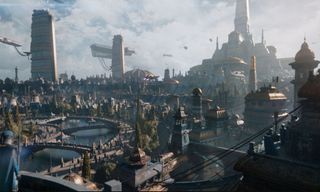 (Image credit: Lucasfilm Games)
Star Wars is a brand rife with possibility, but broadly speaking, ever since Disney bought it, it's mostly stayed in a very narrow part of the galaxy: the prequel, original, and sequel eras, spanning around 70 or so years. That changed with its High Republic initiative, taking place hundreds of years before the events of the films. Though it started off in books, the High Republic will soon be making its way to video games for the first time ever in Star Wars Eclipse.
Though it's still in early development and is at least a few years away before hitting store shelves, its reveal trailer gave us a glimpse at the worlds we can expect to explore. Lucasfilm Games also provided further insight as to what players will be doing when they finally get their hands on the game. Here's everything we know so far about Star Wars Eclipse.
Star Wars Eclipse: What is it?
Star Wars Eclipse is an action-adventure game set during the High Republic, featuring a branching narrative with multiple characters where your choices will determine the outcome of events. Eclipse boasts new species and environments that haven't been seen in the franchise before. Quantic Dream notes that each of the characters has their "own morality, personality, motivations, and impact upon each other and the story at large."
Star Wars Eclipse: Developed by Quantic Dream
While EA had exclusivity rights to Star Wars games in the past, that licensing agreement is set to end in 2023, making room for other developers to come in and hopefully create some of the best Xbox games. Lucasfilm Games has partnered with Quantic Dream to create Star Wars Eclipse, and that's news hasn't been met with the warmest of welcomes.
Quantic Dream founder and producer David Cage has been accused of harassing employees and creating a toxic work environment full of sexism, racism, and brutal crunch. These allegations were further detailed in 2018 reports from French publications Le Monde, Mediapart, and Canard PC. The studio allegedly even had a large collection of photoshopped images depicting employees in sexual situations or wearing Nazi uniforms.
Though Quantic Dream eventually won a libel suit against Le Monde on a technicality without actually disproving the allegations, Mediapart won its own libel suit against Quantic Dream, proving its report was made in "good faith."
The abuse and misconduct claims have continued to follow the studio in the years since the initial reports. As recent as 2021, a report from Solidaires Informatique alleges that during court hearings for the libel suits, Cage allegedly used a homophobic slur and made other sexist comments.
Star Wars Eclipse: Gameplay
The cinematic reveal trailer gave nothing away in terms of gameplay, understandably considering that the game is in early development. Reporter Tom Henderson believes that it will be open-world, but the studio is struggling on the development side due to its internal engine not being built to support open-world titles. Though the studio primarily made interactive adventures in the past, that Star Wars Eclipse is being billed as an "action-adventure" game indicates that it will have a greater focus on combat than previous games from Quantic Dream.
We also received a glimpse of space battles alongside lightsaber combat in the reveal trailer, so players might be able to expect both types of combat in the game, though Quantic Dream has not stated whether players are taking on the roles of Jedi.
If you want a barometer for what the graphics will look like, you can turn towards Detroit: Become Human, Quantic's most recent game that launched in 2018. There's no doubt that graphical capabilities will have improved by the time Star Wars Eclipse releases (and have already improved since Detroit's release), but it shows that Quantic will likely aim for a hyper-realistic style.
Star Wars Eclipse: See the High Republic in a new light
The High Republic Era takes place from about 300 BBY to 82 BBY (Before the Battle of Yavin, when the first Death Star was destroyed in A New Hope). It's described as a golden age for the Jedi with the Galactic Republic at its height, a time of great exploration and expansion across the galaxy. Though conflict between the Jedi and Nihil arose in the Outer Rim, it was generally considered a time of peace.
It's unclear when exactly during the High Republic that Star Wars Eclipse takes place, but we do know that it will take place in an "uncharted section of the galaxy" in the Outer Rim. Players will be visiting several never-before-seen planets during their adventures.
Star Wars Eclipse: Story and characters
The only confirmed character in Star Wars Eclipse so far is Yoda, seen looking out of the Jedi Council Room on Coruscant. Other species that have been confirmed are Duros, Mon Calamari, Anomids, and Neimoidians. Players will follow several new characters, but these have yet to be revealed.
Its story remains a similar mystery, with Quantic Dream only saying it "lets you play as a diverse cast of charismatic characters, each with their own story, abilities, and role to play in the tapestry of events that could alter the carefully balanced peace of the Outer Rim."
Star Wars Eclipse: Release date and platforms
Lucasfilm Games specifically noted that Star Wars Eclipse is in the early stages of development, so we likely won't see it release for another few years, possibly by 2024 at the earliest. No platforms were announced during its reveal, so it's unclear whether it will end up as an exclusive (like the Star Wars: Knights of the Old Republic Remake) or whether it will be multiplatform across Xbox, PlayStation, and PC.
Whatever the case, given its apparent launch window, we'll likely only see it come to current-gen systems and skip out on the Xbox One and PS4. If you have an Xbox Series X, Series S, or PS5 you should be able to play it when the time comes.
Get the Windows Central Newsletter
All the latest news, reviews, and guides for Windows and Xbox diehards.
Jennifer Locke has been playing video games nearly her entire life, and is very happy Xbox is growing a stronger first-party portfolio. You can find her obsessing over Star Wars and other geeky things on Twitter @JenLocke95.