Ebay for Windows Phone gets small update, still no Windows Phone 8 features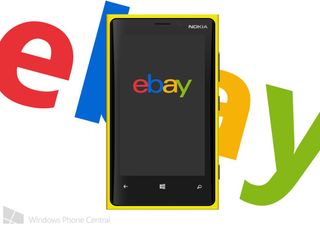 Broken record time, what makes all of us happy? App updates. And today we've got the official eBay app getting a small little update that fixes some minor things within the Windows Phone app for all users.
The most obvious thing you'll notice after updating eBay up to version 1.20.0.0 on your Windows Phone device will be the refreshed branding. Back in September of 2012 eBay introduced a new logo, dropping the one they had been using since 1995. Well it only took a few months for an app update that reflects the new logo.
Prior to today, the last time we had an app update for eBay was last mid-July, where it only got some bug fixes. Fast forward to today, we also have some 'bug fixes and improvements' mixed in with some updated EULAs.
Not exactly a ground breaking update, nor one that heavy eBay users deserve on Windows Phone. This app has none of the obvious Windows Phone 8 features. I'd be over the moon if it had lock screen support to show you auctions you're watching or double wide tile support.
C'mon eBay, bring your A-game.
You can download eBay for Windows Phone 7.X and 8 in the Windows Phone Store right here, use the QR codes below, or swipe right in our app.
Thanks for the tip Jon D!
Ebay people seem like they are Apple people

And they still haven't fixed the bug that bothers me... Unwatching an auction that has ended moves it up the screen rather than removing it. So annoying.

Rubbish app, but at least we can finally list an item now!

You could list an item prior to this update I thought?

Nope. Further more, Paypal wasn't supported. Both problems have been addressed so, credit to eBay. This update was a must. Its funny, I was only complaining to them last week on Twitter about the WP app. :D

Just searched wpcentral, there's an article from April last year saying they released an update to create auctions. Almost been in the app for 12 months..

eBay app for Windows Phone gains ability to create auction listings - http://www.wpcentral.com/ebay-app-windows-phone-gains-ability-create-auc...

How strange. Myself and my housemates couldn't create a listing or relist an item. :-/

I think there have been 2 versions of the eBay app, the one preinstalled on my lumia 800 wasn't the most upto date, and I downloaded the other and had 2 apps

We definitely deserve better from eBay.

Yea for all the money I spend on ebay, We def deserve a better app...

i want to be able to check shipping on my items ive purchased. if you can i dont see where too....?

One thing I hate is leaving reviews or sending messages, they don't have an input scope for the text box's so it doesn't auto correct anything, or auto capitalize words. Drives me nuts, constantly having to go back and correct mistakes manually

Yep, been there many times before.

So true. I know that feeling...

How does this app let me know there are updates before the Windows Store does?!

Just visit the Microsoft store and search for the eBay app. (Make sire its the official app by eBay, inc.) In the bottom left corner, it should prompt you to update.

Still no us only or north America only filters.

The one thing I want and as a developer I know it should take the lesser amount of half a day to develop, is when you pin an item your buying, selling or watching, display on the back tile the current price! Geez just make use of some of WP's features please.

The only thing this update improves is the fact it doesn't look out of date anymore so I can use it around non-WP users without the embarrassment that it still uses the old logo! Overall it's still severely lacking and takes no advantage of WP8 features. Poor.

I don't think I'll update it. Looks like some can't even get logged in now.

notifcations now work for me! all i needed!

now if only the app supported tracking a shipment in it rather than just telling me thiitem has shipped

Now if only the app supported tracking a shipment rather that just telling me that the item has shipped

I kind of wish it supported 720p displays (8X), It still shows black along the top when you run it :(

You still cant revise and item or add tracking to a sold item or see favorite sellers. Garbage!

Ok, now I know I still can't do something as simple as relist an item. eBay... oh eBay... why you no play nice. :(

Prefer auction app personally
http://auctionapp.co/2013/05/auctionapp-windows-phone-updated-to-1-1-0/



Why dont you check the latest eBay phone app for Windows – provide daily deals view. http://www.windowsphone.com/en-us/store/app/ebay-daily-deals/011d974b-95...
Windows Central Newsletter
Get the best of Windows Central in in your inbox, every day!
Thank you for signing up to Windows Central. You will receive a verification email shortly.
There was a problem. Please refresh the page and try again.