From the editor's desk: Different editor, different desk and getting ready for CES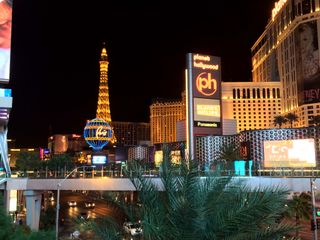 And so here we are, at the end of another eventful 12 months. Looking just in-house here at Mobile Nations, we've seen a number of big changes this past year. We brought in a dedicated newsroom team to get you the news you want, faster than ever, WPCentral re-branded to reflect a renewed focus on the entire Microsoft/Windows ecosystem, people came and people left.
That last one is particularly fresh in the memory. Our friend and colleague, Sam Sabri, departed his post here as Managing Editor to board the 'Mothership' and work for Microsoft. Life is full of new opportunities, new challenges, and that's exactly what stands before me as I attempt to replace Sam as the new Managing Editor in these parts.
Anyone not so familiar, a little background. I've worked at Mobile Nations since August 2011 in that time spending at least some time on each site in the network. Ultimately I'm a technology enthusiast and I make it my business to use as much as I possibly can. I believe knowing 'the enemy' can always make you stronger.
I'm excited to be taking on a new path in my own career, and I'm excited to be joining the Windows Central crew full time with such a great year in prospect. With Windows 10 and the collision course that Windows, Xbox and Windows Phone are on, there's going to be a ton of awesome content coming your way in the next 12 months. It's surely going to be one hell of a ride we're about to take together.
That ride begins for us, as it does so many others in the industry, with CES 2015 which begins in just a week. Daniel Rubino, Mark Guim and myself will be representing Windows Central out in Las Vegas, and we'll be there all week alongside a big team of our Mobile Nations colleagues. Once again we'll be doing CESLive, pairing up with the fine people from GeekBeat as well as this year being joined by Purch (better known as Tom's Guide, Laptop Mag and now AnandTech.) Last year was big. This year is bigger. If you're going to be at the show, we'll be set up once again by the entrance in South Hall, so make sure to swing by!
It's also a bit of a crapshoot when it comes to anything new with Windows. Microsoft doesn't do a lot at CES outside of meetings and smaller press briefings, and with the Windows 10 event in Redmond less than 3 weeks later, we wouldn't expect to hear anything big, either. Same goes for Windows Phone.
But, Windows devices will certainly be in Las Vegas. CES won't be short on laptops and tablets, and with the likes of Dell, Lenovo and ASUS on hand, we wouldn't be surprised to see some hot new Windows 8.1 products.
So, that's what's in store in the immediate future. We'll be descending on Las Vegas from Saturday, January 3. I'm excited for CES, but I'm more excited for the year ahead. We'll be continuing to ramp up on our coverage of Windows 8.1 into Windows 10 as well as Xbox. We've got a great team and I'm really happy to have become just a little part of it.
But before it all, from myself and the rest of the Windows Central team, may we wish you a very happy new year. See you in Las Vegas.
Windows Central Newsletter
Get the best of Windows Central in in your inbox, every day!
Managing Editor - Tech, Reviews
Richard Devine is a Managing Editor at Windows Central with over a decade of experience. A former Project Manager and long-term tech addict, he joined Mobile Nations in 2011 and has been found on Android Central and iMore as well as Windows Central. Currently, you'll find him steering the site's coverage of all manner of PC hardware and reviews. Find him on Mastodon at mstdn.social/@richdevine
Welcome Richard..!! We need someone who can shut the racists and off topic commenters once and for all..!!

Yeah! I loved Richard's posts! He is deserving! At least as far as it concerns me... I am really happy!
Congratulations! :)

REPRESENTING LINCOLNSHIRE. GET IN. OT: Seems Faster.

Congratulations Richard! :) make windows central truly Devine! :P all the best!
With love and support from India! :) :)

*With love and support from around the world..!!

Even your full name is Richard..?? Am I right or am I right..??

Meanwhile, in 'Murica, they're finally shouting "The British are coming! The British are coming!" ;D

Looking forward to your articles Richard!

Your phrasing looked odd straight from the beginning of your post and i immediately realised that we might have a new cat in the house, welcome to the world of whiners gentleman.

Welcome to the world of harsh first impressions gentleman. :D

Awesome year ahead, fasten your seatbelts everyone!

Congrats on the new job. Have seen you and some of your articles and feel you will do a great job. If there is ever anything we, as WC members, can do for you, just ask.

Why thank you to both parts of that :)

Try your best in replacing sam. It will be a tough job. Good luck.

I hope you have a good sense of humour, Richard!

I'm British, we invented humour ;)

Lmao! Yup, he's proven himself. Now looking forward to seeing more of your stuff!

They said "newsroom to get the news you want". I bet mostly it's the news that folks don't want. It's gone way to broad ranged and vague.

Newsroom does all news for all sites. The core team of Windows Central writers are being freed up to produce original content by passing off news responsibilities.

That's great!!! Even greater, I will be going to CES as well.... I'll drop by your booth!

Good times ahead! 2015 will be the year of Windows.

Welcome! Maybe now words will be spelled correctly and football won't be referred to as soccer ;)

Sadly American English is the standard across all Mobile Nations sites. But football will always be called football. The other one is handegg :)

Well colour my pavement aubergine... I've got my favourite aluminium tin in the boot. Tea and biscuits all round! :P

I highly doubt anyone will tell you off by spelling aluminium and colour correctly XD

Knowing the enemy always makes you stronger .. Haha ...nice ;)

Who? Android?
That's relatable, ain't it?

I'll be there and hope to meet Windows Central while their here.

Welcome Richard. I've quite enjoyed reading your articles and I look forward to seeing more. You have big shoes to fill but I think you're up to the task. :-)

Welcomr Richard. .Godbless and more power. . We are supporting windows central team

Congratulations Richard... And break the saying "what happens in vegas stays in vegas" :p

Welcome Richard! I'm hoping you bring the focus back to Windows/WP, I PC game and none of the Xbox news means very much to me. This isn't ordinarily something to moan about, except Xbox news has become increasingly prevalent. It may very well be out of your hands, just know that I doubt I'm alone in that regard. Cheers! I look forward to a little bloke humour :-)

I'm not much of a PC gamer myself, mainly because I game with my feet up on the sofa! However, thanks for the feedback, it's definitely something we can at least talk about behind the scenes after CES. Can't promise what may or may not happen, but we'll at least look into it.

Good luck at your new position and here's hoping to an exciting new year for all of us enthusiasts!

Ah...I see someone managed to sneak into Vegas while leaving the missis to handle the kid all by herself ;D lol

Booked the flights before he was born...they're er, non-refundable. Yeah, that's the one!

Welcome to your new position. Are you related to Adam Devine? LOL sorry had to ask!

Congrats! Glad to have you here.

I need a few more updates before I can write a heartful comment. :P

Great news. Happy new year

Sounds like an interesting crew, and CES sounds like it will be fun. Wish I could be there with you.

your quote should say " working hard at hardly working" congrats on your new possition and looking forward to reading more of your article

See you guys there! I'll be in the blue CEA shirt =)

Now Richard I need to tell you this right now, when you enter Vegas you will be seeing casinos as far as the eyes can see, don't spend all of your money in it nor the hookers :P Especially the hookers.

Luckily it'll be my third time there...so i'll be OK!

I've never been to CES, but I've been to Vegas. I thought it was amazing to go from seeing nothing out of the plane window at night to seeing a huge glow from the lights on the Strip. That was a cool time to have a window seat on a plane.

I'm glad his name sounds cool. I really consider that before I read an article and Sam Sabri worked. But Dick Divine, well that works as well. Congrats on the bigger paycheck sir. These readers gonna make your earn it all!

I just realized CES is next week!! Crap! I thought I had another week to prepare :(

I am looking forward to CES this will be my first time... On my own... No wife or kids... No work... Just walking the floors. So... What's the best booths to hit up for cool freebies??? Oh and there is lots of good Limey beer in Vegas now!!!

Since you're going to be the new Managing Editor, which WP device are you using (or going to be using) as your daily driver?

At the minute I'm using the Lumia 735. I just love that phone. I've had the 930 around for a while and didn't really gel with it. Thinking of CES, I went with a 1020 last year. Damn. Now I'm thinking I should have sorted one out to go with again!

Congratulations Richard! You've done a great job on all of the Mobile Nations sites so far, so I think you're a great choice to be Managing Editor here at WC. Good luck and best wishes.

I'm looking forward to another great year at Windows Central. Welcome and good luck to Richard Devine - the name, by the way, sounds like a movie star screen name LOL!

Welcome Richard! Filling some big shoes...wishing you well and congratualtions! Happy new year too!

Please bring apps like FXGURU on windows
Windows Central Newsletter
Thank you for signing up to Windows Central. You will receive a verification email shortly.
There was a problem. Please refresh the page and try again.