EE announces new, cheaper 4G plans for the UK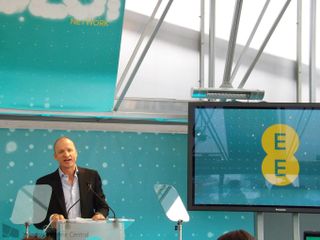 The UK mobile operator is looking to attract more custom by offering more affordable 4G plans. Since the company launched 4G in the UK, consumers have commented on how expensive the new plans were, especially taking into account how little data was included. Along with the new pricing, EE also unveiled PAYG 4G.
Should you purchase a 4G mobile phone from EE before January 31st, the company will provide you with a one off 10GB data package. 30 day bundles range from 100MB to 10GB, along with call and SMS options. EE will also be launching a Christmas promotion, where until January 31st, all PAYG customers will receive 2014 free minutes to use throughout next year.
As for the 4G monthly contract plans, EE will launch a range of entry-level 4G 24-month plans. See the below table for pricing:
EE states the new contracts and PAYG options will go live on October 30th. Press release can be found below.
16th October 2013. London - EE, the UK's most advanced digital communications company, today announced the introduction of the best value 4G plans in Europe*.
Reinforcing EE's position as the number one UK network for speed, great value and innovation - a series of 4GEE plans launch on the 30th October, designed to provide customers with a solution to meet all their superfast mobile needs. The move will allow customers across the UK to benefit from EE's award winning network, which is continuing to roll out at an unprecedented pace, and is already available in an unrivalled 117 towns and cities - reaching over 60% of the population.
Expanding the availability of superfast 4G to more users, EE is introducing the UK's most affordable 4G pay monthly handset packages, as well as the UK's first 4G pay as you gohandset plans – developed to offer customers more flexibility and choice. A new converged 4G and home broadband bundle will also be available, as well as new 4G powered home broadband plans for areas of the UK not served by superfast fixed broadband - enabling even more customers to benefit from the 4G revolution.
Meanwhile, for those wanting the ultimate smartphone experience, EE is introducing '4GEE Extra', a series of pay monthly handset plans that combine the UK's biggest 4G mobile data allowances, world leading speeds, and a variety of great benefits. EE has also developed two new 4GEE mobile broadband plans for tablet super users so they can make the most out of their device's connectivity when on the move.
New 4GEE and 4GEE Extra plans for business customers are also available.
Olaf Swantee, CEO, EE said: "One year after launch, we've extended the world's fastest network across 60% of the United Kingdom. But we want to bring the power of 4GEE to even more people.
"That's why this month we are launching new plans for light users, super users, regular users, data sharers and Britain's mobile workforce up and down the country.
"Whether they want the flexibility of pay as you go, the UK's most affordable monthly plans, or to make the most from their smartphone with the world's fastest speeds and biggest data bundles, EE is the number one 4G network."
Realising 4G for all
1) UK's first 4G pay as you go handset plans
EE is set to make superfast 4G available to the 40% of mobile users who want the control and flexibility of pay as you go, with the UK's first 4G pay as you go handset plans. All 4GEE handsets currently available to pay monthly customers will be available on pay as you go, including the forthcoming Alcatel One Touch Idol S (from £129.99). From launch until 31st January 2014, every customer who buys a 4GEE pay as you go handset from an EE shop or ee.co.uk will receive an additional, one off, 10GB of mobile data, completely free, to get them started.
A range of 30 day bundles (from 100MB to 10GB), and text and call options will be available. Those who take out a data bundle greater than 2GB will benefit from EE's fastest 4G speeds as standard.
EE will also launch a Christmas pay as you go promotion. Until 31st January, all pay as you go customers on EE** can receive 2014 free minutes, to use throughout the whole of 2014.
2) The UK's most affordable 4G pay monthly handset plans
As a result of its unique double speed network, a new two-tiered approach to 4G pay monthly handset plans is being introduced. The move will see the launch of a range of entry-level 4GEE 24 month handset plans, offering UK consumers the most affordable way to take out a 4G pay monthly handset plan. The plans, which offer download speeds up to 30Mbps, and average speeds of 12-15Mbps***, complement the growing range of entry-level 4G smartphones and start from just £18.99 per month. For full package details, please see the table at the bottom of the release.
3) Converged 4G and home broadband bundle
EE is also launching a unique converged bundle for all 4GEE pay monthly handset customers, which will see their mobile data allowances increased to 10GB each month for no extra charge when they sign up to EE's unlimited home broadband service. This means customers can get 10GB of 4GEE data from just £18.99 a month. On selected mobile plans, it increases to 20GB.
4) The UK's first 4G powered home broadband
Finally, in November, EE will extend the reach of 4G even further, by introducing 4G powered home broadband products and plans tailored for areas of the country not served by superfast fixed broadband technology. This will offer huge benefits to rural areas and reaffirms EE's commitment to bringing 4G to as many people as possible. Further details on the plans will be announced in due course.
For the ultimate 4G experience
1) '4GEE Extra'
For those who want the ultimate 4G smartphone package, EE is introducing 4GEE Extra – a series of 24 month handset plans starting from just £26.99 per month. As well as unlimited UK calls and texts, 4GEE Extra customers will benefit from:
The world's fastest 4G speeds
The biggest UK 4G mobile data allowances
Inclusive roaming calls and texts in 30 international destinations incl. USA & Australia****
Superfast support with fast track customer service
2) 4GEE Mobile Broadband
Two new super user 24 month 4GEE mobile broadband plans are also being introduced to the existing range. For £36 per month, customers will be able to take out a 20GB mobile data bundle, while for £50 per month they can take out a 50GB mobile data bundle.
Furthermore, all new 4GEE customers on pay monthly or pay as you go mobile broadband plans of 4GB of data or more will receive EE's fastest network speeds as part of their plan.
Added benefits only on EE
All new 4GEE and 4GEE Extra customers on pay monthly handset plans with unlimited calling minutes (starting from £23.99 per month) can choose from a range of inclusive add-ons which include unlimited access to 25 million music tracks with Deezer, 17 leading UK TV channels, or a catalogue of top-rated games. The same customers can also access EE's Shared 4GEE Plans, allowing them to share their text, voice and data allowances with up to four other users.
Network: keeping one step ahead
EE continues to offer customers across the UK an unrivalled mobile network experience, with its double speed 4G network available in 20 cities. The EE 4G service is available in 117 towns and cities, covering more than 60% of the population.
To further extend its mobile data leadership, in November EE will reveal more details on plans to trial the latest 4G speed technology, offering speeds up to 300Mbps in London this year, with wider rollout planned for 2014. The EE network is already the joint fastest network in the world, and this move will make the network the number one for speed.
Further details on the trial will be announced in due course.
Rich Edmonds is Senior Editor of PC hardware at Windows Central, covering everything related to PC components and NAS. He's been involved in technology for more than a decade and knows a thing or two about the magic inside a PC chassis. You can follow him over on Twitter at @RichEdmonds.
The UKs biggest network is also the UKs most expensive network. Go figure.

If they want to tempt me across they can pay off the rest of my Vodafone contract and give me a new lumia 1020 ;)

Still not worth it i got my 920 on their Orange network as it was cheaper

I recently moved to Three because I kept hitting my 1Gb data allowance and I wanted 4G. If this new offer from EE is seen as a discount then I'm definitely glad I moved. For £15 a month I'm effectiely on their top tier £75 a month rip off plan.

I think those new tarriffs are cheaper than what my girlfriend is currently charged on her non-4G contract.
Not that it really matters, we're beyond reach for 4G of any network.

Cowboys and thieves. Steer well clear.

3 UK have some pretty decent DC-HSDPA+ speeds and allowances which are a lot cheaper than EE's crappy 4G. EE can shove their 4G up Kevin Bacon's arse.

Hahaha hahah made me laugh too. on Orange now but going to 3.

Me too...although sitting through the Kevin Bacon ads in the cinema is so much more tolerable than the abysmally bad Orange ads! Every movie they featured effectively flopped! A-Team, Muppets, some French movie etc

Finally.. competition is always good for customers. still a big rip off but you see they have competition and it will still get cheaper when vodaphone o2 and three have big areas covered

I pay £21pcm for a gig of 4GEEEEEE. with friends and family discount at 40%

I left EE4g after a year of being sim only £31 for 3gb didn't offer me anything to stay. Im couldn't care less for 4g now in playing £15 for unlimited everything, ok its only 3g but i don't mind a few milliseconds wait.

Bah. Still being screwed for £41 a month for 1GB for another year. How awesome that, as usual, existing customers are boned while new ones are sent the flowers.

Was wondering if existing customers got anything, doesn't look like it eh?

Call up and say that new customers get more data for the same price and they should upgrade your data as i did and i went from 500mb to 1.5gb just by phoning up

Mate i have just called EE and i upgraded from my current plan which is £36 a month for 1.5 gb to £38 a month for 20gb of data, unlimited calls and texts abroad and deezer (which wasnt included beforehand) for an extra £2! so call them up and see what happens :)

Can't even get a decent 3G signal with them, so no chance of 4G! Soon as contract is up I'm taking my 920 back to O2.

Agreed but im heading to Three.

Guys. Everyone slams EE for pricing and 4g quality. Have to say this but if you wanted to have 4g first and be early adopters of new tech you have to pay for it. GET OVER IT or don't buy it. As for the 4g speed i have to say Ee are awesome where i live. Never tested below 30mbps. Sure id like to pay less but in not going to cry about it.

No no, my friend, you are looking at it wrong. All the networks have to invest in infrastructure and development. EE did not invent 4g, they didn't create it. All they did was charge a premium and exploit customers whilst their monopoly on the spectrum allowed it. Now they are finally getting competition the prices are coming down.
Are they all of a sudden planing to make a loss? No. They can no longer get away with overcharging as we have options now.
Shove the early adopter thing where the sun don't shine too. The town where i live was 4g free this entire year. Still paid for 4g coverage tho just to get a 920.
They are scum.
There customer services people are lovely though, they really are

He never said that, all he stated was that EE were the first on the market with 4G and if you wanted to get it early rather than patiently waiting for other carriers to roll it out then there was a premium price to pay. Even then though EE is still a rip-off, but as you said they could get away with it being the only ones to offer it.

They had the 920 exclusive at the time. The fact that i am discussing this with you on THIS of all sites suggests i had little option no? Three have demonstrated that you can upgrade speeds and not charge more. EE cynically used their regulatory head start to overcharge.
And you defend them. Nice one

How was I defending them? I think they're scum just like you do. I was only defending flashmaster because he didn't say what you appeared to think he did. And his point is still valid. I mean buy a phone brand new and you pay a premium for being one of the first to have it. Wait a few months and get it for less. Same applies to most things. EE just decided they could get away with that because they know people would be willing to pay more just to be "first".
I've happily been with Three for years, and I would -never- go with EE even if they paid me.

And now you can pay more to go faster still. Scumbags

Yeah fair point. Maybe i was too willing to bash them to read properly. Ill be on Three by the end of the week

I have read through every comment, no one appears to have picked up on the multi level 4g offering. It states that you can have 4g on all those price plans. But if you go for the top plans, you get their fastest 4g. So, it seems to me that some will get a 4g service which is speed capped. This is on top of the data caps. And starting at 100MB, are you kidding?

you can sign up to Three UK and get truly unlimited (all-you-can-eat) data with FREE 4G for as little as £12.90 per month or 500MB data got £6.90 per month why would anyone sign up to EE or any other network, even Three's 3G network is top of the range with speeds i get of around 28Mbps

Are Three's business account call centres in the UK or abroad? I've had 4G from EE from the start(company phone) and I'm happy with the call centre. They resolve issues very quickly. However I hear their retail customers are diverted to other staff which are awful.
Windows Central Newsletter
Get the best of Windows Central in in your inbox, every day!
Thank you for signing up to Windows Central. You will receive a verification email shortly.
There was a problem. Please refresh the page and try again.