EE rolling out Denim in the UK for their Lumia 930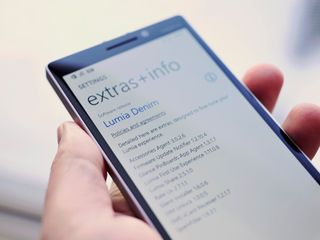 Reports are coming in that those on EE who own a Lumia 930 from the carrier are now getting the Lumia Denim update. Indeed, checking Microsoft's update page confirms that OS build 14226 and firmware 02540.00019.14522.26004 are now a 'go' for the Lumia 930.
EE so far has a few devices that have updated to Lumia Denim or have shipped with it, including the Lumia 520, 625, 635, and Lumia 735.
Once updated, users should be able to update or begin using the new Lumia Camera 5.0 with 4K video, Rich Capture, and faster startup times.
It is not clear if users on EE need to disable the Preview for Developers app for the download to become available, although that has been needed in the past for some users.
Source: Microsoft (opens in new tab); Thanks, George S., Adam C., Matt J., and Paul H., for the tips!
Windows Central Newsletter
Get the best of Windows Central in in your inbox, every day!
Daniel Rubino is the Editor-in-chief of Windows Central, head reviewer, podcast co-host, and analyst. He has been covering Microsoft since 2007 when this site was called WMExperts (and later Windows Phone Central). His interests include Windows, laptops, next-gen computing, and for some reason, watches. Before all this tech stuff, he worked on a Ph.D. in linguistics, watched people sleep (for medical purposes!), and ran the projectors at movie theaters because it was fun.
Hope carriers will roll out the Denim update for Lumia 920 PR CV in February...

Don't tell me what to do.

"don't tell them what to do" ?? Did u actually read the comment? ...

Extras and info will be updated and then you will have Denim. That is all.

Let the all crying begins.
Btw, any difference between 219 and 226 OS version? Some 930 are getting the first one, and others are getting the second one.

The final count down
3..2..ONE!

It's only a name denim, if you're phone gets it so be it. you're right people go on it gets them no where

I'm sorry, I didn't catch that (Cortana's voice).

Listen I've had denim since beginning of December well if Cortana is your thing well say no more

1520 in Thailand and Taiwan are also getting it

I can't wait to get this update for my Icon on VZW; battery life seems to be really hit and miss and I am hoping a firmware update helps me.

I didnt notice any difference on my 928 at all. Maybe it does bring some improvements on Icon

Yeah; i agree. Who knows how long it could be?

Good for 930 users with EE. Seems carrier phones in most cases getting update before unlocked devices.

Very odd, opposite to Android

I've asked on this before. The answer was the cv has to be approved for all networks, hence being last.

No, CVs aren't approved by any operators, they're only tested and approved by Microsoft.

So what is the point of the developer program if they are not issuing the update until the carrier approves it, confused?

The developer program is for OS updates, carriers need to approve Denim, which is a firmware update.

Is the lumia 920 getting the Denim update

Didn't think 920 was getting denim, did they say on here it was in name only on some devices.

I already have "Denim" on lumia 920. The OS was updated via the Dev Preview to the most recent version. I turned DevPreview off via the app, and the phone is now showing "denim" but it hasnt actually changed the firmware, just in name only.

If you turn off DP it shows Denim. If firmware ends in .5xx then you have cyan.

Yes but it sounds like it won't actually update the firmware or bring any new features if you're already running the Developer Preview and the OS is up to date.

920 doesn't get new firmware with Denim, only Update 1. So, yes, he has Denim. Not officially but ...

Right. We won't get new features but we'll still get a version change and non-dp folks will get the update to 8.1.1.

No, the firmware number doesn't changes. Only OS number.

So I turned off the preview for developers app and it show now its denim. But what about the features like hey Cortana

920 according to https://www.windowscentral.com/e?link=https2F%2Fclick.linksynergy.co... has cyan firmware.

@NajeedbMansour1. Hey Cortana is exclusive to phones running the Snapdragon 800 or better SOC.

It may cycle back and forth. I jumped off the DP months ago and it will switch between saying Cyan and Denim when I check it.

I have an Icon. Nothing more to say about that....plenty enough promises and nothing delivered.

At last! Downloading as I type. When was denim first released ??

Ha ha, nice to see O2 UK getting left behind with Denim updates to there locked 930s.

I've got an unlocked Lumia 1520 CV GBIE on an O2 30 day contract sim only. Still waiting. Trying to be patient and not get moany lol. I'm moving back to 3 UK sim only soon for a better data plan.

That's exactly what I did, wish I had done it sooner lol.

What be patient and not moany about delay with denim on 1520 in UK or move back to 3 lol?

Confusing to me too that CV UK is still waiting, yet the Vodafone carrier version is on Denim. Makes no sense. I have flashed the Finland CV version, and on the 1520 Demin is a big deal. 4K video is great, normal video is much more useable (fewer refocus related jumps) and Rich Capture dynamic flash is truly amazing. But I am in the UK and I want my phone to be UK too!

Checking as we type... I have ashamedly been hitting Candy Crush pretty hard today so have pushed it to the battery saver so it will have to wait until it sits on its charger. Mmmm downloading has begun.... Mwwhaaa haa. Probably should get it on charge EEEEK! did not expect it to start with the battery saver on. Turns out you can plug stuff in the bottom to charge it as well

The update will download but install when there is sufficient charge, typically around 50%. However you can choose to install later as it doesn't auto install.

Good news, hopefully Lumia 1520 CV GBIE will follow soon.

I'm glad somone is getting Denim. What a mess these firmware updates have become.

Yep complete joke. MS slowly killing their mobile brand.

Google was able to push out updates completely independent of carriers/providers with the Nexus phones, Microsoft have to do the same with Windows phones.

Which is the difference between 14484 and 14522 firmware?

Carriers, country, model etc. Depends on that.

No idea. I have OS DP .14219.141. And cyan firmware which is .0005. I would presume every as same OS number

Waiting for the Denim update still on my Lumia 1520.3 here in the US. Extras and Info shows the Denim bug, but I know that's not legit.

Now this is news.... Just saying

Got denim on my CV Malaysia Lumia 1520 :)

Is taking so so long this update. Awful!!! They said Lumia 1520, 925, 1020 will be the first ones starting on December...only few models firmware are available since then. What's going on???

It's one thing going from a 1520 to 1020 etc but even updating one model variant such as the 830/930 are all over the map, becoming a complete sheet show in my opinion.

Vodafone New Zealand update is live for 930

Release it for the 1520 CV worldwide. Come on.. It's a flagship device.

Yes, got it and will "train" Hey Cortana tomorrow. EE 930 ❤

Use your top microphone. Nearly of frontal camera.

Where do I find the setup for Hey Cortana? Been looking everywhere all day.

After the Denim update I found Hey Cortana at the bottom of my settings.

Hmmm... not there. Anyone got any ideas? Don't really want to do a hard reset if I don't have to.
Did a hard reset and now I have it.

You know what's not rolling out is denim for Verizon!!!

Useful to see what version your phone should have... 920 still cyan, 930 denim. (check under warranty option)...... https://www.windowscentral.com/e?link=https2F%2Fclick.linksynergy.co...

This has been covered pretty much extensively....

Yep.. Just waiting for only denim will get win 10. Debating if I should bin WinPhone or stick with it. At moment having to carry to phones, as battery on WP is piss poor.

Denim for Lumia 1520 and 930 are all available in Malaysia also

Daniel, any ideas why is MSFT holding back those missing country variants? No more then half of EU countries has it and on the other hand there are countries that have operator rolled out Denim already and still no country variant. I thought that rolling fw with ops involved would take longer and it's the opposite - why is that?

Just updated my Lumia 930 im with EE

OK so its loaded 50 minutes or so and a painful series of "hey cortanas' 26 million times but she did work and work as advertised but good old cortana when asked for the time decided to shuffle my music. Oh well its a start I suppose :) Oh and that camera is super quick love it.

Why mention Denim over a month ago when its still not on 1530....crap service....just don't tell us until we can have it...getting so annoyed with MS...since I have been with them since v6.... I really am considering jumping ship if WP10 doesn't compete with ios and android for app availability and features in those apps...you can push loyalty to far..

I'm not too far off myself from considering moving to the other side, was excited when I got my Ativ S but things have slowly been going downhill since then with the excitement not far behind.

Wow that was quick for EE! Got it now, and it's fantastic!

If you have an unlocked phone in uk just buy a pay as you go chip from a carrier that has denim and use that to get denim... Then put your normal chip back in after

And why not? It works and the chip only cost £1

Doesn't work that way man. If you have an unbranded phone so you have a Country Variant firmware, doesn't depend on which SIM you put it on your phone. Depends on which firmware you have.

I had a Lumia 920 that came from UAE that I used in the UK, and I had no issues getting firmware updates with it in the past.

Just turned off DP and got the Denim update. So far the only difference is Lumia camera launches quicker & Cortana can be activated by voice. Oh, and Candy Crush won't open!?

Candy Crush is working fine since I've had the update. Try reinstalling it :)

I can also confirm that Candy Crush survived the Denim update on my 930, I would suggest reinstalling.

Indeed they are rolling it out, quick for EE!

Done ;) I had to disable Preview for Dev !

US, AT&T, flagship 1520, and still here we sit waiting....what a disappointment...charlie foxtrot....

Lumia 830 CV Malaysia also got Denim updates since 29th January. Rich capture is awesome!

My Thailand country variant 930 just received Denim

I'm still waiting for Cortana....

No issues with the EE update works perfect

When is in India for L820?

I checked for updates this morning on an unlocked 930 with EE and it never found an update, so I opened the Preview for Developers app, disabled it, and then went back into the Phone Update and checked again, and this time it immediately found and started downloading the Denim update. So it seems to me that you DO need to disable the Preview for Developers app. Would be useful if either EE or Microsoft announced this to their customers instead of leaving some customers with no knowledge of a firmware update.

Denim for unlocked 930 in UK rolled out last week.

Fuck Denim.Waiting for this shit for a 4 months.Why can't all devices be updatet at the same time.Fucking lame ass MS.

What about L720 ?? When we get denim update??? We are waiting for long time still there is no update for L720.....

Does mean my L820 won't get the update......all confused now !
Windows Central Newsletter
Thank you for signing up to Windows Central. You will receive a verification email shortly.
There was a problem. Please refresh the page and try again.