EE rolls out new PAYG packs, offering 4G for just £1 a week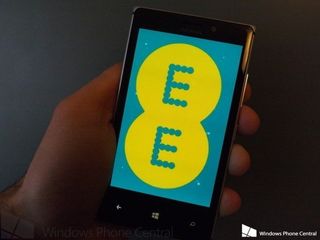 With all eyes on IFA this week the UK's largest 4G network are kicking things of nice an early by announcing some restructuring with their Pay-As-You-Go offerings. As you'll see from the following press release EE have studied what PAYG users are after and have come up with some solutions which include 4G packs from just £1 per week.
Although EE were the first carrier in the UK to offer 4G it does come at a premium, something which some other networks are cashing in on and offering 4G at no extra charge. The downside to them though is that there coverage is way behind that of EE.
Good news for consumers in the UK. I suspect we're in for a week of great news to keep your eyes peeled.
Press Release
Wednesday 3rd September, 2014, London – EE, the UK's most advanced digital communications company, today launched a range of market leading Pay As You Go (PAYG) packs with 4G included in all at no extra cost – starting from just £1 per week. The new packs are set to transform the way consumers purchase PAYG, and have been designed to combine EE's market-leading 4G performance with outstanding value, enabling even more customers to enjoy superfast mobile connectivity on the UK's biggest, fastest and most reliable network.
Available immediately from EE shops, EE telesales and via the EE web site, the new packs offer market leading value to the 40% of mobile users who want the control and flexibility of PAYG.
The packs have been created to reflect how customers typically use their phones, offering simple, transparent pricing. For added ease, the new packs have been split into three categories, representing the three most common customer usage patterns with allowances weighted towards what customers want to use (Talk and Text Packs, Data Packs and Everything Packs) – meaning they don't have to pay for things they don't need.
Providing unprecedented value for money, EE customers will also have the reassurance that they have access to the UK's award winning, biggest, fastest and most reliable mobile network. What's more, 70% of mobile PAYG users spend less than £10 per month, so for the first time across the industry, EE is offering a choice of PAYG packs for just £1 per week, providing increased flexibility to meet customer need. EE has put control at the heart of its new range of packs - with customers never able to go over their data allowance. If they do use it up, then they can purchase one of the great value add-ons to extend it as needed.
And as if that wasn't enough, EE PAYG customers who get their pack each week or month for three months, can add even more of what they like to use in their pack, for example a customer on a new 30 day pack can choose between an extra 250MB of data, 50 minutes of any network calls or 250 texts at no extra cost. EE PAYG customers also get up to £20 off a new phone from an EE shop once they've been using our services for at least three months, as well as access to great EE benefits, including EE Wednesdays, offering 2-4-1 deals on cinema tickets and EE Tickets.
The new packs are available across all EE retail channels immediately. Customers looking for more information can visit www.ee.co.uk/payg (opens in new tab)
Windows Central Newsletter
Get the best of Windows Central in your inbox, every day!
Well... Moving in the right direction I suppose, better late than never

Their coverage. (Not 'there coverage')

And he calls himself an 'editor'.

I'm due an upgrade to my contract in a month. I might get one of these just to test if it's worth upgrading to 4G

Hmm, I've been an EE 4G user in London for nearly 2 years and although you 'can' get high peak throughout it's usually outweighed by spotty reception. It definitely wasn't worth the extortionate premium I have paid for it. Even though they are supposed to be a bigger network, I can't say I've found the experience noticeably better than O2 3G (on many occasions I've found it worse).
Not to mention that EE are usually the last to put out OS updates - by a long way!

Due to a legacy friends/family plan, I get ½ price contract for life so I'm likely to stay with them for the forseeable at least. Despite how patchy they can be

Thats useful information Simon, thanks. VodaFone are no go due to their sh*t network and incompetence. Leaving 3, EE and O2. All seem like good options. O2 seem like the most together company in terms of cusotmer service. But 3 have a decent network. Tough choice, but a good choice. My missus has EE on her 820 and she consistently gets 40+ down, and around 20 up. Amazing speed. Were you in London by any chance? Would explain the spotty coverage.

I have recently moved to 4G and notice the difference, it is faster. So would recommend imo.

EE, please wake up and put the firmware out! Why is the 'UK's fastest network' always so slow?

at no extra cost but £1 for a week...lols nice joke by the crap EE. I have done with them and I am not going to upgrade with them. Hope MS would not put us in a situation where their flagship phone would phone would be exclusive to EE. One big factor of low sales of Lumia 920 was EE. They just didn't promote the phone. Their sales reps didn't know anything about WP and Lumia phones.

Agree the sales staff had no idea bout thier flagship 920, stayed with them as long as i had to then move to 3. no regrets..4g all day long.

Those tariffs are a joke. I get a far better deal on Virgin mobile P&G and their 3G speeds are good enough for everyday use. I regularly get 8 - 9 Mbits/s which is plenty for streaming media.

It's funny because I recently brokered a deal with them for unlimited calls and texts and 10gb data for £8/mth from 29th Sept. Maybe they'll start to see that their tariffs are WAY to high for 4g.