Elden Ring's character creation looks to be a massive improvement over Dark Souls III
More creation tools at your disposal?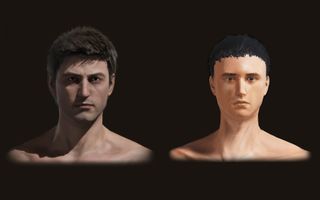 (Image credit: Windows Central)
The closer we get to the launch of FromSoftware's highly anticipated RPG Elden Ring, the more ravenous fans become to find more details. Thankfully, if you're one such Souls enthusiast, a recently surfaced video gives us an early look at the game's character creation system. Compared to Dark Souls III and Bloodborne, these customization tools look like an enormous improvement.
The leaked video from YouTuber ER-SA demonstrates the impressive options the new and improved character creator will offer. While this is clearly a very early build with missing objects and assets (and doesn't represent the final product), it gives players an idea of what to expect when crafting their RPG heroes.
If you've played previous FromSoftware Souls-likes, you'll know character creation has often been a point of player criticism. Thankfully, it seems you'll be able to represent yourself and your in-game character in a much more natural-looking fashion. And for players who simply want to construct the most grotesque creature imaginable, the plethora of features sliders demonstrated in this video should allow you to do just that.
For me, the most prominent areas of improvement lie within the hair and proportions of facial features. In titles like Dark Souls III, your character's hair appeared stiff and stringy. However, Elden Ring seems to introduce a host of luscious, bouncing manes that spring with life and texture. Everything about the facial dynamics showcased in this character creation engine video feels vastly more human as well. No longer do characters look like strange fish-like humanoids but instead stand as figures inspired by actual human beings.
While online discussions and even a recent interview with Hidetaka Miyazaki stress the pressure the team felt when attempting to deliver graphical fidelity on par with Bluepoint's PS5 remake of Demon's Souls; there's no denying that Elden Ring is a significant upgrade in terms of visual quality for this beloved developer. Whether or not Elden Ring will deliver the graphical presentation fans and skeptics were hoping for or launch as one of the best RPGs on Xbox remains to be seen. However, as the top wishlisted game on Steam right now, it's clear that there is some incredible excitement for this upcoming release.
Elden Ring is scheduled to launch on Xbox Series X, Xbox Series S, Xbox One, PC, PS5, and PS4 on Feb. 25, 2022.
Explore The Lands Between
(opens in new tab)
Beeg Dark Souls?

FromSoftware's Elden Ring promises to have more options for learning and getting an upper hand than any of the studio's previous titles. If you're a beginner, don't worry, you'll learn in time.
Windows Central Newsletter
Get the best of Windows Central in your inbox, every day!
Miles Dompier is a Freelance Video Producer for Windows Central, focusing on video content for Windows Central Gaming. In addition to writing or producing news, reviews, and gaming guides, Miles delivers fun, community-focused videos for the Windows Central Gaming YouTube channel. Miles also hosts Xbox Chaturdays every Saturday, which serves as the Windows Central Gaming weekly podcast.