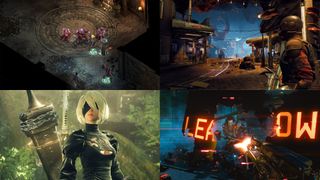 (Image credit: Windows Central)
"RPG" has become something of a fluid term, with more and more games including RPG-like systems into genres that typically aren't necessarily a "role-playing game." At their absolute core, RPGs are adventures that give you more control over your experience, often with large expansive areas to explore, all the way up to complete non-linearity. From NieR:Automata to The Witcher 3, these are the best RPGs on the Xbox platform right now.
Pillars of Eternity
Why you can trust Windows Central Our expert reviewers spend hours testing and comparing products and services so you can choose the best for you. Find out more about how we test.
Pillars of Eternity (Xbox)
Reasons to buy
+
Satisfying tactical combat
+
Ambitious branching-narrative
+
Immersive writing with great characters
Reasons to avoid
-
Some bugs remain unfixed, many years after launch
Pillars of Eternity is an incredible and underrated classic CRPG that draws upon legendary titles like Baldur's Gate, wrapped in an all-new universe. Built by Microsoft's Obsidian, Pillars of Eternity is a tactical RPG that rewards careful planning and resource management, wrapped in a dark fantasy world.
Pillars of Eternity revolves around a mysterious cult named The Leaden Key, who worships the goddess Woedica. At the start of the game, you find yourself accidentally caught up in one of the cult's dark rituals. Eventually, you're plagued with visions of past lives and out-of-body experiences, and solving the mysteries of your predicament leads you on a huge adventure across the land of Eora, meeting all manner of fantastical creatures and interesting characters.
In typical Obsidian fashion, Pillars of Eternity offers a large degree of freedom with character customization, quest resolution, and playstyles, with a good roster of party members to choose from in a broad branching narrative.
Pillars of Eternity was an instant classic at launch, and while it can be a little tough to get into for newcomers to the CRPG gameplay style, it's easily among the best RPG experiences you can have right now.
The Witcher 3: Wild Hunt
The Witcher 3: Wild Hunt (Xbox)
Reasons to buy
+
Visceral reactive combat
+
Incredible visuals and storytelling
+
Vast amount of dense content
Reasons to avoid
-
Character progression is weak
The Witcher 3: Wild Hunt isn't just one of the best Xbox RPGs, it might be the best Xbox game period. Thanks to its thoughtful blend of cinematic storytelling, fantastic world-building, and gore-tastic combat, The Witcher 3 is a triumph from every angle.
In The Witcher 3, you play as Geralt of Rivia. Witchers are supernatural warriors for hire who travel the land, dispatching monsters and otherworldly entities for coin. Geralt's unique abilities sees him rub shoulders with royalty and the political elite, leading to him getting tangled up in all sorts of court intrigue.
Geralt is hunting for his lost adopted daughter, Ciri, in the midst of an invasion from the Nilfgaardian empire. Death is everywhere, providing a fertile ground for evil to spread and take hold. While searching for Ciri, Geralt realizes that far more is at stake, with signs of the apocalypse growing on the misty horizon.
Cyberpunk 2077
Cyberpunk 2077 (Xbox)
Reasons to buy
+
Large variety of playstyles and customization
+
Beefy campaign with lots of good side-objective content
+
Dense, immersive world
Reasons to avoid
-
Performance on Xbox Series S and Xbox One consoles is poor
-
Itemization is generally pretty lame
Cyberpunk 2077 is great, and I'm tired of pretending it's not — seriously, though. The game didn't live up to expectations set by the multi-million-dollar marketing effort, inflating the idea that it would be GTA in the future, but if you enjoy it for what it is I don't think you'll be disappointed.
Cyberpunk 2077 is set in a corporate hellscape where technology dominates every aspect of life. Cybernetic enhancements are commonplace, with average citizens right up to militarized police enforcement enjoy superhuman abilities, buoyed by a bevy of exotic tech upgrades. Brain implants, enhanced limbs, and embedded AI-powered augmented reality form both an integral part of the story, as well as the gameplay.
Cyberpunk 2077 gives you a large variety of character customization and playstyle tailoring, with great characters across a large, well-realized open world. Just make sure you play it on an Xbox Series X or a higher-end PC ...
Final Fantasy XV
Final Fantasy XV (Xbox)
Reasons to buy
+
Expansive open world with Final Fantasy flavor
+
Fun characters and side quests
+
Decent combat with gorgeous visuals
Reasons to avoid
-
RPG layer and progression could be more interesting
Final Fantasy XV didn't enjoy the best launch state, but Square Enix doubled down with a mountain of DLC and quality-of-life improvements to elevate what was already a pretty solid RPG package.
You play as Prince Noctis, exiled from his nation after a hostile foreign takeover. You team up with some loyal retainers for an epic road trip across the land, battling strange monsters and nefarious villains along the way.
Final Fantasy XV's combat system is a bit odd, but once you get to grips with it, it can prove to be rewarding and spectacular. FFXV enraptures with its visuals and music, despite being on the older end of games on this list.
Yakuza: Like a Dragon
Yakuza: Like a Dragon (Xbox)
Reasons to buy
+
Great writing and characters
+
Hilarious combat with wacky abilities
+
Beefy campaign with lots to do
Yakuza is a legendary franchise in its own right, but not necessarily for its RPG capabilities. That all changes with Like a Dragon, which takes the popular beat 'em up and turns it into a classic JRPG to great success.
In Yakuza: Like a Dragon, you play as framed gangster Ichiban, who ends up in prison for a crime he didn't commit. Upon finally finishing his sentence, he finds everything, and everyone has changed. No longer is Ichiban a welcomed yakuza, but now firmly an outcast, with a rival gang in control of his hometown.
In Like a Dragon, you carve your way up from the ground floor, with wild turn-based combat with some of the craziest abilities we've seen in a game of this type. Like a Dragon impresses, long may it reign.
Wasteland 3
Wasteland 3 (Xbox)
Reasons to buy
+
Excellent tactical turn-based combat
+
Impressive campaign with wild and crazy characters
+
Strong branching narrative with unexpected outcomes
Wasteland 3 is a brilliant, classic-style tactical RPG from Microsoft's inXile studio. Set in post-apocalyptic Colorado, the Arizona Rangers are the last remnants of the U.S. Army, and the last bastion of justice in a society gone mad. Desperate for supplies and resources, the Rangers strike a trade deal with The Patriarch, who represents the central power in Colorado, in exchange for military might. An ambush attacks the convoy, however, leaving dozens of rangers dead. It's on you as one of the last remaining survivors to find out what the hell went wrong.
Wasteland 3 is a CRPG that inspired the Fallout franchise, complete with tactical gameplay, a branching narrative, and a large array of combat and character customization. Battle various crazed factions, develop your own personal base and vehicle, and find out the truth about life in Colorado.
Fallout 4
Fallout 4 (Xbox)
Reasons to buy
+
Massive world full of big and small stories
+
Huge amount of playstyle customization
+
Brilliant combat with a large variety of enemies
Reasons to avoid
-
Branching narrative takes a step backward compared to previous games
Fallout 4 might not be the best Fallout game of the lot, but it is among the best RPGs regardless, owing to a truly massive open-world sandbox with a mountain of activities and quests.
Fallout 4 takes place in an alternate universe where the Cold War culminated in a nuclear apocalypse. Technology stayed analog and largely nuclear powered, with everything from cars to refrigerators containing radioactive material. Some lucky citizens were able to escape the carnage into Vault Tec underground bunkers, emerging after the nuclear fallout to a vastly changed world. New factions vie for control of the remains, and it's on you as a vault survivor to carve a future in this strange new land.
In Fallout 4, you wake up to discover your spouse murdered and your child missing. Without any real information, you stumble into the wastes to find out who is responsible and get your revenge. Depending on your playstyle, you can do battle in close-quarters combat, snipe from afar with rifles, or mix it up with shotguns and explosives. Fallout 4 was criticized for scaling back some of its RPG branching narrative quality, but you can still make a few major decisions that change the fate of the game's various factions and characters. You can also build your very own wasteland settlement with surprisingly robust construction tools.
Dark Souls III
Dark Souls 3 (Xbox)
Reasons to buy
+
Challenging, but rewarding combat
+
Vast world rife with secrets
+
Dark and atmospheric world with deep lore
Reasons to avoid
-
Some quests are obscure to complete without external guides
If you love a good challenge and dark fantasy settings, the final installment of the Dark Souls trilogy will be right up your alley. Featuring intricately designed levels, tons of awesome boss fights, and a ridiculous amount of build potential thanks to the game's many weapons, armors, and spells, Dark Souls III is easily one of the best action RPGs ever made. It recently got updated with FPS Boost, too, which allows it to run at 60 FPS on Xbox Series consoles.
If you like cooperative gameplay and/or PvP, Dark Souls III also has you covered with its summoning and invasion systems. As you progress through the game, you'll gain the ability to invade other player worlds, be summoned to help host players with boss fights or level exploration, defend players from invaders as a Blade of the Darkmoon, and more.
The only real downside of Dark Souls III is that some of its systems and NPC questlines are obtuse and hard to engage with without the use of community guides, but this isn't that big of an issue. Overall, the game is nothing short of superb, and we highly recommend it to anyone who enjoys skill-based action RPG gameplay and overcoming challenges.
Divinity Original Sin 2
Divinity Original Sin 2 (Xbox)
Reasons to buy
+
Deep, varied combat
+
Co-op experience captures the essence of digital D&D
+
Vast branching narrative completes a great story
Reasons to avoid
-
Complexity can be overwhelming
Fans of classic CRPG gameplay will love Divinity Original Sin 2, which uses the Dungeons & Dragons ruleset as a foundation for one of the most expansive and detailed fantasy RPGs ever made. The game's greatest strength is its turn-based combat that emphasizes careful skill and ability timing along with tactical positioning on the battlefield. The game also has a wealth of different build options and avenues for non-lethal approaches to situations. There are also features hundreds of different potential quest paths that make the game ridiculously replayable.
Divinity Original Sin 2 is also a great game to play with friends, as the entire experience supports 4-player co-op. Notably, different character builds synergize with each other excellently in combat, encouraging everyone to strategize together. Other players can also listen in on story and quest conversations their allies are having so that nobody is left out.
The game's systems take a while to learn, and they can be overwhelming at times, but once you get used to them, you'll fall in love with all of the wonderful depth and nuance that Divinity Original Sin 2 has to offer.
Dragon Quest XI
Dragon Quest 11 (Xbox)
Reasons to buy
+
Classic JRPG gameplay
+
Fun, light-hearted writing and characters
+
Expansive world with lots of variety
Reasons to avoid
-
The game's simplicity makes the early game a bit slow
Dragon Quest XI is the latest entry in the franchise largely credited with starting the JRPG movement. Dragon Quest is legendary, and XI is among the best the series has to offer. It's also the first in the mainline franchise to hit Xbox.
Dragon Quest is a light-hearted and accessible turn-based RPG, with Akria Toriyama character designs set in a colorful fantasy world. After discovering yourself to be of special descent, you seek the counsel of a king to find out what your destiny holds. The king rejects you as the herald of the apocalypse, unfortunately, chasing you out of the kingdom, and turning his army towards your village, destroying it in the process.
Dragon Quest XI is on the more simplistic end of games on this list, making it a great RPG entry point for newcomers or youngsters. Even veterans will find a lot to love, thanks to fun writing and relaxing gameplay, although the difficulty can spike up and take you by surprise at times.
Your quest for answers and revenge takes you across a massive world, spanning various terrains, dungeons, and magical cities. Battle epic bosses, meet a huge cast of characters, and grow your personal story into stuff of legend.
Monster Hunter: World
Monster Hunter: World (Xbox)
Reasons to buy
+
Epic boss-hunting action with industry-leading combat
+
Great co-op RPG experience for up to four friends
+
Mountains of playstyle customization
Reasons to avoid
-
Story isn't the strongest
-
Co-op systems are convoluted by modern standards
Monster Hunter: World is a truly spectacular co-op action RPG from Capcom, culminating the legendary franchise in what is arguably the best the series has to offer.
Monster Hunter, as the name suggests, revolves entirely around hunting down huge creatures in an untamed world. Massive dragons and other creatures threaten humanity's survival, and it's on you to keep the biggest beasties at bay.
Monster Hunter: World has some of the most convoluted co-op mechanics in video game history, but once you get to grips with them, I think this might be the best co-op experience on Xbox I've ever had. Absolutely stunning gameplay with precise combat makes Monster Hunter co-operative play an absolute blast, complete with varied playstyle customization and a huge array of weapons from which to pick and choose. You also get a pet piggy, and you can dress it up in cute outfits. What's not to like?
NieR:Automata
NieR:Automata (Xbox)
Reasons to buy
+
Tight combat in a large world
+
Unique and intriguing story
+
Incredible soundtrack and designs
Reasons to avoid
-
Requires multiple "playthroughs" to fully reveal the story
NieR:Automata is the perfect combination of bizarre and brilliance, and it's arguably the best action RPG of all time. Set thousands of years in the future following the events of NieR Replicant, NieR:Automata features an incredible story, excellent side quests, dazzlingly stylish melee combat, an award-winning soundtrack, and a stupendous art direction. We can't recommend it enough.
The game's main selling point are its numerous and varied endings, many of which require numerous playthroughs. On the surface this sounds a bit tedious, but each playthrough introduces new story beats, quests, characters, and more to keep things feeling fresh and engaging up until the credits finally roll at the end of the game's 60+ hour runtime. The game's mechanics also beautifully mesh with its story in ways that emphasize how effective player interactivity is when used as a vehicle for storytelling.
The game's only real downside is that many parts of the story are confusing and strange at first, although you'll eventually connect the dots later. Overall, NieR:Automata is simply phenomenal.
The Outer Worlds
The Outer Worlds (Xbox)
Reasons to buy
+
A modern take on an increasingly rare RPG formula
+
A truly intriguing setting with great writing and characters
+
Meaty campaign with dozens of hours of gameplay
Reasons to avoid
-
The combat isn't the best
The Outer Worlds is a rare modern take on the RPG shooter genre popularized by Mass Effect and Fallout. Built by the team behind Fallout: New Vegas, The Outer Worlds revives many of the branching story elements some felt were missing from Fallout 4, with a story full of quirky characters and memorable moments.
Set in the Halcyon system, The Outer Worlds imagines what life would be like if private corporations colonized a solar system of their own. It turns out it's not all too pleasant. Food shortage issues, political instability, inequality, terrorists, mutant horrors, hungry aliens, and a whole range of other problems await Halcyon colonists, many of whom remain in emergency cryostasis.
The Outer Worlds is a shooter at its core, giving players a decent amount of combat variety and character progression. While The Outer Worlds quite clearly didn't have the massive budget as some of its contemporaries, it delivers nonetheless. Now a part of Microsoft, the franchise should reach all-new heights in its second outing, The Outer Worlds 2, which is now in development.
Best Xbox RPGs: Bottom line
The very definition of what makes an RPG an RPG is evolving all the time, as developers blend genres to find new and unique games for us to peruse and enjoy. Games like The Witcher 3 and Final Fantasy XV take a more open-world approach, while games like Pillars of Eternity and Dragon Quest XI call back to a more classic turn-based style. This list is only the beginning, as we expand to cover many of the major RPGs in the upcoming Xbox games list in the coming months.
While it was panned by critics for broken promises from its marketing cycle and past-gen versions, I had an absolute blast with Cyberpunk 2077, which despite issues, was easily my favorite game of 2020. It doesn't play particularly well on the base Xbox One and PS4, but if you have higher-end PC or an Xbox Series X, the issues are nowhere near as prevalent. Although, you may want to hold for the official Xbox Series X-enhanced version. In Cyberpunk 2077, you play as V, a merc for hire in a violent corporate hellscape. Your decisions have major ramifications on the outcome of the game, which gives you a large degree of freedom for tailoring how you tackle challenges and combat in this cybernetically enhanced wide-open world.
There's a reason I put Pillars of Eternity at the top of this list, too. Pillars of Eternity is an incredible classic RPG from members of the team that brought us Baldur's Gate. Set in the world of Eora, Pillars of Eternity weaves a mysterious tale with D&D-inspired gameplay rules, giving players access to a huge variety of characters and playstyle opportunities. Pillars of Eternity has a tactical gameplay layer that players of more recent titles like Dragon Age may be familiar with, with the ability to pause time and plan reactions strategically. A large branching narrative, epic boss battles, and an immaculate story await. Pillars is also grabbing a big-budget first-person transition, in the form of Xbox exclusive Avowed, and also has a sequel on Xbox, called Deadfire.
As part of our ongoing effort to round up the best Xbox games for Xbox One, Xbox Series X, and Xbox Series S, we've explored hundreds of titles to bring you this initial offering, in what I presume will be an ever-increasing list of tremendous unmissable experiences that will leave a lasting impression. If you think anything is missing from this list, drop it in the comments, and we'll consider it for a future update.
Get the Windows Central Newsletter
All the latest news, reviews, and guides for Windows and Xbox diehards.
Brendan Lowry is a Windows Central writer and Oakland University graduate with a burning passion for video games, of which he's been an avid fan since childhood. You'll find him doing reviews, editorials, and general coverage on everything Xbox and PC. Follow him on Twitter.