EA's new 'SEED' research unit goes hand in hand with the power of Xbox Project Scorpio
Electronic Arts' recently unveiled research division is a promising concept, and it means a great deal to Project Scorpio.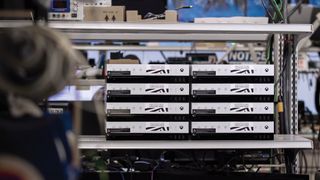 Electronic Arts recently wrapped up its EA Play press conference, where it showcased its upcoming titles for the year, ahead of E3 2017. While the spectacle of new AAA games drew the most attention, one of the most overlooked announcements was the company's reworked research division.
The "Search for Extraordinary Experiences Division" (SEED) is an internal skunkworks at Electronic Arts, which has been established to pursue cutting-edge advancements for use in games. As explained on stage by the company's Executive Vice President, Patrick Söderlund, SEED is an avenue for "exploring visionary concepts" within EA – a feat that's sometimes hard to pursue within today's major AAA publishers.
Planting the SEED
Looking past its swanky new logo, SEED as a concept is an interesting movement to see within a major video games publisher. While its introduction was left somewhat vague, to some extent this comes down the core dynamic of such a group. The actual role of the division will be forever changing around current technologies, which requires rapid growths around ongoing events – and it should be significantly faster than your traditional game development team.
What makes SEED promising is its creative approach to these advancements. As a part of Söderlund's introduction, deep learning, neural networks, and advanced AI were all mentioned on stage in passing. While these are all growing domains within the technology industry, SEED's role is to approach them from a creative standpoint. With an intent to bring these technologies into games, it is the implementation that will make them stand out in the market.
Though SEED's advancements could lead to some unique and innovative new titles in the future, the group's early work is transpiring in EA's upcoming titles. To kickstart the division, one of its first undertakings has been put into motion with Microsoft's upcoming high-end Xbox console, called "Project Scorpio."
With hardware cycles refreshing more frequently, there's a growing drive to stand out from the crowd and leverage new resources. Preparing for the next console launch, SEED has already gone hands-on with Project Scorpio development kits and is working to optimize EA's Frostbite game engine for the platform.
Image 1 of 2
What EA's SEED will mean for Xbox
As shown on stage at E3, SEED's research has opened ways of using Project Scorpio's hardware advancements to improve graphical fidelity. Debuted with a short teaser for Madden NFL 18 on the console, we can see a new level of detail, with vastly improved textures and lighting, while running at 4K resolution.
With improved overall optimization for the Frostbite engine on Project Scorpio, other upcoming EA titles will assumedly utilize this research. And as previously leaked ahead of E3, both Star Wars Battlefront II and FIFA 18 are among the games expected hit native 4K and 60 frames per second (FPS) on the console.
While visual improvements on Project Scorpio are welcome, this is ultimately only one of many areas SEED plans to invest in. Research goes further than visual enhancements and Project Scorpio hardware – it's designed to adapt to upcoming technology as it arises.
Going forward, we may not actually hear much of any SEED developments. Assembled as a "stealthy" offshoot of the publisher, its progress may quietly proceed and filter into upcoming EA projects.
In theory, opening the company to new ideas, these technologies can be leveraged in their upcoming titles. The group could make for an interesting backbone to the development cycle of EA's studios and make for improvements across the publisher's entire library. In an industry where big publishers are often hesitant to invest in risky concepts, a push to innovate and fully invest in new platforms is a welcome sight.
Following SEED's investment into Project Scorpio, this should be especially meaningful for people looking to pick up EA titles on the console. While the Frostbite engine in its current form has never been ideally optimized for the Xbox, this may change with a new hardware revision. And while going forward you can expect many more publishers to jump on board with Scorpio, Electronic Arts is among those leading the pack into Microsoft's latest endeavor.
Windows Central Newsletter
Get the best of Windows Central in your inbox, every day!
Matt Brown was formerly a Windows Central's Senior Editor, Xbox & PC, at Future. Following over seven years of professional consumer technology and gaming coverage, he's focused on the world of Microsoft's gaming efforts. You can follow him on Twitter @mattjbrown.
That's some prototype rack! I'm filling out IT purchase & request acquisition forms today!!

Bull$hit! 60 FPS @ 4K isn't going to come close to happening on a console. The $700 dollar 11 teraflop GTX 1080ti can barely manage that on already existing titles let alone on future releases. It's the same thing they always try to promote. Unless the next Xbox costs over a grand you cn forget about that. PC master race is the only way.

Not sure if you are being sarcastic and making fun of the pc master race people or are just uninformed.

The GTX 1080Ti has nearly twice the memory running at a faster clock and has nearly twice the processing units vs the AMD GPU in the next Xbox. The specs are known and the benchmarks don't lie. The GTX 1080Ti struggles to average 60FPS on Battlefield, Tomb Raider, and GTA. They promoted the current Xbox as being able to game at 1080p at 60 FPS and yet it struggles to achieve a consistent 30FPS on too many titles to list. The PC master race was to be funny. The 60 FPS at 4K is just baseless promotion. Please prove otherwise, ill be waiting.

Yeah because they're going to lie about it. Ret@rd. Obviously they've already done it. Otherwise they wouldn't talk about it. They're fine tuning. J@ck@ss.

Except they said the current Xbox would be able game in 1080p @ 60FPS and it didn't even come close... It can barely move through its own menus without lahging...

Hm. True. They basically left an impossible task for devs... Ok yeah so we will see......

We already know that the new Xbox has the AMD RX 480. The benchmarks are available for that GPU. It struggles to average 60 FPS @ 2k resolution for older titles, and for the most part can only average in the high 40's for newer titles @ 2K with max settings. 4K is way out of reach for that GPU. Don't fall for the optimization BS. Optimization literally means removing graphic fidelity from the game's engine (such as AA, anisotropic filtering, SASO, HDR, and so on) so that it will run better. That's why, without exception, every single multi platform game looks better on the PC. The new Xbox hardly stands a chance of running at 2k let alone 4k. The new Xbox will finally be able to run games at 1080p @ 60 FPS with ease and that makes me almost certain that the console will upsample 1080 to 4K (and probably not that well) rather than natively processing 4K images. 90+% of their customers will be using a 1080p screen any ways...

The absence of clue is strong within you... 😛 first comparing a console and a PC is like comparing a plane and a car... While the plane can go faster than cars... I can guarantee you that on the ground most cars go faster than planes... Same here it's called optimizations.... PC optimization sucks ass... Been building PCs since the mid 90s there is no such thing as a PC master race... Quite the opposite... Just a bunch of toons willing to spend way too much money for very few return....

You haven't seen BF1 on Xbox vs PC... The graphics gap is immense, the fame rates are horrible on the Xbox, and if you're a PC gamer both the load times and physics are downright a joke compared to the PC.

that few return is no exclusive games. i used to have one myself, but i found myself playing on consoles. these hyperactive pixel counters dont know fun when it hit them in the head. This why Nintendo is still King in terms of sales and selling out products. No one cares about graphics. Indie games can sell more than a typical shooter if the gameplay is good.

It kills in sales because of demographics. It's clearly marked to children and there isn't another competitor. If you happen to be a 30 year old man like I am then you probably shouldnt / won't like the Nintendo. I'd rather eat **** then play the exact same ganes we've had for the last 20 years. That said I see the Switch as more of a gameboy than a console and in that regard it's technicality impressive.

funny, I saw this post after the one in which they show Forza 7 at 4k @ 60fps! Which makes your comments... well, I feel sorry for you...

Great to see EA going all in with Scorpio and 4K. Leaving the PoS "pro" in the dust

the future seams friendly

So, why is their logo for this just the Maze Bank logo from GTA V flipped and turned slightly?