Review: Elsse Folio Case for Surface RT and Pro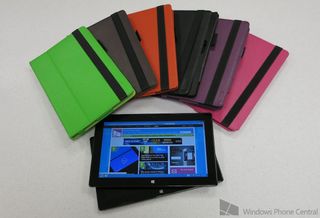 The Microsoft Surface is a well-constructed tablet, no doubt. Combined with a closed Touch or Type Cover, the screen can be decently protected from bumps and scratches. But I wouldn't want to drop either Surface, especially the costlier Pro – they're bound to come away with some scrapes.
You could try to protect your Surface by using it as a desktop and never taking it anywhere, but that's no fun to do with a tablet. So why not try a case for protection? Whichever Surface model you own, an online retailer called Bear Motion has you covered. Their Elsse Premium Folio Cases for both the Surface RT and Pro come in a wide variety of colors. Check out several of those colors in our full review with video!
Color me impressed
Before we talk about the case's features, let's marvel at the colors. Both the RT and Surface versions of the Elsse Premium Folio Case come in a whopping 11 colors: black, brown, dark blue, green, hot pink, light blue, orange, pink, purple, and red. For this review, Bear Motion provided six of those colors: green, brown, orange, black, purple, and hot pink. Any way you slice it, that's a lot of choices.
Folio style
The RT and Pro versions of the Elsse case are identical other than width and cut-outs for ports and controls. You will of course want to get the right size case for your tablet, as the RT case is uncomfortably snug on a Surface Pro and the Pro case holds the Surface RT too loosely.
The Elsse case opens up like a book and holds your Surface tablet securely in the "back cover" of the case. After inserting the Surface into the cover, a small inner flap closes over it and stays secure via Velcro. It takes a little fiddling to open or close the Velcro while the Surface sits inside the case, but I got pretty good at it after inserting and removing the Surface a few times.
The front of the case folds behind the Surface when you're using the device. It also has a black strap which can be used to hold tthe folio closed when not using the device or to hold the front securely in place behind the Surface (as shown in the picture above).
Cut outs
The part of the back cover that sits over the face of the Surface has cut outs for the tablet's Windows button and front-facing camera. Around the edges you'll find similar openings for the volume buttons, headset port, video output, USB jack, micro SD slot, speakers, power button, and charging port. The Surface charger is a little bit difficult to connect when using the case, but it still fits.
On the back of the case, you'll find a hole for the Surface's rear facing camera and a clip stand. A case of this style must necessarily cover the rear of the Surface and its built-in stand, but thankfully the case provides its own stand solution. Fold the front of the case around to the back and slip it into the clip to use it as a stand. It stands securely and protects the actual Surface's stand from wear and tear.
Keyboard use
Initially I thought the Elsse case couldn't be used with a keyboard (hence my saying so in the video review), but it turns out I spoke too soon. You can attach and detach the Touch Cover from the Surface while it's inside the case with no issues. The keyboard can even be used while the case is folded back as a stand.
The only thing you can't do with a Touch Cover attached is fold the cover behind the Surface as you'd normally do when you didn't need to use the keyboard. If you don't need the keyboard, just snap it off and put it away until you're ready to reattach it.
Note: I don't have a Type Cover to test with the case. We'll update this review whenever I get one.
Stylin' Stylus
The Surface Pro comes with a really nice stylus, but it lacks a truly secure way to hold or transport the stylus. Possibly the best feature of the Elsse case is its stylus holder. Whether you buy the RT or Pro case, both come with a holder attached. The stylus slips in and out snugly (I rotate it so the stylus' button faces the case) so you'll never have to worry about it falling off and getting lost.
Overall Impression
We can all agree that the Surface is a beautifully engineered tablet. For some people, the thought of covering up that beauty with a case is even more wrong than wearing a baseball cap at a sideways angle. But other proud Surface owners will want to keep their expensive tablets safe in case of spills or drops. Not only will Bear Motion's Elsse cases provide some peace of mind, they let you decorate your Surface with a variety of colors.
Elsse Premium Folio Case for Surface RT – ~$14.99 (price varies by color) – Amazon Link

(opens in new tab)

Elsse Premium Folio Case for Surface Pro – ~$14.99 (price varies by color) – Amazon Link

(opens in new tab)
Windows Central Newsletter
Get the best of Windows Central in your inbox, every day!
Paul Acevedo is the Games Editor at Windows Central. A lifelong gamer, he has written about videogames for over 15 years and reviewed over 350 games for our site. Follow him on Twitter @PaulRAcevedo. Don't hate. Appreciate!
Looks cool. I think I'm gonna get a surface now that they're cheaper.

Anyone tried it with a Dell xps 10...? Looks awesome :)

I want one so bad for my Pro. Amazon wont ship it to Canada. :(
Anyone know someone that will ship this to Canada for me?

Thanks for the offer but I think I am going to try this one out...

Trying to get Moko to send a case for review but no luck so far.

I just ordered one. Price difference sucks, but it's leather and I'm in Canada. -.-
We'll see how it is.

This case FAILS, and I'm going to tell you why.

Look at the cutout for the start button. Now think about how often you swipe up on the Surface ( I have a pro 128). I had a case similar to this, and I ditched it for the Moko Rotary Detachable case/cover.

The cutouts are more generous, the flip cover comes off and it even has its own independent kick which offers more range than the surface kick.
It also has the hand-strap, and because of the rotation on the case, you can use the stand in portrait or landscape mode.
Also, it ships to Canada, and comes in different colors. I have the blue-ish one.

I didn't care for that one either. I have the new version which come with a pen holder. Try swiping down to close, 90% of the time you can't because that bottom border is always in the way. So you end up swiping down to the start button cutout which causes another issue. The tablet simply needs to be supported by its corners in the case, period.

Have you tried searching on Amazon.ca instead?

They do basically every colour apart from Yellow :(. Would love a yellow one to go nicely with my Yellow Lumia 920 lol.
My sister has one of these cases though and they are really good quality.

Moko makes a yellow one. :)

Thank you very much mate! :)

I had one for my Pro and one for my RT. Thought it was a good move at first. The case completely doubles the size of the tablet. No longer is it light and nimble. Also the gestures are completely hindered by the border support. Take another look at the pics. You're constantly moving the border away so you can swipe properly. Also propped up the tablet slouches down for even worse gesture support. As a result, my Surface Pro and its touch cover are all I need now. Still no scratches.

Hey! Use complete sentences, will ya? To answer your question, it's not looking like we'll get a new Xbox game today.

Paul states "The Surface Pro comes with a really nice stylus, but by default it lacks a way to hold or transport the stylus."
You can attach the stylus to the pro. The "click" button of the stylus fits and sticks to the power connector on the Pro, and a magnet holds it in place.


He probably meant that the magnet is not really a reliable transportation method. I've had it fall off on me many times.

Thanks you guys - I clarified my wording a bit.

I got the Poetic case a when the surface first came out:
http://www.amazon.com/Poetic-HardBack-Protective-Microsoft-Windows/dp/B00AB25PIE?tag=wpcentralb-20

It is perfect... pretty much as slim and unobtrusive as you can get. And $10 to boot.

(Off topic) hey WPcentral people, i was just thinking you should definitely change the images icon to a Lumia 1020 next update, anyway, sorry back to surface cases...

I use my RT naked. Always.

I bought the purple model for my wife and it is fantastic!! Solid construction, looks beautiful, and easy to clean! For those wondering if it creates issues with swiping, the answer is a definitive NO! All parts of the display are easily accessible and with my big hand, that's saying a LOT! In addition, it easily fits even with a keyboard attached. It bundles it all together quite well and with the contrast between case and keyboard, it's reminiscent of a lumia. Also, it gives you a place to hold ypur stylus. Worth every penny!l

To be honest, this seems really shitty. I would never put a band around the front and the cut outs look really annoying and loose. Last but not least its reverse for typing mode and i dont think thats a cool thing :(

Reverse for typing mode? What do you mean? And you don't have to use the band when using the case if you don't want to.

As noted already, you can't really do your slide gestures from the sides or top with this case. Also, if you use your SD card often, you'll be removing it from the case a lot because it is behind the built-in kick stand.
Case makers really have to play with the Surface to get a feel for the OS and how you move in it before making these cases. There's also the fact that this comes with a built-in stand. I really have no idea how they'll build around it. I think they are shoehorning the cases from iPad and Android devices for quick sales, which I don't blame them because of the poor Surface RT/Pro sales. There are better options available than this, but the price may be higher.

Neither I nor my girlfriend have any trouble doing slide gestures when using the case. Not sure why a few of you guys are having trouble.

I got the 1970s orange, nerd core cover for my RT. I still love my Surface!

I have the original Moko case without the pen holder, but bought one separately and it works great. Like someone else mentioned, the Moko case has space around all of the edges to allow for gestures as well as ample cutout space for the ports. The only time I've ever taken my pro out of the case was to completely clean it. I too love the built in kickstand and use it quite often when I'm looking at a movie in bed while lying on my side and have used the built in handle to carry it around when its not in my tote.