EmiPSX Review: the first Playstation emulator for Windows Phone 8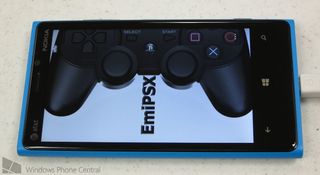 Not long ago, we covered a Sega Genesis emulator for Windows Phone 8 called EmiGens Plus. The Sega Genesis/Mega Drive was a terrific console, but many gamers would still love to play newer console games on their phones. Thanks to EmiGens' developer Andre Botelho, now they can!
After months in beta, Andre's Playstation One emulator EmiPSX is now live on the Windows Phone Store. The emulator has fairly limited compatibility and can't run games at full speed on current Windows Phone 8 hardware, but it's still a very promising release for Playstation emulation fans. Head past the break for full review with video!
The first Sony console
The original Playstation debuted in 1994. First planned as a CD-ROM add-on for the Super NES, Nintendo made the biggest blunder in gaming history and broke ties with Sony. Thus Sony chose to release the Playstation as their first videogame console, starting down the road that leads to this week's launch of the Playstation 4.
Display modes
Portrait display modes - Image at right is set to "Stretch."
EmiPSX supports both portrait and landscape configurations. As you'd expect, landscape is far more ideal because of the larger view it offers.
The only real video option to note is a choice between "Stretch" and "FullScreen" modes. In this case, Stretch actually runs games in their original 1:33 aspect ratio (or as close to it as possible), which video enthusiasts would usually refer to as full screen or pillarboxed.
The "FullScreen" option is the one that actually stretches the image to fit the entire phone's display. This can look okay in landscape, but certainly not in portrait orientation. Since this mode is stretches the display and not the other way around, it would be more accurate for "FullScreen" to be called "Stretch."
Controls
Like EmiGens Plus, EmiPSX allows users to reposition every single button anywhere on-screen in either orientation. That should make it easy to get them in a comfortable spot.
Beyond that, the controls show a marked improvement compared to Andre's previous emulator. For one, the default buttons and d-pad actually look like those of a Playstation controller. Players can also toggle to a "Simple Skin" in which the on-screen controls become simple white outlines (pictured above). Either way, they just look so much better than EmiGens' rough controls.
I haven't played enough games to properly test this, but it even looks like EmiPSX's d-pad is more responsive. In my short playtime with Castlevania: Symphony of the Night, I didn't notice the problem of the d-pad ceasing to work when my thumb exceeded the button graphic. Indeed, the Simple Skin shows a circular pattern around the directions, seemingly indicating that EmiPSX watches that entire space for input instead of just the main directions.
EmiPSX's other big control improvement is MOGA Pro Controller Support! That makes this the fifth Windows Phone 8 game/app to work with the accessory, and the second emulator to do so (EMU7800 is the first). Again, we don't have a controller to test the support, but it should make for a superior play experience compared to touch screen controls.
Game selection and in-game menu
EmiPSX's game selection menu falls a few notches short of other developers' emulators. Every time you launch the app you'll have to select between SD Card and Internal storage before your Roms will actually show up. Really it should default to Internal storage (which everyone has) and just let users toggle to SD Card if they like.
The list itself does not support screenshots, which is a shame. It also clutters things up with letters used for alphabetical selection, so that you can only see two or three games at one time. Jumping to letters of the alphabet isn't bad, but a little reorganizing could allow for 4-5 games to fit onscreen.
Pressing the Back button during a game brings up the in-game menu. From here, players can jump to the "Configure" menu (now listed in English!), save their current state, and load save states. Notably missing is the ability to take screenshots via the menu. Yeah, you can do that with the Windows Phone hardware buttons, but most emulators also let users take pictures using menu controls.
Unfortunately, it's far too easy to exit the game you're playing after viewing the menu. Should you back out of the game by mistake, there doesn't seem to be any way to resume from exactly where you off. That can be a big deal when you're 15 minutes into Symphony of the Night, haven't saved yet, and press the wrong thing by mistake. Frankly, the only way to exit out of a game should be by choosing to do so from a menu.
Adding a game to your phone
EmiPSX supports two types of "Roms" - .BIN and .ISO files. Some sites store Playstation game images in another format, in which case you'd need to convert it to the proper format before the emulator could read it. Of course, you can't legally play game images that you didn't create yourself, so quit using them pesky websites, sonny.
You can put games on your phone via SkyDrive or SD Card. Note that adding large games via SkyDrive can be a hassle. In my experience, if my screen timed out while downloading a game then the download would fail. I had to turn off the screen time out via my phone's settings before I could successfully import a game. If the same experience holds true for others, the app should mention the screen issue within its Help menu. (By the way, it has a pretty good Help menu.)
To BIOS or not BIOS?
The emulator supports playing games with or without a BIOS file. The BIOS is the core program of the Playstation and can't be legally distributed with the app. If you do use a BIOS, it has to be named SCPH1001.BIN specifically, so don't grab the wrong one.
As with EmiGens, the installed BIOS file shows up on the regular ROMs list. That's a waste of space; its presence should be displayed in the settings menu and nowhere else.
The settings menu does allow users to enable or disable the BIOS file. You'd want to do this because some games aren't compatible with the BIOS for whatever reason. In my own experience, Castlevania: Symphony of the Night simply wouldn't accept button presses with the BIOS enabled. That probably shouldn't happen.
Performance and compatibility
Ordinarily I would test several games when evaluating an emulator. Sadly, my phone is all but full so I had to settle for adding a single game: the aforementioned Symphony of the Night. Xbox Windows Phone gamers might remember that the underrated and overpriced Castlevania Puzzle is closely based on Symphony of the Night.
The Playstation is a relatively powerful 32-bit console and first-generation Windows Phone 8 devices aren't all that beefy, so it might take a while for the developer to achieve perfect emulation. As it stands, Castlevania runs at a lower-than-normal but still playable frame rate. The sub-par FPS count would be less noticeable in Japanese Role-Playing Games, which is the genre that people tend to prefer when playing emulators on touch screens anyway.
Speaking of which, EmiPSX doesn't have compatibility with all Playstation games yet. It does support a handful of big titles though, such as Final Fantasy VII and VIII and Gran Turismo 2. To view the full list and discuss compatibility findings, head to the official EmiPSX thread in our forums.
Promise for the future
EmiPSX has some rough UI edges, but it's great to see improved touch screen controls and MOGA Pro Controller support in the emulator. Hopefully those improvements make it to EmiGens Plus soon as well.
The most important things with an emulator are accuracy and compatibility. I doubt that EmiPSX will reach 100 percent performance on current Windows Phone 8 hardware. But the Nokia Lumia 1520 (with a woeful 16 GB of internal storage) will soon debut, touting the much stronger Snapdragon 800 processor. Emulators like this one should run much better on Snapdragon 800 devices, so we can look forward to that.
As for increased compatibility, that can only come from extensive user testing and continued developer support. Let's do our best to help and encourage Andre to keep getting more games running on the emulator!
EmiPSX – Windows Phone 8 – 2 MB – $2.49 – Store Link
Get the Windows Central Newsletter
All the latest news, reviews, and guides for Windows and Xbox diehards.
Paul Acevedo is the Games Editor at Windows Central. A lifelong gamer, he has written about videogames for over 15 years and reviewed over 350 games for our site. Follow him on Twitter @PaulRAcevedo. Don't hate. Appreciate!