Avengers 4: Endgame is coming out April 26, 2019 and here's the first trailer!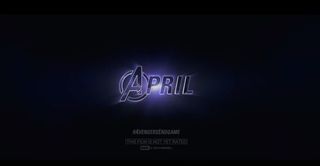 Well, it's been a long few months since the heart-wrenching ending of Avengers: Infinity War, and just as soon as we got over the trauma, we now have news about the sequel — and final entry in the storied franchise.
Avengers 4 will be called Endgame, and will be released on April 26, 2019. You can watch the awesome first trailer below.
The trailer gives us a few fleeting glimpses into characters that we got to know better in Avengers, and a couple that were completely absent — notably Scott Lang, AKA Ant-Man, and Hawkeye. Given that we know Avengers 4 is the last in this particular sequence, and the final Marvel film for many of the actors involved in the series for a decade now, we're likely to get a pretty incredible and climactic showdown with Thanos.
What's your take on the trailer?
I will be happy as long as they don't decide to introduce Captain Marvel in her upcoming movie just so that she can wind up as a deus ex machina for the next Avengers movie. I'm already not sold on her as a character (was never a fan of her in the comics) and I'd be upset if they screw up all the world and character building in the Marvel CU just to shoehorn her in.

Haha! Unlikely I think, but I wouldn't be surprised. These days, I just take what I get, I try not too get too attached else I'll just be worked up for nothing lol! Go with the flow, enjoy the good ones that come along, discard the crappy ones, AVOID all movie reviews (seriously!), at least until after you've seen it for yourself and independently come to a conclusion. Enjoy!!

I generally avoid most reviews (I treat them the same as game reviews, where a reviewer may like or dislike something depending on their own specific tastes or political leanings) and prefer to form my own opinions. I'm just cautious because the MCU has so much going right that it'll be easy to get over-confident and ruin it. -_-

I think they are going to sacrifice Captain Marvel box office earnings seeing as how A4 is coming out one month after her.
That or they know she's not going to do well.

@dpz Using that logic Disney must not think very much of any of their big movies (which are stacked next year) and believe they will not do well. (/s) Because it seems Disney is releasing a string of big movies continuously. And each, in many cases, is less than a month after the previous movie (starting in March and going to the end of the year.) The original date was May 3rd for A4. They probably moved it a week early to April not to overlap too closely with Aladdin which also is a May release. Captain Marvel is still 6 1/2 weeks earlier (an eternity for a movie; most money comes in for a blockbuster in the first month) There are only so many slots available and you still have to take into consideration competitors movies that may draw in the same audiences. Captain Marvel — March 8 2019
Dumbo — March 29, 2019
Penguins — April 19, 2019
Avengers Endgame (Avengers 4) — April 26, 2019
Aladdin — May 24, 2019
Toy Story 4 — June 21, 2019
The Lion King — July 19, 2019
Artemis Fowl — Aug. 9, 2019
Frozen 2 — Nov. 22, 2019
Star Wars Episode IX - Dec. 19, 2019

Interesting. 🤔
I didn't look up the dates so that 6 weeks will be more than enough to make plans to see Captain Marvel.
I'm going to wait and probably go around the end of March anyways.
Thanks for the list.

That isn't a full list. I forgot with Fox joining the Disney empire in 2019 that means last time I checked they will also have three more super hero movies all X-Men related coming out as well next year from Fox. Crowded list for Disney. Gambit - February 2019 or it June (this one is all over the place)
Dark Pheonix - June 7, 2019
New Mutants - August 2, 2019 Although after that I think Disney will end up just rebooting the whole X-Men fanchise. Of course next year is going to be an overall barage of super hero movies. DC has Shazam, Joker (1 of 2 different movie takes on the charcter), Wonder Women 2, and some animated Superman. Marvel via Sony has next Spider-Man in Nov 2019. And of coruse there is Hellboy reboot in April.

now begins the months long effort to not see anything spoilery, as much as possible

This!! I avoid all spoilers like the plague. I may even begin skipping on the trailers. It's only about 5 months away!

screaming like a little girl so happy!! kinda sad at the same time tho.

These movies are so boring now. I'm officially done with Marvel movies.

You'll enjoy the movie more if you don't watch any of the trailers.
Windows Central Newsletter
Get the best of Windows Central in in your inbox, every day!
Thank you for signing up to Windows Central. You will receive a verification email shortly.
There was a problem. Please refresh the page and try again.