Enjoy the speed boost. Three UK set to add LTE to plans for free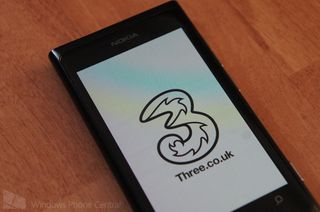 Three UK has announced in a press release that its LTE upgrade, which is set to arrive later this year, will be added to existing and future plans with no upgrade fee. This means that consumers on supported plans will be able to take full advantage of improved network performance without forking out extra pennies (should you have a capable smartphone, of course).
Currently 4G is restricted in the UK to EE, but other mobile operators in the country are preparing to launch respective upgrades early 2013 once the doors have been opened up. The exclusivity to a single company has led to astonishingly priced plans being published for those who wish to hop onto the LTE train early.
What's more is Three states that all plans will be supported. All you'll need is a 4G Windows Phone and you're good to go. The mobile operator currently supports DC-HSDPA technology on its network and covers 55 percent of the UK. The company plans to reach 80 percent of the population by the end of March 2013, as well as incorporating 1800Mhz in the second half of the year.
So what happens when LTE arrives on Three? Will you need a new SIM, phone, plan? Not at all, only if you haven't got a 4G capable handset. The Lumia 920, Lumia 820 and HTC 8X are all available from Three - be sure to double check that it will be able to use the upcoming 4G upgrade when purchasing. No new SIM is required and your plan should sport the improvements once LTE has launched.
Three UK chief executive, Dave Dyson, had the following to comment on the improvements:
Perfect. Three is already preparing for the arrival of LTE, which will launch later this year. Good news all around. Thanks, Racxie, for the tip!
Windows Central Newsletter
Get the best of Windows Central in in your inbox, every day!
Rich Edmonds was formerly a Senior Editor of PC hardware at Windows Central, covering everything related to PC components and NAS. He's been involved in technology for more than a decade and knows a thing or two about the magic inside a PC chassis. You can follow him on Twitter at @RichEdmonds.
Ahh man boring were new update news :'(

Just hope EE plans will be affected by this:)

Yeah, EE want me to start a new contract with them to get 4G only offering 6GB a month. I already use 4G a month and don't use Netflix on 3G will use it on 4G so come on EE, wake up and give us realistic prices.

Thanks guys, I'll be sure not to bother tipping you guys ever again seen as it never seems to be appreciated. E-mailed you this morning about this just before 8 and them you post this nearly 6 hours later, so don't tell me you didn't see it. I'll still be a loyal reader but just let it be known I am not a happy customer.

Racxie, I can only apologise that this has occurred. Was your tip sent in from our Windows Phone app by any chance? I've checked our mailbox and cannot see any tip from you this morning.

Hi Rich, I did send it via the app using my hotmail account. I did check my sent inbox as well and it definitely went through. Unless the app may have caused some kind of bug?

Again, I can only apologise. It definitely did go through (Dan confirmed it), but I don't receive the emails that are sent through the app yet (they arrive through a separate system to messages sent through the website itself) - I'll make sure everything's in place so this doesn't occurr again. Now that I've viewed the tip, as a gesture of goodwill you're added to the article :-)

Thanks Rich, I really appreciate that someone listens! Dan probably didn't say anything as l don't think he likes me just because last time I tipped on the Ubuntu OS suggesting it as a "potential rival" haha.

lol "customer"?....
what exactly did you purchase from WPCentral?

Yes, "customer". I bought their app. Or if you want to look at it another way, I paid a small premium for the service they provide. Does that answer your question troll?

Ahh man. I am an early adopter to EE. Was on 3 and loved the unlimited data though their customer service was bad. I hope EE follows suit otherwise i stuck for 2yrs with this 1gb limit.

Haven't got 4g in my area so not really.bothered for now.

3 really are awesome. Best network in the UK by an enormous distance.

Don't agree with that. When i had signal problems at home they called me everyday until it was resolved. I moved to Orange chasing a Nokia 900...what a bad mistake, i have had signal problems or over 6 months and they have done nothing about it. I am going back to 3.

Until you need support.... And signal indoors in certain places.... Bro has 3, and he can never get any decent signal in my house unless he stands outside.... But yet I get full 4G signal... Go figure! Everyone disses EE, but I have yet to have issues, and nor has my wife that has been with Orange for many man years....

Where I live in North London, Three signal is better than O2 who can't provide a connection more than three minutes or Vidafone who don't have a 2/3G signal. Can't even received text in Voda.

so rather than just being abusive which helps no one, just state that where you are it's crap. Nit hard is it.

Your experiences are your own. I've had an account with Three for years and have never experienced any issue.

This strikes me as "too good to be true" - sure I'm happy that 3 wants to provide me with unlimited data for £10 per month on a 4G network but....

Is the out here that they mean *existing* customers?

Now if only AT&T would give me free LTE...

To be honest with DC-HSPDA, LTE is a welcome bonus especially if for free! Two fast connection technologies should mean I experience improved speed most if the time.

The only good thing that qill come out of this is that it will force other carriers Ahem...EE to come up with more realistic prices, i for one would never consider going to three (google three reviews) and you'll understand why, ive also had first hand experience of their customer support and its appauling, their staff will literally say and promise ANYTHING to get you off the phone, three might appear to be a good network, but when you need their support, youll suddenly realise how foolish youve been!

i've been with Three for 9 years and never had a bad service with them, always great customer service andby far the best network. Which other network gives you so much for a small price? NONE!

The biggest mistake i made was to leave 3 and go to Orange. 3 i am coming back.

I hope 3 Ireland follows suit and won't be dragging its heels.
Windows Central Newsletter
Thank you for signing up to Windows Central. You will receive a verification email shortly.
There was a problem. Please refresh the page and try again.