Enpass Password Manager is today's Windows Phone myAppFree Deal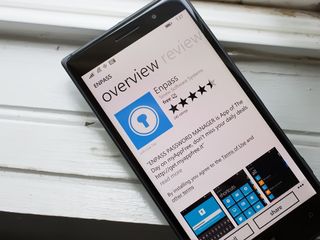 Enpass is a feature-rich password manager that is available from both the Windows Phone and Windows 10 Store. The app presents itself as a secure solution to manage existing passwords and to generate new, unique and strong passwords when the need arises.
The Windows Phone app normally runs $9.99 with no annual subscriptions. If you have been on the fence about picking up Enpass, today is your lucky day. Through the myA ppFree campaign, for the next twenty-four hours you can pick up Enpass free. Being a universal app, this means that you will not only have access to the Windows Phone version free but also the Windows version.
Using military grade encryption, Enpass secures your data by SQLCIPHER, which is transparent and open source AES256 encryption to insure the highest level of security. There is no online sign up for membership required because your data is secure on your device or in your cloud storage.
Key features for Enpass include:
Built-in password generator to let you create unique and strong passwords
Autolocking feature that locks the app when not in use or the device should it get lost
Cross-platform compatibility with all major desktop and smartphone platforms
Cloud synchronization with support for Dropbox, Google Drive, OneDrive, ownCloud/WebDav and Box
Auto fill login to websites
There is also support to import password data from other popular password managers.
In just tinkering with Enpass it comes across as a solid password management option. The ratings also look positive with Enpass scoring a 4.6 star rating in the Windows Phone Store.
The app typically runs $9.99 but through the myAppFree promotion, you can pick up Enpass free. That is a healthy savings and if you try Enpass and it isn't your cup of tea, you will only be out the data needed to install the Windows Phone app. Additionally, being a universal app this deal extends to the Windows version of the password manager.
If you give Enpass a try, let us know what you think of the app in the comments below. Please note the app is currently listed as free in the Windows Phone Store but may take a little while longer for the deal to show up in the Windows 10 Store.
myAppFree
Windows Central is proud to be partnering up with myAppFree to bring you savings on Windows Phone apps and games. myAppFree is a free Windows Phone app and service that highlights special deals for software in the Windows Phone and Windows Stores. Make sure you download their app to keep track of all the specials they run weekly, as you'll never know what you may find.
Windows Central will continue to highlight select Windows Phone and Windows 8 titles, such as Enpass, from myAppFree on a regular basis as a benefit to the Windows Central community. Many of these deals will be for universal apps so you'll double your savings.
Windows Central Newsletter
Get the best of Windows Central in in your inbox, every day!
George is the Reviews Editor at Windows Central, concentrating on Windows 10 PC and Mobile apps. He's been a supporter of the platform since the days of Windows CE and uses his current Windows 10 Mobile phone daily to keep up with life and enjoy a game during down time.
Well then, fairwell LastPass! :D

Exactly, especially after Lastpass' latest bait & switch with their new "free" mobile client.

Oh yeah that made me mad too. Enpass' system is better. You pay for the app and you sync it throughout devices.

Just paid for Lastpass yesterday dammit....

Oh that sucks! But at least it's just 12$ for a year :P

Myappfree is my favourite application after windowscentral

Bought Enpass almost two years ago for 9,99 Euros. Worth every cent.

Paid for this app a year ago. Well worth it. Excellent app.

It's the best password manager out here. I have it on my Surface,1520 and desktop. One of the best investment you can make in today's password heavy world.

i was about to buy yesterday.....then though let me finish the trial period...saved 9.99!!!!

The version I downloaded just now IS the trial version. :(

Uninstall and try again. The price change might not have propagated to all the Store servers yet. I just installed for free.

It showed up as 'Update' on my windows 10 phone

Yes it is trial version, installed twice, still says trial

Great app, bought on sale once for$5.99, so worth it. Love it being a universal app. No disappointments.

Thank you very much for the amazing deal myAppsFree campaign and Windows Centrel

I love Enpass. I bought it a few months ago.

You need Windows (.exe) version of Enpass to import and doesnt seem to want to import regular CSV file exported from my password app :( Store version doesnt have import function that I can see.... Looks like a wonderfull app tho' will keep it and see if my issue gets fixed over time.

Maybe the app download is free, but you can only add a maximum of 10 entries then you have to pay for the subscription

Not true. I've added 19 passwords to mine so far...

I'm running the app under windows 10 mobile and restored a previous backup. Could this be the problem?

Try uninstalling the app and reinstalling.

EnPass is a great app, been using over a year never a problem and the desktop is nice for entering lots of information. You can also move your info from most other manager apps but not SkyDrive which is what I had before switching, I have not found anything that can't be done. One idea I gave to the developer was to let the user set the page on which the app opens too, at present it opens up too "all" I would like to see it open up too "shortcuts"

This just might be my new password app. We've been using KeePass. While free, support for OneDrive has been taking forever and compatible WP apps have been lacking features.

Con I import data from my Lastpass account and isthere pin code login possibility?

Yes you can, from the lastpass extension: Tools > Advanced Tools > Export to > Lastpass CSV > Enter Master Password > Select all > Copy > Open Notepad > Paste > Save as "txt". Download Enpass for desktop (not metro) > Install > File > Import > Select Lastpass > Choose txt file > Next > Tools > Sync > Select cloud > Done It has password and pin

Thanks dani sorin. I need this too. And it worked like a charm.

The only thing missing is a browser extension.

Agreed... Even without an extension, Lastpass password vault can be securely accessed from any computer with a web browser, People arent always near their devices. Debates ensue about security... but I'm confident LastPass is quite secure for my personal needs.

Yes, current version doesn't support Browser Extension. But the wait for Extension is going to be over very soon as Enpass users will hear a great & happy news.

Does this work with Edge?​

Excellent, been looking to try this. I'm already happy with keepass + OneDrive tbh but will definitely take a look now I have it for free :)

This is a great app - I already own it, but I love the dropbox sync feature so that I have access to my passwords on the phone and on my surface and my desktop.

Not working for me, closing after entering the password on both phone and pc... :/

Hi Tommy, please contact us at support[@]enpass.io and we will defintiely resolve your issue.

Judging from multiple ridiculous and shameless How-To Guides per day, it is pretty clear that quantity comes before quality to keep the ad revenue and search-engine visibility flowing. Yet how is it that the MyAppFree deals are only mentioned on Tuesdays instead of on a daily basis, like the service itself?

I've wanted to try this app for a long time. I didn't realize how big the rating was for this app. 4.6 is seriously making the grade. Good job dev and thanks.

Thanks got it =) wish youtube had better tutorials and reviews for this app.

Bought it on sale a year ago and waited to see how it faired... been burnt by changing/dropped platforms moving along from wm5/6 (SPB) and then to SafeWallet (SBSH) on WP7/8. Safewallet had an elegant import feature that flawlessly brought over my data from SPB. It synced with desktop via DropBox. Due to lack of business and a less than well thought-out business model, SBSH is no longer in business. Lost DB sync feature several months ago... after reading the above reviews, it's tiime to make the leap (and delete my DB account). Cheers

I like universal password managers and I'm downloading it. I'm waiting also that 1Password ends his alpha for trying it. I hope you'll make a list of the best password managers for Windows 10 after it is released :)

Not working for me.. Installed 4 times, still says to buy full version, says mine is the trial version

I installed this, and no where it's mentioned full or trial. After adding 5 entries a pop up message came alerting me that I could only add 20 entries. After that I need to buy.
//edit: I received same message after every 5 entries. But after 20 entries no more alerts, I can still add new entries :-)

No issues rudraksh.....you keep adding :))

Okk,thanks praveen! I uninstalled it 5 times bcoz of that message, i installed as i thought that there had bn sm error, anyways ill try!

I like the fact that every writer at windowscentral is now deleting my comments from all posts. This shows the respect and power of truth. Truth wins.

Installed this app yesterday, for free
Windows Central Newsletter
Thank you for signing up to Windows Central. You will receive a verification email shortly.
There was a problem. Please refresh the page and try again.