Pixels will prevail when 'The Escapists' and 'Adventures of Pip' come to Xbox One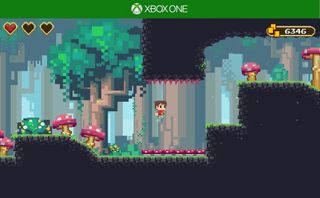 Earlier this week, indie developer Double Damage Games announced an exciting space epic for Xbox One called Rebel Galaxy. Fans of space-faring science fiction will gravitate towards its mixture of deep space exploration, combat, and adventure.
Meanwhile, another couple of indie games for Xbox One have also just been announced: The Escapists from Team17 and Adventures of Pip from TicToc Games. Both games have two things in common. One: they make use of delightful 2D pixel art, lending them unique looks among today's 3D gaming landscape. And two: both games are the result of successful Kickstarter crowd-funding campaigns. Who says 2D is dead? Not the people who funded these two games!
The Escapists
Developed by Mouldy Toof (?) in cooperation with Team17, The Escapists looks just like a 16-bit RPG of yore; think Pier Solar in original graphics mode. That would be charming enough for children of the early nineties, but truly unique aspect of The Escapists is its setting: a series of prisons!
In this game, you play as a prisoner who is determined to escape the prison from where he has been incarcerated. It plays out like a sandbox game mixed with simulation and role-playing. Your prisoner can hit the gym, earn funds by performing jobs like laundry and mail delivery, and do almost everything else that you'd do in prison with your clothes on.
Choose to sneak away from where you're supposed to be, and you might get caught and beaten by one of your fellow prisoners. The guards won't be as kind, throwing you into solitary confinement. It's a rough life; no wonder your dude wants to escape!
To break free of the gray walls of confinement, you'll have to work and plan. A crafting system allows you to create useful tools like wire-cutting shears or a life-size dummy from scavenged objects. The bits and bobs you pick up and make will come in handy when you finally make a break for it – there are approximately 200 items to find and more than 50 things to make with them!
The Escapists features six different prisons to break out of, starting with a minimum security hole and escalating all the way to the hellishness of a POW camp. With an impressive degree of freedom and many possible solutions, this one should keep players who have finished Grand Theft Auto V busy with more delightful video game crime.
The Escapists will be available to download on Xbox One on February 13th, just in time for Valentine's. It should cost $14.99, just like the Steam version.
Adventures of Pip
Instead of a sandbox game, Adventures of Pip is a cheerful platformer. Pip's story is a bit different from the genre norm, however. Sure, it involves rescuing a kidnapped princess from the Skeleton Queen. The difference is your character Pip starts out as a single lowly pixel. That's small!
How can one pixel save a kingdom and its non-democratically elected ruler? Thankfully a sympathetic ghost knight grants Pip the power of the Bitstream. This ability allows him to absorb his enemy's pixels, eventually transforming into a high-resolution hero.
Pip will gain two larger and more detailed forms as he progresses through the adventure. Each form has its own unique abilities, so you'll find that being just a pixel can come in handy! He'll use these abilities to solve puzzles and thwart the Skeleton Queen's minions.
The Adventures of Pip staff consists of several former members of Wayforward Technologies, a studio known for its mastery of pixel art and 2D platforming. The soundtrack comes from another veteran: Jake "virt" Kaufman, composer for Shantae and the Pirate's Curse, Shovel Knight, and more. That's a pedigree for retro platforming goodness!
Adventures of Pip will arrive on Xbox One and 360, Steam (PC and Mac), PlayStation 4, and Wii U in May. We'll have fresh impressions for you much sooner though as TicToc Games is showing Pip off at PAX South next week. I'll be there hunting for cool Xbox One games, and that should include Adventures of Pip.
Get the Windows Central Newsletter
All the latest news, reviews, and guides for Windows and Xbox diehards.
Paul Acevedo is the Games Editor at Windows Central. A lifelong gamer, he has written about videogames for over 15 years and reviewed over 350 games for our site. Follow him on Twitter @PaulRAcevedo. Don't hate. Appreciate!