European Commision throws out Cisco's complaint against Microsoft's Skype acquisition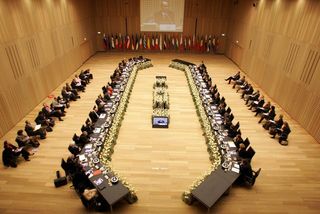 Microsoft's acquisition of Skype may be seen as a positive move by many users within the ecosystem, as it brings modern communication to Windows, Xbox, and Windows Phone, but not everyone is keen to the idea. Cisco recently challenged Microsoft's takeover of Skype Technologies. The challenge though, has been thrown out of the European General Court.
In 2011 the European Commission approved Microsoft's $8.5 billion acquisition of the VoIP video and call service, Skype, but the major networking company, Cisco Systems, argued that the result would be an unfair monopoly.
Cisco did not want the acquisition to fall through, but instead wanted to "see conditions placed that would prevent Microsoft taking over". Cisco has been a major player within enterprise communication and Microsoft's desire to merge the technologies of Skype and their Lync communication service would surely begin to push them out of the picture.
The European General Court had commented on their decision to throw out Cisco's case against the Microsoft-Skype acquisition stating that, "Microsoft's acquisition of Skype is compatible with the internal market." They continued further to mention that "the merger does not restrict competition."
Cisco's move to have the European Commission implement limits on the acquisition was no doubt one of self-preservation and fear, but it simply did not hold water.
What does this mean for the future of Cisco Communications? Well, as the aforementioned European Commission stated – they don't see it "restrict[ing]" competition within the Enterprise communications space. Cisco should remain standing, but it is difficult to say that Microsoft's decision to merge Skype and Lync won't affect any of Cisco's market share.
Who knows what could happen in the future due to Microsoft's latest deal. We might see Cisco's expensive Telepresence Boardrooms be replaced by a collection of Kinects powered by a Windows PC.
Microsoft and Cisco are now fighting for the future of enterprise communication. The question that remains - who will win?
Source: Europa Press; via The Verge
Get the Windows Central Newsletter
All the latest news, reviews, and guides for Windows and Xbox diehards.