EVE Online will let people play for free starting in November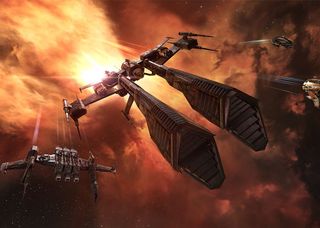 CCP Games has announced it will be making some changes to its 13-year old PC space-based MMO EVE Online this November. The main thrust of these changes will allow gamers to play the game for free for the first time.
EVE Online has been a subscription-based MMO since it launched in 2003. The changes that are coming in November will separate players into Alpha and Omega clone states. Omega players are the ones who will continue to play the game with its monthly subscription fee and will have accces to all of EVE Online's skills and ships.
The new Alpha clone designation is reserved for free-to-play players, who will be able to travel in EVE Online's universe with certain restrictions:
EVE Online is noted for having a single shared experience, which means that every player could in theory play with everyone else, which has resulted in some massive space battles with tens of thousands of ships online at once. CCP says they have been making changes so that EVE Online can handle a larger number of free players:
Omega players who let their subscriptions lapse will still be able to play in EVE Online as Alpha players with those skill and ship restrictions.
Get the Windows Central Newsletter
All the latest news, reviews, and guides for Windows and Xbox diehards.