Mayku Multiplier pressure former: Everything you need to know
The Mayku Multiplier is a huge step forward for small businesses that want to create a small-scale "mass-production" system.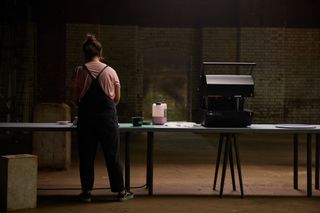 (Image credit: Mayku)
One of 3D printing's natural evolutions involves taking your model and creating a reusable mold to allow mass production. Normally this is done by surrounding the print in pourable silicone, cutting it open after it has cured, then using that as a mold for harder resins. It's a great way to make reproducible parts but is often messy and prone to failures.
Mayku — the makers of the Formbox vacuum former have created a different way to make highly detailed molds for various applications. It's called the Multiplier, and it could change the way small businesses mass produce their items.
What does the Mayku Multiplier do?
The Multiplier is being touted as "the world's first desktop pressure former for product creation," but what does that mean? Mayku has taken all of the knowledge it has gathered from making the Formbox and put it into something similar to a vacuum former, but with many advanced features. It uses immense pressure — four tons to be exact — rather than downward vacuum force to form sheets of different materials around a form you have created. The pressure is so great it can capture details on the model surface that are just 0.0004 millimeters thick. To give you some idea of how detailed that is, that is the thickness of ink written on a piece of paper.
Once the Multiplier has formed the mold, it can be used in many applications, from chocolate making to cosplay armor. Having a reliable and repeatable mold process will be a huge boon to small businesses everywhere. I'm a big nerd, so my first thought went to making molds to hold resin for cosplay items, but it could also work for making bespoke D&D dice — something hugely popular on TikTok — or keycaps for keyboards like the Keychrom Q1. Mold making is one of the big advances for small business owners and the Multiplier will make that process quicker and easier.
What materials can the Mayku Multiplier use?
The Multiplier has some interesting materials not normally seen in traditional vacuum forming. While it does have some standard casting and forming sheets like most vacuum formers, it also uses both silicone molds and specialized molds designed specifically with resins in mind.
The silicone molds are going to be excellent for creating food, as are the clear casting sheets. Mayku worked with several different creators, including Chocolatiers and home designers, to ensure the materials would be fit with purpose and it shows. The silicone molds can be very thick, so they'll be able to stand the test of time and be used in heavy applications. The resin molds are specially formulated not to react with the two-part resins so prevalent in the maker community.
Who is the Mayku Multiplier audience?
The Multiplier is designed to help small businesses reach the next level in production. When I ran my Etsy store, it was easy to get overwhelmed by the orders coming in, and having to make everything from scratch for each order was time-consuming and exhausting. When I added the Formbox, things got a little easier, though I couldn't pour resin straight into the plastic sheets. If I could have 3D printed one of my products using one of the best 3D printers, then cast it in a silicone mold ready for resin, I would have cut my production time by huge amounts. Instead of waiting for 18 hours to print one model, I could create multiple molds and let them all cure simultaneously.
The Multiplier isn't small, though. At 685-by-600-by-600 millimeters, it isn't going to be sitting next to you on your desk. If you're a hobbyist and like the idea of owning one, you will likely need a dedicated space for it. The usable volume inside is 400mm in diameter, so there is plenty of room for large or multiple models to help with mass production. Mayku is aiming this squarely at the professional market, but I think a hobbyist or small business with deep pockets could have one at home if they wanted to.
Mayku Multiplier: Price and availability
Because the Multiplier is designed for professionals, the price is tailored to that sector. While it's cheap to produce batches in the thousands, injection molding is expensive if you only need small runs of products. The Multiplier will cost around $5,000 (£3,500), so it will be an investment for a small business, but not a hardship. A Glowforge laser cutter will set you back $6,000, and a large-scale Formlabs 3D printer can be as much as $11,000. Products like this are an investment in your company's future, so it is ok to splash the cash.
In early October, the multiplier will be available for pre-order, with a small batch available at just $2,000. Keep an eye on this page, as we will update you with when we know more.
Get the Windows Central Newsletter
All the latest news, reviews, and guides for Windows and Xbox diehards.
James built his first PC when he was 13 and has never looked back. He can be found on Windows Central, usually in the corner where all the 3D printers are, or huddled around the Xbox playing the latest games.