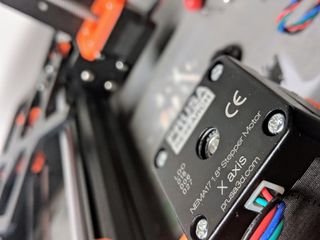 (Image credit: Windows Central / James Bricknell)
This year has been amazing for 3D printing on Windows, with a huge number of cost-effective and quality printers hitting the market. Whether you are looking for an insanely high-quality resin printer, a Filament loading workhorse, or just the cheapest thing to get you into the hobby, we have the right thing for you. For the best all-around 3D printer, I have to give it to the Prusa i3 MK3s+. It's the most consistently excellent machine in my workshop; it just never lets me down.
Best overall FDM: Prusa i3 MK3
Why you can trust Windows Central Our expert reviewers spend hours testing and comparing products and services so you can choose the best for you. Find out more about how we test.
Prusa i3 MK3s+
The best you can buy
Reasons to buy
+
Under $1,000
+
Fantastic print quality
+
Quiet
+
Constant upgrades available
Reasons to avoid
-
Can take a little fine-tuning
When it comes to 3D printers that require filament, you'll be hard-pressed to find a better printer for the price than the Prusa i3 MK3. You can buy the Mk3 fully assembled, or if you want to learn about the ins and outs of 3D printing, you can purchase the kit form. Whichever you choose, you'll get a printer that is the basis for over half of the FDM printers on the market today. If you decide to buy the kit form, you will need to fine-tune some of the settings to get that perfect print, but that's all part of the learning process.
The Prusa MK3 is built from quality components, like the E3D hot-end and the 3D printed parts. Even the fans are a quality brand rather than cheap knock-offs, making the entire machine feel premium without the premium cost.
When it comes to print quality, I am consistently amazed at how good the Prusa can be. For some idea of how good it can be, have a look at Filament Frenzy on Twitter; he pushes the Prusa to the ragged edge and produces prints I wouldn't have thought possible on a filament-based printer.
There are a lot of types of printers out there, but this printer is suitable for anybody. If you are starting in 3D printing, the kit form is a great way to learn, or if you are looking at starting a small manufacturing business, an array of Prusa printers is the perfect way to start. The Prusa Mk3 has recently had two upgrades to different parts, so it is now called the Prusa MK3s+, but whatever the name, the quality is the same.
Best resin: Anycubic Mono X
Anycubic Mono X
Bigger is better
Reasons to buy
+
Large build area
+
0.01mm layer resolution
+
Fast print times
+
Easy to set up and use
Monochrome screens have changed the game for resin 3D printing. Now, printing a model can take just 1.5 seconds a layer instead of 7.5, significantly reducing the time it takes to print while maintaining the stunning quality that a resin printer provides.
The Anycubic Mono X is one of my favorite resin printers because not only does it have an excellent 4K monochrome screen, it also has a much bigger build plate than most. The 192mm x 120mm x 245mm build volume allows you to print almost anything you can print on a standard FDM machine, but faster and with more detail.
If you are looking to get into resin 3D printing and want to start with a printer that will suit almost any need, big or small, then go for the Mono X, you won't regret it. Make sure you also check out the must-have 3D printing accessories for resin printers before you buy to make sure you have everything you need to start.
Best for exotic filament: Matterhackers Pulse XE
Matterhackers Pulse XE bundle
Hardy printing
Reasons to buy
+
Allows for extreme filaments
+
Upgraded hardware
+
Fast FDM printing
+
Excellent customer service
Reasons to avoid
-
Needs a controlled environment
The Pulse XE bundle has everything you need to start printing some of the toughest filaments around. Whether it's RYNO, NylonX, or exotic PLA — Glow in the Dark, wood-filled, and copper-filled, for example — the Pulse XE has the tools to get the job done.
The XE also comes with some amazing upgrades from the moment you buy it. It comes with an Olsson Ruby nozzle that can survive just about any plastic and the Bondtech extruder that feeds filament more reliably than any other extruder I've used, and they are just the most obvious upgrades. There are plenty more.
The bundle also comes with the PrintDry Pro system to keep your filament in the best shape it can be. This is extremely important when you are using filaments that soak up moisture, like NylonX or even just plain PLA, as they can be destroyed very easily. Make sure you are in a dry environment with no breeze, and you should be fine.
Buy the XE if you are looking to print with the more exotic filaments as well as the standard types. But make sure you have a controlled environment when you're printing. Otherwise, things may go awry.
Best value FDM: Elegoo Neptune 2
Elegoo Neptune 2
Cheap and cheerful
Reasons to buy
+
Insanely cheap
+
Sturdy build
+
Filament runout sensor
+
Power loss save feature
While the Ender 3 is often the most talked-about budget FDM 3D printer, I have found it to be a little hit and miss in the "out-of-the-box" quality. The Neptune 2 is based on the Ender 3 design but without any of the foibles that often plague the Ender.
I found that the Neptune 2 prints incredibly well as soon as it is set up with no tweaking on my part. That doesn't mean there isn't room for improvement, and that will help you learn about the 3D printing process as you continue in your journey. The Neptune 2 also comes with nice advanced features like a filament runout sensor and power loss negation, so you can rest assured that your print will finish!
I would recommend the Neptune 2 for anyone just starting in the 3D printing world or looking to expand their collection with a few extra printers. Buy one, heck, buy two; they are so cheap and so good, you can't go wrong.
Best for portability: Prusa Mini+
Prusa Mini+
Superb engineering
Reasons to buy
+
Easily transportable
+
Excellent leveling systems
+
Rock-solid construction
When we talk about portability in 3D printing, we aren't talking about moving the printer while it's running. Portability is the ability for a printer to be moved from place to place and be set up with little to no effort and work consistently regardless of location.
The Prusa Mini+ is lightweight and easy to transport safely. The printer itself has a small footprint; it's barely over 16 inches cubed but is still capable of print quality as good as the Prusa Mk3 and can be combined with many other Mini+'s to create an easy print farm.
If you are someone who travels for work but still wants to have a hobby, or if you need a 3D printer for the work you do while you are traveling, this is a fantastic machine. This is just a fantastic machine, period.
Best for massive prints: LulzBot Taz Workhorse
LulzBot Taz Workhorse
For big projects
Reasons to buy
+
Extremely well built
+
Designed for continuous printing
+
Changeable heads
Most 3D printers in this list come at a pretty standard size. The Prusa is 210mm x 210mm x 250mm, and the Neptune 2 is close to that too. The Taz Workhorse from LulzBot is a massive 280mm x 280mm x 285mm, which allows you to really expand the type of models you can print.
On my Workhorse, I have printed full-size cosplay helmets, mechanical parts for practical purposes, and a multitude of upgrades to other printers in my workshop. It really can print just about anything, especially with the different print heads that are available separately. You can swap them out for different tasks.
More importantly than that, though, it can continue to print that thing over and again, each time giving you the same excellent quality. The Workhorse is built from the ground up to be powerful and consistent for commercial printing. It's more expensive than most things on this list, but it is also built to last you a long, long time.
Bottom line
While there are a lot of printers available right now, we've tried to give you the options that fit most price points as well as quality. When we make the decision concerning the best anything, we have to weigh the cost, build quality, as well as the quality of the end result.
For my money, the perfect balance of cost and quality is the Prusa i3 MK3. I love it, and it always gives me the best-looking prints. It can be used by someone just starting out or seasoned professionals who have 20 machines operating 24/7.
If you are looking for resin instead, then the Anycubic Mono X is the very best choice in resin printing right now. With an excellent price point, speedy print times, and fantastic quality, the Mono X ticks all the boxes.
Get the Windows Central Newsletter
All the latest news, reviews, and guides for Windows and Xbox diehards.
James built his first PC when he was 13 and has never looked back. He can be found on Windows Central, usually in the corner where all the 3D printers are, or huddled around the Xbox playing the latest games.