Everything you need to get started with Windows Mixed Reality
Are you ready for Mixed Reality?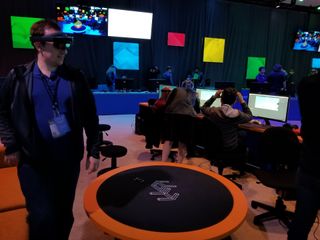 Microsoft calls its VR headsets the first step in the Mixed Reality spectrum, immersive headsets at reasonable price points with motion controllers. It's an exciting opportunity to explore the Microsoft vision in an affordable package compared to Hololens, but before you line up to shell out for these Mixed Reality headsets you need to make sure everything else in your life squared away for this experience.
Here's what you need to do in order to prepare for Mixed Reality.
Set up a Playspace
You can walk around in Mixed Reality, but these VR-style headsets completely obstruct your vision, so to avoid tripping over the furniture or accidentally kicking the cat you need to make sure the space you intend to play in is clearly outlined. We call this the playspace, and the first thing you do when setting up a Mixed Reality headset is walk around the perimeter of this space to create a virtual boundary.
Pick a spot in your house where it's safe to walk around or space where you can easily move the furniture out of the way to play in. The minimum amount of space you need is arms reach in every direction around you. If you can reach out with your eyes closed and touch something, it's too close. Ideally, you wand enough space to take three or four steps in every direction, but make sure your playspace is at least big enough for you to not knock over a lamp or punch the tv.
More: How to set up your Windows Mixed Reality Playspace
Make sure your PC can handle Mixed Reality
Windows Mixed Reality experiences have been broken up into two categories — Standard and Ultra. The split here has everything to do with how much hardware is required for you to enjoy the experience. Exploring the basic Windows Mixed Reality experiences can be done with most modern laptops, but a lot of the Mixed Reality and SteamVR games require your PC be in the "Ultra" category.
For the uninitiated, the minimum system requirements for Mixed Reality are:
CPU: Intel Mobile Core i5 (e.g. 7200U) Dual-Core with Hyperthreading equivalent
GPU: Integrated Intel® HD Graphics 620 (GT2) equivalent or greater DX12 API Capable GPU
RAM: 8GB+ Dual Channel required for integrated Graphics
HDMI: HDMI 1.4 or DisplayPort 1.2 for 60Hz head-mounted displays
HDMI: HDMI 2.0 or DisplayPort 1.2 for 90Hz head-mounted displays
HDD: 100GB+ SSD (Preferred) / HDD
USB: USB 3.0 Type-A or USB 3.1 Type-C Port with DisplayPort Alternate Mode
Bluetooth: Bluetooth 4.0 for accessories
The great thing about these minimum specs are how many systems out right now which already offer this hardware. If you're looking to buy something new, there are some great laptops available to make your Mixed Reality experience portable. If you're not sure where your computer lies in the performance gulf between Standard and Ultra, Microsoft created a simple app that will break it down for you (opens in new tab).
If you're looking for something a little more capable, you can always take a look at what it takes to build your own PC with Mixed Reality support!
These are the best laptops for Windows Mixed Reality!
Pick your Mixed Reality headset carefully
The most amazing part of how Microsoft is approaching Windows Mixed Reality is how many headset options will be available later this year. It's an incredible list of options, but they are not all created equal. Each manufacturer is going to offer a unique set of features to go along with the core features Microsoft wants in each headset, so it's important to decide if you want the absolute cheapest Mixed Reality headset you can buy or if there will be some features you are willing to pay a little extra for.
As more manufacturers announce the details of their headsets, be sure to take a look at all of the options!
This is what makes each Windows Mixed Reality headset unique.
I don't want to wait, give it to me now!
You don't actually need a Mixed Reality headset to start exploring Mixed Reality. All you really need is a PC running the Windows 10 Creators Update. If you have that, you can check out the Mixed Reality simulator and get a feel for the virtual house Microsoft has created with all of the home options available everywhere.
This experience is best had with an Xbox One controller for now, so be sure you have one nearby if you go to check it out!
Windows Central Newsletter
Get the best of Windows Central in your inbox, every day!
Russell is a tech nerd who chases the best of everything, from phones to game consoles to laptops and everything glowing or beeping. He's the Managing Editor of gaming content for Mobile Nations and can be found contributing to all of the Mobile Nations sites. Reach out on Twitter!