How to use the Windows Mixed Reality simulator in Windows 10 Creators Update
By Cale Hunt last updated
How do I use mixed reality apps in Windows 10?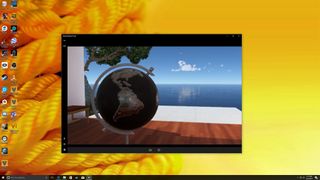 The Windows 10 Creators Update has brought us a whole bunch of new tools, including a simulator that lets you experience mixed reality apps without having an actual headset. Unlike the Hololens emulator that runs apps in a virtual machine, mixed reality apps run just like any other app; the simulator makes them think you actually have a headset, and your movements are controlled with your normal peripherals instead of having your body tracked in real time.
Ready to check out mixed reality on your PC? Here's how to set up and use the Windows Mixed Reality (WMR) simulator in Windows 10 Creators Update.
How to enable Windows Mixed Reality simulator
In order to actually be able to access the WMR simulator, you have to first tweak some settings. After enabling developer mode, WMR simulator will become available. Here's how to get everything set up.
Right-click the Start button.
Click Settings.
Click Update & security.
Click For developers.
Click Developer mode.
Click Yes.
Right-click the Start button.
Click Search.
Type Mixed Reality Portal and hit Enter on your keyboard.
Click Get started.
Click I agree.
Click Set up simulation (for developers).
Click Set up.
Click the Tools button near the bottom-left corner of the window.
Click the switch below Simulation so that it turns On.
You'll now find yourself in a 3D space that can be navigated and interacted with.
How to control Windows Mixed Reality simulator
Because you're simulating a 3D environment, navigating in the WMR simulator is much like navigating a video game.
Click and drag your mouse or use the right joystick on your Xbox controller to look around.
Use the W A S D keys or the left joystick on your Xbox controller to move in space.
Hit Enter on your keyboard, right-click your mouse, or hit the A button on your Xbox controller to simulate the Action button.
Hit Windows key on your keyboard or hit the B button on your Xbox controller to simulate the Home button.
Hold Alt and drag your mouse to scroll. You can also hold the A button and right trigger down and use the right joystick to scroll on an Xbox controller.
How to remove Windows Mixed Reality
If you're completely finished with the WMR simulator you can uninstall it through the Settings menu. Here's how.
Right-click the Start button.
Click Settings.
Click Mixed Reality.
Click Uninstall.
Keep in mind that you'll have to uninstall any other mixed reality apps separately.
What's next?
While we're still waiting for consumer-grade mixed reality headsets from the likes of Acer, Dell, Lenovo, and HP, this is a nice taste of mixed reality. Be sure to check out the Holograms app in the Windows Mixed Reality simulator to get an idea of what's to come. Also, be sure to check our Senior Editor Zac Bowden's in-depth Creators Update review.
Cale Hunt is a Senior Editor at Windows Central. He focuses mainly on laptop reviews, news, and accessory coverage. He's been reviewing laptops and accessories full time since 2016, with hundreds of reviews published for Windows Central. He is an avid PC gamer and multi-platform user, and spends most of his time either tinkering with or writing about tech.
Any rumors of when the headsets from Dell or the others will be available?

I recall them saying "in the fall", so hopefully that means "in time for Christmas" Update: since I wrote this, Lenovo has confirmed that they're targeting the end of August to catch the back-to-school season. :-)

Wondered what to do with it when I got the creators update. Cool!

1: It says the PC is asleep and needs to wake up. Shows "Wake Up", but on click, it does nothing 2: I don't have the Mixed reality section in settings. What gives?

I don't have it either, I think they took it out with the first patch.

Been trying this out over the last few days, after taking the plunge to upgrade my main machine. It was quite difficult to find UWP apps that supported an Immersive view on the store. All UWP apps that target the desktop device family work and display 2D in the default world. However, if you are looking for 3D experience then there appears to be no filters in the store that you can use to highlight those apps specifically. After a bit of research I found that Holotour provides a "Immersive view" for headsets on desktop. The WebVR support in Edge works with the simulator. Simply run up the simulator, Launch Edge on the desktop and go to site that hosts webvr examples. I used https://www.webvrexperiments.com/.

probably wont be available for win10mobile which sucks considering the idol 4s is out there..

Mobile VR doesn't even come close to desktop-grade VR, although mixed reality could be decent on a phone due to less processing required.

No, but if the underpinnings are there, this app could be made available on mobile-type devices in the future. Both smaller and bigger (tablet-size). Those devices might not run Windows Mobile as we know it today, but could instead run Windows 10 ... on ARM. But I agree, there ought to be something to compete with the Gear VR and Google Cardboard. This app will most likely be made available on the Xbox too. I was thinking, how would Office look in a version made for VR or Mixed Reality? I mean, would we be back to a file cabinet to look for files, except now you could dynamically sort the files or search them? And would there be a screen inside the VR environment or would text just appear out of thin air? How would you utilize VR to make improvements to Excel? I mean, PowerPoint would be insane! But a spreadsheet?

Woah, wait, why does my PC not have a "Mixed REality" entry in the Settings page??? I have the Creator's update and everything!

This article is a step-by-step how-to guide. Just follow the steps one at a time. That Mixed Reality entry in Settings will only be there if you've installed / enabled Mixed Reality to begin with. Start at the top of the article, and not at "How to remove Windows Mixed Reality".

I though this, but the author made a screenshot for the first step where it already appears, this giving the impression that it should be there to begin.
Plus I recall that right after installing CU it was there, it seems to have vanished with the latter patch.

How to setup https://youtu.be/VwpiZ8BMCv8

i have problem windows central when I am going to open WMR error something went wrong could not start plz help

Easy mistake to make. You need to open the "Mixed Reality Portal" to set it up... not "Windows Mixed Reality" (which also shows up if you just search for "Mixed Reality").

when I'm open WMR so it says something went wrong could not start plz help
Windows Central Newsletter
Get the best of Windows Central in in your inbox, every day!
Thank you for signing up to Windows Central. You will receive a verification email shortly.
There was a problem. Please refresh the page and try again.