Evil Genius 2: World Domination is out now on Xbox consoles and for Game Pass users
Hatch an evil plan on your favorite console.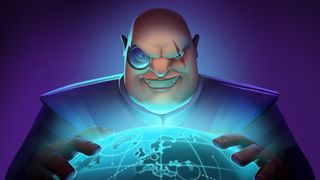 (Image credit: Rebellion)
What you need to know
Evil Genius 2: World Domination is finally available on the Xbox Consoles and is included in Xbox Game Pass if you want to try before you buy.
A sequel to the 2004 title of the same name, Evil Genius 2 tasks you with taking over the world and stopping the good guys from foiling your plans.
It features a plethora of new gameplay features and more to entice you sitting in the villain's chair for a change.
Evil Genius 2: World Domination is a strategy game that puts you in the shoes of four dastardly villains, each with a unique campaign that is a joy to play. Players are tasked with setting up an island base with a casino acting as a coverup for the main villain's lair. They must work to maintain the lair, recruit new people for it, and make progress toward the doomsday weapon to achieve each campaign's goals.
The sequel brings three new islands for you to build your base on and has improved functionality for building your criminal lair. It also offers players more variety when it comes to improving the villain base thanks to new rooms, henchmen, traps, and a lot more tools of the supervillain trade.
Lastly, no supervillain is complete without being a menace to the world! You can send out your agents and mercenaries to carry out heists, kidnap specialists to better train your troops, and much more. The sky is the limit when it comes to the genius of Evil Genius 2 and its ability to make you feel like a supervillain without the fear of facing any punishment for your crime.
We thoroughly loved the game when we played it earlier this year, and we encourage you to give the game a chance too. If you are on Xbox Game Pass, you can try it for free on your Xbox console right now.
The Deluxe Edition of the game is also available today. It contains all of the currently released Season Pass goodies for players to enjoy. The bonus content includes additional henchmen, lairs items, missions, and more. In addition, the game can be played via controller with support for mouse and keyboard on console.
Evil Genius 2: World Domination is out now the PS4, PS5, Xbox One, and Xbox Series X|S.
A genius purchase
Evil Genius 2: World Domination
Being evil never felt this good!

Evil Genius 2: World Domination tasks you with being the best supervillain you can be while fighting off the forces of good. Carry out your evil plans for world domination and building the ultimate doomsday weapon while maintaining your island lair, finding and training better henchmen, and much more.
Get the Windows Central Newsletter
All the latest news, reviews, and guides for Windows and Xbox diehards.