Evolve: Hunters Quest boils down first-person shooter to match-3, now available for Windows Phone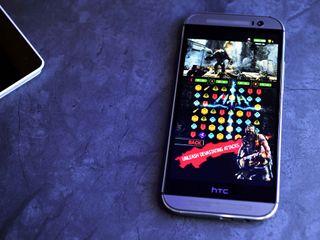 The fantastic upcoming first-person shooter Evolve is being reimagined for mobile as a match-3 Windows game called Hunters Quest, available for free today in the Windows and Windows Phone Store. As in the original, players are hunting a big, bad alien and have to work together to make sure they don't become the prey. Over time, you earn ability mastery points in the mobile title that carry over to the full-fledged console game.
The mobile title also provides simplified replays of your latest console or PC matches for a strategic review. The open beta weekend not long ago saw a whopping 2.2 million matches played and looking at the latest gameplay video, it's easy to see why Evolve is going to be really popular.
Here's a quick run-down of the features in Hunters Quest.
Battle through over 100 exciting missions
Unleash devastating attacks using a variety of hunters
Match 3 tokens of the same color to attack enemies and activate hunters' skills
Earn Mastery Points to rank up your character in the console game
Collect unique wildlife in the Bestiary
Evolve comes out on PC and Xbox One on February 10. Having put lots of time into the alpha and beta periods, I can't help but be really excited. How many of you guys have tried Evolve? Anyone preorder?
Thanks, Jason F., and Sam S., for the tips!
Windows Central Newsletter
Get the best of Windows Central in your inbox, every day!
Nice they didn't leave us out. Therefore I am buying their game.

LOL I saw that fps and straight moved to store for downloading then realised it's a match 3 game .
#ValueOfReading

I'd rather have the 3rd person shooter for WP :-(

I'm happy they did this! I will be buying their game

302mb dl...showed no progress downloading then all of sudden it was dl'd

I've the same problem. Stuck on 302mb and no progress... It was like that for a whole night and still not done.

"How many of you guys have tried Evolve? Anyone preorder?" 1. I played the Evolve alpha and hated it. I don't know if it was the one-versus-some setup (if so, it makes me worried about Fable Legends, which I was excited for) or what but it was a strong enough feeling that I didn't even bother with the beta. 2. After the disappointing launch that was Halo: MCC, in general, and my personal disappointment with GTA V, which I preordered because I bought into the hype for the game, I'll never preorder another game again. There is just no good reason to do so anymore.

Some games are still worth pre ordering. The problem with pre ordering things now a days is the same content you get is released last on as DLC. It's never truly "Exclusive". Also, pre ordering the game doesn't mean the games any better. Most people pre order the game for objects of similar correspondence such as action figures, toys, key chains and other gear. I don't pre order games from a company unless I support them. Companies like Bethesda studios.

I tend to wait a year for the limited/GOTY editions. All the DLC at day one price. Yeah, I have to wait a year or two but most people will still play the games anyways so it's not like I miss much. Posted via Windows Phone Central App

Awesome! Downloading for my 635 and 1520! Looks like 512MB support is in and this seems to be Candry Crush for hardcore gamers. :)

Oxymoron is putting two opposites together to make a new meaning. A few examples: Freezer burn, old news, army intelligence. Some are statements and some can be insults. In this case he said candy crush for hardcore gamers. Candy crush is seen as a game for people who only play simpler games to pass time, while hardcore gamers only like immersive more intense games on console or PC. Hence the oxymoron.

Thanks for the explanation. :)

It's more a paradox than an oxymoron.

An oxymoron is more of a direct contrast while a paradox is an implication of a contrast.
"While Paradox is a statement or a group of statements, oxymoron is a combination of two contradictory terms. Paradox is apparently a true statement which leads to a situation that defies intuition. While paradox can be seen as a phrase like 'freedom is slavery', oxymoron is only a combination of two contradictory words like 'cold fire'."

Thanks for the tip WC, downloading to my Yoga 2 and looking up on WP....

All we need is there WWE card game and ill be happy!

Needing yet another account (this time a my2K account) is holding me back from playing this.

Not available in Australia?

I was wondering that too!

Was looking for a comment like this. Glad it's not just me.

Hello open up for down under please

Very cool addition to the store. It looks good and plays well right from day one. I like the Resident Evil kind of vibe to the beasties... And yeah...2K has the WWE card game too. I might go digging to see if there's anything happening on that front.

I saw the price at the end while skimming and thought they had released a 60 dollar match the game on Windows phone. Scared the hell out of me.

Tried it... Got up to the point where it wants me to sign in with a 2k account or Facebook... No thanks...although the game looked pretty good for a match three

Puzzle Quest 2 > Evolve: H.Q. But I guess I'll give it a try.

Vietnam is not supported :(

Quite a huge game there... Might not be worth it as I have no desire to buy the PC version.