Expect BBM for Windows Phone to feature modern UI design elements and come preloaded on (some) devices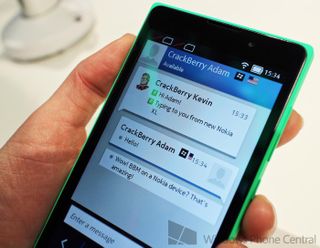 Earlier today at Nokia's Mobile World Congress press event, Stephen Elop announced on stage that BBM will be coming to Lumia devices soon.
BlackBerry followed up shortly after with their own announcement, clarifying that BBM will be coming to the larger manufacturer / brand base of Windows Phones as well as Nokia X devices, and that the rollout of BBM for Windows Phone would occur this summer.
Shortly after the announcements hit, I had the opportunity to sit down with BlackBerry's David Proulx, who is the Sr. Director of BBM Business Development, where I peppered him with questions, including a couple related to today's BBM on Windows Phone news.
On the subject of availability, Proulx was excited to point out that beyond BBM being available in the Windows Phone Store, that the relationship will also lead to BBM shipping preloaded on some devices. Proulx didn't get into the details of which specific Windows Phone or Nokia X devices would ship with BBM installed out of the box. Strolling through the MWC hall later in the day, Dan and I came across a Nokia XL at Nokia's booth that already had the Android version of BBM installed and working (per the photo above, we logged in and put it to use).
On the subject of design, I pressed Proulx on what the Windows Phone version of BBM will look like. BBM rolled out recently to Android and iOS, and with those versions of BBM BlackBerry chose to design the app in such a way that it resembled the design of a BlackBerry 10 app, largely ignoring the design guidelines of Android and iOS. Knowing that Windows Phone users tend to LOVE the design of well-designed native Windows Phone apps (like our top-rated WPCentral app), I was worried that BBM for Windows Phone could follow suit.
Proulx alleviated my concerns and said that BBM going forward will strive to maintain a healthy balance between BBM maintaining its own identity while still honoring the best practices of platform's guidelines. In other words, BBM users moving between platforms should recognize and know how to use BBM in an instance, while at the same time the app should still look and feel like the best native apps on the platform. For Windows Phone, expect BBM to feature its own live tile and panoramas.
Windows Central Newsletter
Get the best of Windows Central in in your inbox, every day!
I'll probably get it but I don't know how much use it will actually get outside of work.

To use BBM, do the people you message have to have it as well? Needless to say, I do t know much about it.

Nice. I hope an estimated date is announced soon.

Most likely 2nd April? Or 30th July?

Haha I swiped to the side and seen "download app" only to see wpcentral to download!! Teasers lol !!

+2520, just woke up for my nap almost jumped up in excitement when i saw "download app", tapped it... Sleep took over again lol.

Its good to have all means of communications on WP but I still say that MSFT should buy Blackberry... Something can be rescued like that sense of security for enterprise.

They've looked at them and passed, so that should signal something. Doesn't look like the value is there for MSFT. MSFT needs to focus on getting skype ot a piont where it can compete with both BBM and Whatsapp. The app needs to be much lighter and quicker and notifications need to work properly.

I'm sure Skype has mu h broader coverage and user base than whatsapp and BBM. I would say they need to tight up on encryption and security for business use.

Skype development seems so slow. I'm hoping that the attention on messaging apps will light a fire under that team.

I believe that's due to changing the backend completely from PTP peers to the new cloud (Azure) structure. They got that finished recently, so I would hope that means they are now in the process of building features to take advantage of the new design structure. I'd bet the goal is to have a lot of that by the next major revision of Windows later this year. (Not 8.1 Update 1)

Yes to both of you guys. They better get their crap together

I completely agree! I completely love BBM...but I would LOVE to love Skype more than I currently do BBM. I surround myself with Microsoft services..yet I am excited about BBM, lol. Skype "is" Microsoft's BBM....only it has video chat already. I sincerely hope MSFT makes Skype what it could/should be.

They could look again. This is basically what Chen does. He get's rid of the crap and sets things up for success and then the company is gobbled up. Blackberry is on a role since he was hired. There is a firm focus on enterprise, which bring BB back to it's core. With BB out of consumer phones it would be a nice paring with MSFT and Nokia. The only thing I'd miss is the BB10 OS which is actually pretty great. I like Win 8.1 on laptop and tablet but I do like my phone.

The main reason I am excited about this, i get to bash those ignorant fools at the phone shops that who keep saying windows phone is dead in the water. I had 6 colleagues lined up for a 1020, 1520 x 4 and the 925 at a local Carphone warehouse. Just learned that they ended up walking out convinced to get android s4s and galaxy notes instead. Even made discount arrangements with the rep, who was going to do the paperwork also!. Two of them are already asking me how to use their notes Lol. Soo fustrating...T_T.. Not something anyone wants to see after a power nap.

Serious question: Who is looking forward to it?!

i'll give it a shot, now that's its also on iOS and Android maybe my social circle will decide to use it

I'd be interested, overall I use SMS a majority of the time and I use WhatsApp for some of my USA contacts but that's only because I found it to be one of the better alternatives. I'm not a big fan of WhatsApp and less so now with the aquisition, I'll give BBM a try. Blackberry should have offered BBM on other devices years ago, today they would have had the most users of all messaging services. It's amazing how many mistakes Blackberry have made.

I'm definitely looking forward to it

BBM is essential for me to move away from a Blackberry phone. I won't do it as long as BB makes phones for consumers but they might not - focusing only on enterprise. If this happened I was thinking I'd have to go Android to get BBM not I could go to WP.

Not me. Why BBM when we have whatsapp? Who enjoys hearing or seeing "what's your bb pin?"

We'll I'll definitely be looking at this since I'm no Facebook fan

Cannot stand Whatsapp. I have a Blackberry and a lumia 920 and i've deleted whatsapp on both. BBM is miles ahead featurewise right now.

Statement fits avatar, you win 3 internets. :)

I'll take/try it; especially if it also comes to Windows and syncs with/via Skydrive the way text messages do.

Umm... Hate to be picky, but *ONE*drive. Don't get MSFT sued again ;)

Windows Phone users sure do LOVE the metro.

Even MS is killign panoramas. Look at the new People "Hub".

I can't say I'll be using BBM but its arrival is definitely good for the platform.

No Rodney, BBM does not stand for Big Black Men.

I always hate that for every app we have to stand third in line,first ios,second android,and after long time our turn,now new boy in line ,infact our new born three brother NOKIAX,X+,XL...hope this dont make us fourth in line from third position

Plus side: we'll never be more than third in line! :P

there is still chance ! D:
whatsapp's voice call "with Nokia and BlackBerry phones to follow suit"
maybe Blackberry will get it before us

Sure this feature will also come first in ios and android....its like we are always neglected

This guy Kevin, I like his writing style. Fluid and few grammar errors

Been blogging like that since I was 16 and now I'm 33 and don't plan on changing my style anytime soon. Had a pretty successful career so far with that style. :)

I miss you from my Torch 9800/Bold 9900 days brother! You rock!

My bold 2, my Symbian nokia x3" too. But even wp is good enough.

Haha. Awesome. And thanks!

Kevin get permanent writer of wp central just like Sam,George,Micheal,Rich and others

At least you can "use BBM in an instance." Sorry, I couldn't help it. I learned typing (yes, typing) from a teacher where one mistake knocked your grade down to a B, and two to a C, etc. Needless to say, you did not want four mistakes on a test.

Ye,but new brothers are android so dont u think that they will be first than us?

So is it coming to "Lumia devices" or is it coming to "Windows Phone" altogether? I still can't figure it out based on what I'm reading.

Dan you think they'd make a Windows 8 version?

I want these apps on my surface 2, need whatsapp and Skype to support voicemail. I keep getting voicemail and cannot listen on any of my devices. Skype might end up being not used soon..

Great article Kevin! Keep it up. :D

Kev, any word on UI being updated for the Android and iPhone apps to better match the system themes? Ex HOLOYOLO?

I've been wondering, there has to be something that draws us closer to Windows Phone every time these people launch up a new app. I mean even though the app/game is an ancient one and that even the trend or its craze has died, for instance subway surfers or temple run and now this, BBM. But whatever it is, how much later the app/game is, as soon as you read a new article about the so-and-so app coming to windows phone, you fall in love with your phone all over again.

I still love my Lumia 920 like the day I bought it. Actually, looking at the newer nokia smartphones I still prefer the 920 over any of them. The 1520 is way to big for me and since im not that much into photography the 1020 is not my thing. If WP 8.1 runs as smoothly as 8, im good for another year or so.

Still loving my Lumia 920 too.

This UI is equals to an android interface :(

In the photo that IS the Android app since that is an Android app running on the Nokia XL. The Windows Phone version that launches in the summer should be a little more Windowsy.

That's because its running on the androidphonethatwillhelpyouswitchtoaWPlater Nokia X.

This should be awesome for BB users that want to switch to WP since you can select your own default messaging app in 8.1.

It's about time. My whole team in my office department is on a BBM group and I'm the only one who isn't on BBM here. I tried to get them to switch over to Whatsapp for me but they all claim BBM is way better. I haven't used BBM so I can't really agree.

Too many messages option and the standard is good enough especially with the unification of social services built into the os's, just can't justify the usage of this

what do you mean can't justify the usage of this?

Translation: Nokia X will have it immediately, Windows Phone coming soon as usual.

I still dont know anyone who uses BBM. Lol.

Nigga "Black Berry" is so dman racist!

Serious question: I've never owned a Blackberry or used BBM. What does BBM do better than other messaging services and what does it buy the average consumer? So another words, why would I want to switch over to BBM? Or could this be targeted toward enterprises who are already invested in BBM?

Better UI than watsapp,rich features

I dont think they are after enterprise with BBM. Lync is by far the best messenger option for enterpises and BBM does not even come close to Lync.

CANT WAIT FOR 8.1 DONT REALLY CARE BOUT BBM..

There were some nice things about BBM, such as the ability to see when some had read the message and the fact that they were typing a reply made it a very handy util. Of course you needed another BBM user on the far end. Nowadays, what distinguishes this IM app from any of the others out there? Realistically, FB just purchased WhatsApp for more than what RIM is valued at. Which product will be supported by a wider base for longer? Which product will be developed with/for?
I agree it was a GREAT product back in the BB days, but now, what's so killer about it?

WHY THIS SUMMER WHY PLEASE MAKE IT SOONER.

Got bbm on android, always on. destroys battery. Whatsapp is wayyyy better Posted via the WPC App for Android!

I dont use it but it will help bring a few more of my friends to Windows Phone!

Maybe Skype will improve on W8 and WP8.1 to compete. It is crap now.

If you travel to Indonesia for work as often as I do, this is an awesome announcement! Everyone there still uses BBM. Other parts of the world maybe not so exciting unless you're the type of person that really doesn't want anyone who finds your number to send you stuff. Now I don't have to lug around my z10 along with my 1520. Anyone interested in a z10 by any chance?

Looking forward to trying out BBM. Would enjoy the security and knowing that when I send a message whether it has been delivered, read, etc. Currently my main go to still is text message.

What bit of 'Coming Soon' escapes their understanding?

i really hope bbm in windows phone get feature modern UI design elements and different from other os ... and hardly cant wait bbm comes ..
Living in indonesia
Windows Central Newsletter
Thank you for signing up to Windows Central. You will receive a verification email shortly.
There was a problem. Please refresh the page and try again.