Expect BBM for Windows Phone to feature modern UI design elements and come preloaded on (some) devices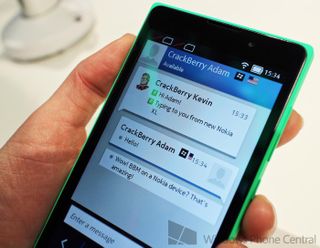 Earlier today at Nokia's Mobile World Congress press event, Stephen Elop announced on stage that BBM will be coming to Lumia devices soon.
BlackBerry followed up shortly after with their own announcement, clarifying that BBM will be coming to the larger manufacturer / brand base of Windows Phones as well as Nokia X devices, and that the rollout of BBM for Windows Phone would occur this summer.
Shortly after the announcements hit, I had the opportunity to sit down with BlackBerry's David Proulx, who is the Sr. Director of BBM Business Development, where I peppered him with questions, including a couple related to today's BBM on Windows Phone news.
On the subject of availability, Proulx was excited to point out that beyond BBM being available in the Windows Phone Store, that the relationship will also lead to BBM shipping preloaded on some devices. Proulx didn't get into the details of which specific Windows Phone or Nokia X devices would ship with BBM installed out of the box. Strolling through the MWC hall later in the day, Dan and I came across a Nokia XL at Nokia's booth that already had the Android version of BBM installed and working (per the photo above, we logged in and put it to use).
On the subject of design, I pressed Proulx on what the Windows Phone version of BBM will look like. BBM rolled out recently to Android and iOS, and with those versions of BBM BlackBerry chose to design the app in such a way that it resembled the design of a BlackBerry 10 app, largely ignoring the design guidelines of Android and iOS. Knowing that Windows Phone users tend to LOVE the design of well-designed native Windows Phone apps (like our top-rated WPCentral app), I was worried that BBM for Windows Phone could follow suit.
Proulx alleviated my concerns and said that BBM going forward will strive to maintain a healthy balance between BBM maintaining its own identity while still honoring the best practices of platform's guidelines. In other words, BBM users moving between platforms should recognize and know how to use BBM in an instance, while at the same time the app should still look and feel like the best native apps on the platform. For Windows Phone, expect BBM to feature its own live tile and panoramas.
Get the Windows Central Newsletter
All the latest news, reviews, and guides for Windows and Xbox diehards.