Inside ExpertZone: How Microsoft empowers retail pros for today and tomorrow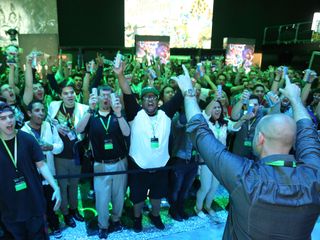 Microsoft's ExpertZone is a program within the company to help out knowledgeable retail sales staff. Those are the guys and gals who work at electronic retailers around the globe. ExpertZone is a place where those with a passion for Microsoft products can talk, learn and get rewarded.
Last week at E3 2014, over 300 lucky ExpertZone members had a chance to check out the Xbox booth after show floor hours. Guests were treated to food, drinks, and, of course, a whole lot of games. Here's a look at that event and what Microsoft does to give retail pros an edge in the workplace.
Xbox @ E3
E3 took place last Tuesday through Thursday in downtown Los Angeles. E3, as you probably know, is the annual Electronic Entertainment Expo held at the Los Angeles Convention Center where nearly 50,000 attendees in the video game industry come together. Publishers and developers show off their upcoming projects, while game journalists and gamers get their first hands-on with many titles.
The main halls at the LA Convention Center consists of booth space and exhibitions from companies like Microsoft, Sony, Nintendo, EA, Ubisoft, Activision and many others. Those though are by far some of the larger companies in the video game industry and take up the most real estate at E3.
Microsoft had an impressive setup for the Xbox One and Xbox 360. There was the main booth space that had playable demos of games like Sunset Overdrive, Forza Horizon 2, and Evolve.
You also had private meeting areas where members of the press and executives from other companies could meet with key individuals from Microsoft and team Xbox. There was also a retail experience setup to show how Xbox shows up in retail, now and in the future. Like the private meeting areas, the retail experience zone was just for those invited and privy to such details.
E3 kicked off for Microsoft with their media briefing the day before the show. This is where Microsoft announced a ton of new games for the Xbox One. The media briefing on Monday, and the following days on the show floor at the Xbox booth is E3 in a nutshell for Microsoft and Microsoft watchers.
ExpertZone @ Xbox E3
Last Wednesday night, a little over 300 ExpertZone members were invited to visit the Xbox booth space for a private event. There was plenty of food and drinks, but everyone was really here for the games.
Ben Rudolph (@BenThePCGuy) is a guy we're pretty familiar with around here on Windows Phone Central. He became a fan favorite when he kicked off the 'Smoked by Windows Phone' challenge and has since done a handful of other cool campaigns and commercials like 'Meet Your Match.' He now has a new role within Microsoft that has him overseeing ExpertZone. His new and improved official role has him acting as the director for Worldwide Retail Evangelism within Microsoft.
Ben had us swing by the ExpertZone meet-up at E3 to check it out and tell us more about what him and his team do. It's actually pretty cool and another great initiative for more customers to come into the Windows Phone, Windows, Surface, and Xbox family of Microsoft products.
ExpertZone is in charge for everything Microsoft does to educate, inspire and build a community for retail pros all around the globe. A retail pro is anyone who sells Microsoft consumer technology at retail. Everything from Windows Phone to Windows machines, Surface, Office Xbox and more is under the ExpertZone watch.
The ExpertZone community is how Microsoft reaches out to all retail pros. They have online and in-person initiatives to connect, like events last week at E3.
The entire show floor closed at 6pm during E3. It's when attendees head to restaurants, bars and various parties in LA during the week. But this wasn't the case for the ExpertZone team last Wednesday. Instead, they took over the Xbox booth and gave retail pros a chance to play the newest games coming to Xbox One. In addition, the developers from many of these games stayed after to help answer game questions directly to retail pros.
This might not seem like much, but it's actually a great way for retail pros to connect not just with Microsoft, but the developers behind some of the biggest upcoming games. Waiting in lines to play games, you'd hear many of the retail pros asking the devs some tough questions and getting tips on what they can do to get the right customers buying the right game for Xbox One.
ExpertZone is designed to help educate and inspire retail pros to be big Microsoft fans. And that's a really important undertaking. Uninformed sales reps at retail can stop a sale of a Microsoft product, which is why ExpertZone is so important to give retail pros the tools, experiences and skills to help turn customers into fans. Events like the one last week at E3 go a long way in helping achieve that goal.
Anybody out there work retail? Are you in ExpertZone? Sound off with your experiences. Did you by chance actually make it to the ExpertZone meet-up in LA for E3? We want to hear from you!
Head to the ExpertZone website (opens in new tab) for more info and how you can join.
Windows Central Newsletter
Get the best of Windows Central in in your inbox, every day!
They don't work here in p.r.

Any idea what they're drinking ?

This: http://www.overchargedrink.com/#!/home

Thanks , appreciate the effort you have put in article, but Microsoft need to back themselves up with product offerings to customers first, to make products competitive. They have bigger issues to deal with than doing random shit like this.
Eg.
Windows phone :- took them 3 years to bring basic functionality
File manager
Notification centre
No cut options, just copy text
Office can't over password protected files on mobile
Can't forward email with attachments.
Data on n off toggle in quick settings.
Proper VPN support
Bing services across all counties
Xbox music app - issues as you all know
WP sync app on windows 8.
Xbox music and video offerings geographically.
Slow roll out of handsets models across the word - supply chain issues.
Cortana - good but really roll out takes 1 year to major countries.
No stopwatch, compass, ?
Email notifications on exchange sub folders no alerts.
Dev preview - battery issues Xbox :-
No proper dlna support - play to really?
No app model for devs
No auto update of apps
Xbox video and music :- geographical issues
Xbox release when was it released and how many countries they offering.
Xbox on/ off and voice commands roll out.
Gestures via Kinect
HDD content playback
Xbox 360 games support
Xbox 360 has more apps. Windows rt / surface.
Power covers :- did they ever got released
Docking station again where is it
RT where is touch office
Convoluted store update to win8.1 and normal update to update 1.
Start button, start menu - how hard was it to deploy where stardock apps did it in days, where as Microsoft owns the code.
Touch office its on iPad what about windows. Really someone in Microsoft needs to change this companies working model from govt department and political playground to competitive company.

this is the wrong topic, but yeah, many of those are spot on.

Yup they have alot of shit to sort out, but because they are late they had to ship just enough software and feature for their own products to be cool and usable, whislt staying competitive on other ecosystems. Coolest Man Alive

"They have bigger issues to deal with than doing random shit like this.
Eg. Windows phone :- took them 3 years to bring basic functionality" I agree. They need to be working on a time machine. That way they we would have had basic functionality years ago.

they do have work to do yes, but your making the list bigger then it is here is a few 8.1 has these - file manager, notification center, vpn support (unless your vpn company decided it's funny to not provide the connector app, sonicwall has it at least) cut? really? that's your major complaint...? it would be nice to have data connection in shortcut in action center, but you can always just ping it to the home screen with an app here is the sync app if you can't find it - http://www.windowsphone.com/en-ca/how-to/wp8/get-the-sync-apps music and video offering, remember, these are not as easy of a venture as it sounds, publishers are in control here as for Cortana, for pete's sake at least read the news from the last few days, unless you think a sub-par experience is what the company should gun for stop watch/compass, there are a lot of apps for that, and it really is only used by a tiny percent of people, I'd rather they focus on getting new features and fixes out quicker that are used by more people Dev preview - you shouldn't be using it if you want zero issues... that is what the dev preview is for XBox part - as long as they don't offer it right the way in your country you are going to complain - voice is a tough nut to crack, it's not always working in english either what do you think is going to happen if they just throw it out there for all languages instead of fixing and understand what they have now kinect gestures, there is, what more do you want? and it's not like apps can't use the kinect api xbox 360 has been out for seven years, give it a rest, iphone sure didn't release with 100k app right out of the gate, besides the architectural differences between the 360 and the one makes it at least difficult to make a proper emulator, it can be done, but i'd rather they focus on features for the one first RT stuff - here http://www.microsoft.com/surface/en-ca/accessories/power-cover and here http://www.staples.ca/en/Microsoft-Surface-Docking-Station/product_31123... start menu is your own want vs what MS is pushing for, if you can't understand that concept, I'm sorry but I'd rather not waste time trying to explain what it means some of the rest needs to be varified, few I agree, but seriously...

I've been a member of ExpertZone for 10 years. Great site.

The only good thing about working for GameStop was this. Got a free Zune HD from Expertzone, free 12m XBL cards. I got all my MSP from there. They would sell $20 worth for like 12 bucks. 12m XBL for $25.

Those are alot of mutants cheering. Coolest Man Alive

I am a member in ExpertZone since 2012. It's great.
But they really need to update the design of the certificates.

Expert on Expertzone for 5 years and a MCP the site prepares you for pretty much anything excellent resource

It would be nice if a few people at ATT and Verizon were knowledgeable about Microsoft products

No kidding. My local Verizon store had a display models of the 8X and 520 when I bought my 928 (just released) recently they have NO windows phones on display. Do not understand how they got the Icon exclusive. Casting pearls before the swine.

Anyone from any phone retailer, BestBuy,GameStop can join.

Expertzone is awesome! I love all the free stuff I get! Free Office, free Windows, Microsoft Gift Cards, free game dlc and exclusive content, and so much more!

So all these Expertzone members get wined and dined... And then they go back selling Android phones to people who want a good camera phone...?
What have they done for WP? Do Microsoft get anything back?

They don't just sell phones. Its Windows PCs, Xbox's, etc. Plus all you have to do is verify your employment, do the required learning modules, sign up and hope you make the cut. ExpertZone offers product knowledge to retail employees. Intel, HP, AMD, Sony, and many more all do this simply to increase knowledge and to reward them for learning about their products. I myself have gotten lots of free stuff from EZ like 2 copies of Windows 8.1 Pro, Office, 2 years of Xbox live or more, games, and much more.

Thanks for reminding me. I need to renew my office 365. Expertzone gives them out for free after taking the Office cert.

hi guys im a new member of expertzone
Windows Central Newsletter
Thank you for signing up to Windows Central. You will receive a verification email shortly.
There was a problem. Please refresh the page and try again.