Inside ExpertZone: How Microsoft empowers retail pros for today and tomorrow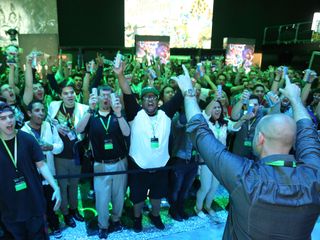 Microsoft's ExpertZone is a program within the company to help out knowledgeable retail sales staff. Those are the guys and gals who work at electronic retailers around the globe. ExpertZone is a place where those with a passion for Microsoft products can talk, learn and get rewarded.
Last week at E3 2014, over 300 lucky ExpertZone members had a chance to check out the Xbox booth after show floor hours. Guests were treated to food, drinks, and, of course, a whole lot of games. Here's a look at that event and what Microsoft does to give retail pros an edge in the workplace.
Xbox @ E3
E3 took place last Tuesday through Thursday in downtown Los Angeles. E3, as you probably know, is the annual Electronic Entertainment Expo held at the Los Angeles Convention Center where nearly 50,000 attendees in the video game industry come together. Publishers and developers show off their upcoming projects, while game journalists and gamers get their first hands-on with many titles.
The main halls at the LA Convention Center consists of booth space and exhibitions from companies like Microsoft, Sony, Nintendo, EA, Ubisoft, Activision and many others. Those though are by far some of the larger companies in the video game industry and take up the most real estate at E3.
Microsoft had an impressive setup for the Xbox One and Xbox 360. There was the main booth space that had playable demos of games like Sunset Overdrive, Forza Horizon 2, and Evolve.
You also had private meeting areas where members of the press and executives from other companies could meet with key individuals from Microsoft and team Xbox. There was also a retail experience setup to show how Xbox shows up in retail, now and in the future. Like the private meeting areas, the retail experience zone was just for those invited and privy to such details.
E3 kicked off for Microsoft with their media briefing the day before the show. This is where Microsoft announced a ton of new games for the Xbox One. The media briefing on Monday, and the following days on the show floor at the Xbox booth is E3 in a nutshell for Microsoft and Microsoft watchers.
ExpertZone @ Xbox E3
Last Wednesday night, a little over 300 ExpertZone members were invited to visit the Xbox booth space for a private event. There was plenty of food and drinks, but everyone was really here for the games.
Ben Rudolph (@BenThePCGuy) is a guy we're pretty familiar with around here on Windows Phone Central. He became a fan favorite when he kicked off the 'Smoked by Windows Phone' challenge and has since done a handful of other cool campaigns and commercials like 'Meet Your Match.' He now has a new role within Microsoft that has him overseeing ExpertZone. His new and improved official role has him acting as the director for Worldwide Retail Evangelism within Microsoft.
Ben had us swing by the ExpertZone meet-up at E3 to check it out and tell us more about what him and his team do. It's actually pretty cool and another great initiative for more customers to come into the Windows Phone, Windows, Surface, and Xbox family of Microsoft products.
ExpertZone is in charge for everything Microsoft does to educate, inspire and build a community for retail pros all around the globe. A retail pro is anyone who sells Microsoft consumer technology at retail. Everything from Windows Phone to Windows machines, Surface, Office Xbox and more is under the ExpertZone watch.
The ExpertZone community is how Microsoft reaches out to all retail pros. They have online and in-person initiatives to connect, like events last week at E3.
The entire show floor closed at 6pm during E3. It's when attendees head to restaurants, bars and various parties in LA during the week. But this wasn't the case for the ExpertZone team last Wednesday. Instead, they took over the Xbox booth and gave retail pros a chance to play the newest games coming to Xbox One. In addition, the developers from many of these games stayed after to help answer game questions directly to retail pros.
This might not seem like much, but it's actually a great way for retail pros to connect not just with Microsoft, but the developers behind some of the biggest upcoming games. Waiting in lines to play games, you'd hear many of the retail pros asking the devs some tough questions and getting tips on what they can do to get the right customers buying the right game for Xbox One.
ExpertZone is designed to help educate and inspire retail pros to be big Microsoft fans. And that's a really important undertaking. Uninformed sales reps at retail can stop a sale of a Microsoft product, which is why ExpertZone is so important to give retail pros the tools, experiences and skills to help turn customers into fans. Events like the one last week at E3 go a long way in helping achieve that goal.
Anybody out there work retail? Are you in ExpertZone? Sound off with your experiences. Did you by chance actually make it to the ExpertZone meet-up in LA for E3? We want to hear from you!
Head to the ExpertZone website for more info and how you can join.
Get the Windows Central Newsletter
All the latest news, reviews, and guides for Windows and Xbox diehards.