Facebook app leaves the Microsoft Store, Facebook says to use a browser
Facebook directs people towards a browser now that its official app has left the Microsoft Store.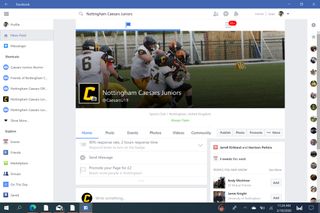 (Image credit: Windows Central)
What you need to know
The Facebook app has been removed from the Microsoft Store.
Facebook states that the app will not return to the Microsoft Store.
Facebook's Messenger and Instagram apps will remain in the Microsoft Store.
Facebook removed its official app from the Microsoft Store recently. We knew from an email sent to a Facebook user last month that the app was on the way out, but its exit from the store is now official. Facebook and Microsoft confirmed with Neowin that the app is no longer available.
Representatives from Facebook and Microsoft told Neowin that "As of February 28, the Facebook desktop app for Windows is no longer available. People can still easily access and enjoy all of the features of Facebook via desktop browser."
Facebook's app on Windows 10 often went months without an update and wasn't as refined as its apps on other platforms, so it's not that surprising to see it leave the Microsoft Store. If you want to have a dedicated Facebook "app" on your Start Menu or taskbar, you can install Facebook's website as an app through the new Microsoft Edge or other browsers that allow you to install websites as apps.
While Facebook's app is no longer available, its Messenger and Instagram apps will remain in the Microsoft Store. In fact, Facebook recently updated its Instagram app on Windows 10 to a PWA. Facebook also has a beta version of its Messenger app that's more in line with its apps on iOS and Android.
News Writer and apps editor
Sean Endicott brings nearly a decade of experience covering Microsoft and Windows news to Windows Central. He joined our team in 2017 as an app reviewer and now heads up our day-to-day news coverage. If you have a news tip or an app to review, hit him up at sean.endicott@futurenet.com (opens in new tab).
I know they said it will not be returning to the Store but hopefully they'll build a PWA that will in turn be automatically listed in the Store.

Pretty sure when they roll out their new redesigned website (that is in beta for many users now) it will be a PWA. There is no need for 'store listing' because you can always install it through Edge / Chrome / etc It is a good thing it goes away. The OSMETA based app was ugly, limited functionality and terrible performance...like most Windows 10 apps back in the day. Looking at the new Calendar Preview, Win 10X launcher, newEdge and the icons it seems Microsoft has finally realized again how to make a decent UI. If they did it like this in the beginning of UWP, maybe it would have been far more popular now. Cause Metro 1.0 was universally hated.

Wrong! People are used to App Stores, few are used to clicking File -> Install App. Besides currently the Facebook website is just that a website, not a web app (the design doesn't work well with touch). For people with Surface Pros and similar this is a step backwards.

People are used to web browsers on Windows. Most people were using a browser in the first place, hence Facebook not carrying about the app.

Do you use the website on your phone? Facebook sucks.

We are talking desktop here. Windows 10. People use browsers all the time for a lot of consumer stuff, hence removing the app in the first place. Extra work, updates and support if barely anyone of the billions of users just use the browser. The new site will be more like Twitter and touch friendly. Just Google 'facebook new design' to see it. Also you can zoom in with the browser if you want super big controls :p

Maybe millennials prefer browser over desktop, but the rest of us hate it. Give me a real app every time.

I try to avoid the website like the plague and now I'm forced to use it. This is a very big step backwards.

MS has abandoned the consumer and apart from Xbox have nothing to offer them... They gave up and the consumer gave up on them... They only have the business market now and that's enough for them and their share holders... I'm not a Facebook user but suspect the vast majority of people access the 'service' using their Android or iOS device... Windows is just not relevant in the consumer space unless you are a gamer... Look at the Windows Store it is pathetic... Can't believe MS are still selling movies... I can't watch mine because there are no movies apps for iOS or Android... Woeful...

I'm pretty quick on my swipe keyboard, but when it comes to typing even a Facebook post (and definitely anything bigger like an email), if there's a computer within walking distance, I'll use Windows over my Galaxy S10. There's just no substitute for a keyboard. Plus the tiny screen even on a 6" phone is just too small for doing anything quickly. Phones are great for using on the run when there's no other option, but they are to PCs what bicycles are to jet planes -- fun and better for something things, but when you have a real trip to take, they're near useless, whether that trip is for business or pleasure.

You can still run the facebook website AS IF it were an independent app by installing it via bringing down the three dot menu in the upper-right of the new Edge browser, select apps, then select install this site as an app. It works great. If you haven't tried it already, give it a go!

Does it provide notifications and post summaries on the 'live' tile, like the app did?

It was truly a horrible embarrassment anyway.

@SDKevind "It was truly a horrible embarrassment anyway" Don't be so hard on the Microsoft Store. It isn't that bad.

I think he meant the app, not the Store. Could be wrong.

I still remember when they said they are all in for windows...

Right and has Sucked ever since

Niobe, some things do change. ~ Morpheus

Honestly Microsoft software and hardware are a mess right now. I support a few thousand windows 10 users and the Surfaces are having the most problems. Office apps are having constant issues as well. We are moving away from Microsoft products. Business and Consumer. Sad because I really believed for a few years they could build solid hardware that showcased the software.

"you can install Facebook's website as an app through the new Microsoft Edge or other browsers that allow you to install websites as apps." ...should read; "you are forced to use a non-Microsoft browser to be able to use a non-PWA version of the website to appear to be using an app like you did before." Let's not forget that Microsoft had forced 3rd-party developers to jump to the PWA wagon before it managed to make a browser capable of PWA support. It's another question that Facebook now only copies Microsoft's business startegy that it is killing its Store app before they can offer a PWA. Luckily it is not disturbing in my everyday life that this happened. It is once again only a symptom of what is disturbing me and had been disturbing me for years now.

Meh, don't really care. I've been using the Edge web app for a while now, and I'm on the new Facebook redesign. This might just mean they're gonna release a new app, but if not, the Edge web app is just fine...

Does the new website support notifications? I was using the new Edge Dev back in the Autumn and it had them for likes & comments. Then they soon stopped. When I checked my settings it says they are all enabled.

Since Facebook is no longer providing an App for windows 10 how can I download pictures from the photos app onto Facebook from my Dell laptop? Unless there is a way this may be the nail in the coffin to make me quit Facebook. Please advise if anyone reads these comments.
Windows Central Newsletter
Thank you for signing up to Windows Central. You will receive a verification email shortly.
There was a problem. Please refresh the page and try again.