Facebook Beta gains Windows Phone 8.1 integration in latest update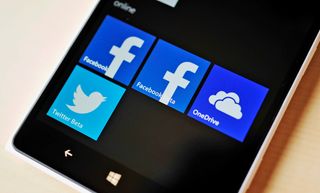 Ever since the preview for Windows Phone 8.1 went out, the Facebook beta app ironically has lagged behind the official 'stable' public version. That means while you could use the Beta app with no issues on 8.1, you were also missing the Social Extensibility framework integration, including access to your Photos Hub, Sharing and more.
Version 8.1.4.25 just went live in the Store, and we can confirm that for 8.1 users, you can now use this instead of the public app and still get those new 8.1 features.
The version number of the beta actually makes it on par with the public one (which is also at 8.1.4.25), so you probably won't see any benefit yet. Presumably, the beta app will get a few more updates on a more rapid release cycle compared to the public version, eventually delivering some new features and improvements.
Microsoft's Joe Belfiore recently mentioned that the Facebook app was due for a big update in June, with "improvements to performance, having full-width photos in the newsfeed, and seeing photos & comments at the same time".
Pick up Facebook beta for Windows Phone (and now Windows Phone 8.1) here in the Store.
Thanks, Josue A. and Rum N., for the tips!
Windows Central Newsletter
Get the best of Windows Central in your inbox, every day!
Daniel Rubino is the Editor-in-chief of Windows Central, head reviewer, podcast co-host, and analyst. He has been covering Microsoft since 2007 when this site was called WMExperts (and later Windows Phone Central). His interests include Windows, laptops, next-gen computing, and for some reason, watches. Before all this tech stuff, he worked on a Ph.D. in linguistics, watched people sleep (for medical purposes!), and ran the projectors at movie theaters because it was fun.
Yea for double posts in the people hub!!

I can download and install, but its blackout and won't let me open the app.

I was also able to download and install, but it doesn't open when I open the app. Did you unistalled the other Facebook app? UPDATE: Never mind, even with the normal app install it doesn't open. I already restarted the phone and it's still the same. It may be a small bug or something like that.

Do you have 8.1 installed, probably coz its updated for that

Uninstall the beta app and reinstall again

Also can't open after download and installation. L925

If you pin the broken Facebook app to your start screen, does it say Facebook or something else?

Does the beta also integrates on whats new section? Didnt tried yet. Maybe later.

Yes it does. Same integration like the current fb app.

I can only see twitter on my whats new section using the official one.

Twitter integrates with the What's New section without any app needed. The official app doesn't add anything to the What's New section.

Which is really odd cause they appear on that section but not on contacts tough you have option for twitter while facebook on contacts but not on whats new section

great news off topic : my first comment here . after reading so many of you . :D *gives free virtual cornetto to everyone*

Welcome our windows phone friend :)

Oh welcome to the commenting party ! ;-)
I myself made an account here after using the app regularly for 3 months :))
(sorry for being off-topic, apologies)

Hello and WELCOME to WPCentral.

Welcome to WPCentral! :) Ignore that "Why Not" troll above ;)

Does I have a transparency tile?

How DOES we know If DOES you have a transparency tile??

Not even funny. I'm pretty sure he was supposed to type 'it' instead of 'i' and your second DOES doesn't even make sense.

Download the "Transparency tiles" app.

I downloaded this app and created several transparent tiles with the. The problem is that it takes me to a black screen when ever I click on the Xbox Music app. I have to get out of the app and launch it again to make it appear. Clicking the stock tile of the music app doesn't create this problem.

The black screen is a bug that Microsoft is working to fix it.

I got double of all my pictures in the facebook hub

I hope further updates for facebook beta includes official transparent live tile support!!

Is the built in Messenger gone because of the separate app now? So annoying how it works now with the tile. Even if messages is disabled.

Touching on this... Is the Messenger app even needed if you have the latest Beta version? I still have it installed and tried getting messages and it just kinda sits there. Hmmm...

Yes it is needed for core functionality.

Can't wait for the major update

I just don't understand the difference between the regular app and the beta app. I know they both suck though... If you need social networks on the go for your work, WP8 is a no go.

I don't know the difference between the two either. They seem to be exactly the same to me. And all the same stuff was being reported into the OS in the what's new section and my contacts. Not sure where they get the idea that SEF want working in the other one

Oh, also, the FB so is awesome. Not sure what your problem is with the app

For one, instagram posts don't show in feed. You can't select certain features or posts such as relationship changes etc that are present on iOS and Android. Overall it's terrible compared to the other 2 platforms but slowly improving. Posted via the WPC App for Android!

I agree! I have a moto x and my daughter has a Lumia 520. I actually like the WP Facebook app better then my android fb app.

Beta is updated faster than normal version, you'll get new features or bug fixes. Why WP8 is a no go for social networks?

"Beta is updated faster than normal version"
Kind of ironic that the latest update to the beta version brings it up to speed with the stable version.

No, just the version numbers are the same.

Right now, the beta is the same version as the official. It will can an update sooner though (or should anyways).

the correct thing would be Windows Phone 8.1 is a no go for social networks...

Works fine on my Nokia Lumia 920.

Actually kinda getting tired of going back and forth between the production one and beta...

Finally the book is faster

Question, so the June update is the long-awaited and so-called Facebook Blue?

...And just like that, my "Me" tile has vanished.... Joy.
(edit: Turns out its fairly easy to get it back... )

Does anyone know what that connect phone to facebook does and why is the app not solving the problem with the people hub and get the facebook app thing. Also it still jumps to the store link when selecting an entry I. People hub

When you sync with the phone, It integrates with the people hub, contacts, photos and calendar.

I am talking the in app selection. My Microsoft account is synced with facebook for years now. Selecting that now did not change anything. The facebook experience still sucks with wp8.1

Nice. I can now uninstall the non beta

The most nagging problem while switching between the main and the beta version of FB was my whole contact list with profile pics getting desynchronised. Already happened once and hate to see that again :/

same here.. i had to manually sync 10 to 15 times... :/

About time, now I can uninstall the official app.

HAHAHAHAH only a WP user would say such a comment XD can't stop laughing this is so sad :p

I hope by "improvements to performance" he means complete overhaul and speeding up this god forsaken app and making it rise from the dead

Zero cares until/unless messenger app plugs back into messages like it used to. Only "integrated" feature I ever had any use for. And if they really mean this "one windows" line, bring back the integrated messenger from the windows 8.1 dev preview.

Awesome! I hated having two FB's installed. Especially when using Transparency Tiles...

Twitter Integration also got removed in the People Hub.. Does it come again with Twitter Beta?

My Twitter integration is still in the peoples hub.

But not especially integrated in my contacts

Do you mean Twitter contacts are not showing in your contact list? If so then you must be filtering them out, at the top of the list there's a shortcut link for the filter, click that and enable Twitter.

Am i the only one experiencing a black screen on my music hub?..i updated to wp8.1...

So, can we expect that the beta app will get all the "big improvements for June" early?

Installing the official "stable" public version right now.

First of all to all commentators, STOP commenting about bugs in your WP8.1 DP installed, this is an article about Facebook App, so you might missguide some other visitors. STICK to the topic here, please. Now, i am a little bit confused. When i open WP Store from my computer, on the Facebook app page it stays: Last Updated: 5/5/2014 (May) Version: 5.2.4.5 OS: Windows Phone 8 But when i open WP Store from my phone (which is Samsung ATIV S with WP8 GDR3) it says: Last Updated: 23/3/2014 (March) Version: 5.2.4.0 OS: Windows Phone 8 Does anyone else experienced this issue?

Both Facebook apps don't work properly in mobile data speed of 40kbps! It just doesn't load properly many times

Fix the damn news feed Microsoft.
No point updating the app without proper news feed.
Shows posts only from Liked pages and absolutely nothing from friends timelines or their activity.

I agree with you. I don't get why everyone has been complaining about this. It is really annoying!

A bit off topic however is there no live tile for the music app now from Microsoft?

Hurry up June for this and the 930 release

I am unable to change the profile picture in WP ? There is no option to upload profile pic like android or iOS. Everytime I want to change my profile pic , I need to upload the pic first and then select it as profile pic. It's annoying.

Click on the me tile...and change it there. I always use that.

After I updated I saw no reason to keep the beta version. Especially since the original will have a 'major' update soon.

The beta version will get the 'major' update earlier than the original one but ofc it's be 'beta'.

Do the contact pictures in the People app sync for you guys? Each FB contact shows a blank picture.

you'll have to reboot the phone after uninstalling the official and installing the beta, and resync in order for it to work.

I just wish it would get faster!

Is anyone noticing different from their news feed on the app and the computer. I keep seeing news feed related to like page and not my friends on my phone. It is really annoying.

does the new one post proper updates or are we stuck with the ugly URLs?

Facebook, twitter, instagram, path. All in beta. Esspecially path and insta. 1 year-almost and a half year and still beta.

@irsyadhhs - These aren't really 'beta' apps, since official apps exist for users. These apps are more for 'preview' purposes for upcoming features and bug fixes.

Facebook beta is not appearing in Notification settings. Dodgy.

Why is this still a beta?

Found a strange behavious when uploaded a picture and people clicked 'like', the fb notification could be "xxx likes your post" , and another line displaying "xxx likes your picture"..

So how is it? Better or still just as bad, on 8.1? Do we see a progress bar now on the action center when uploading photos?

Loving the new Facebook app...faster and much better. Great work. Keep it coming....

The beta is soooo fast. Not even a joke. It actually seems faster.

I removed the non-beta Facebook app and installed the beta. SEF doesn't seem to work. I've restarted the phone a couple of times already. After the install-uninstall. Doesn't seem to integrate. Any step in missing?

Never mind. Synced it once from the app (settings -> connect to phone -> sync now) and all was well. :)

Why is the facebook app so bad and slow to upload images in both beta and normal app on WP 8.1? Why can't I go to another app before it is finished uploading my image to facebook? That worked much better with FB intigration in People Hub in 8.0 :(

Begging your indulgences, guys. What are the differences/benefits of Facebook Beta vs. Facebook?

Doesn't integrate with my People Hub on an HTC 8S. When trying to add the FB account to my phone it says the FB is not there and launches me into the Marketplace to get the non Beta app. Sticking with the original FB app

http://www.windowsphone.com/en-gb/store/app/horoscopes-free/dfa2c39d-b5b...

Not working post updating Lumia Cyan, what the hell is wrong. im getting an "Oops, something went wrong, please check your account information" I'm entering the correct login credentials. Can anyone suggest what is the issue?