Facebook Gaming Partners will get the right to stream popular songs
The licenses cover more than 90 countries.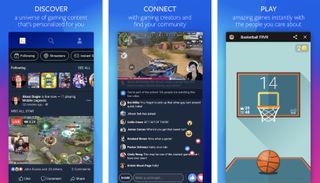 (Image credit: Facebook)
What you need to know
Facebook Gaming Partners will gain access to a large catalogue of popular music to play during their streams.
Facebook negotiated for the rights with music labels to avoid having the streams taken down for copyright issues.
Level Up creators will gain access to the feature soon.
Facebook Gaming has negotiated with major music labels to allow its top streamers to play popular music without fear of legal problems.
In a Sept. 14 blog post, Facebook global director, games partnerships Leo Olebe announced that Facebook is working with Universal Music Group, Warner Music Group, Sony Music Entertainment and other music labels, publishers, and societies to give Facebook Gaming Partners access to a vast collection of songs across genres and ranging from contemporary tunes to '80s classics. The rights agreement covers 90 countries around the world.
"Music rights are complex and hard to understand," he wrote. "Instead of suggesting you go to music law school to figure it all out, we want to make the whole process a lot easier so you can focus on being a great streamer, and not a rights specialist."
Players must make sure that gaming, rather than the music, remains the focus of the stream. They can play the background music from their own collection or any streaming service, though Facebook is working on a music integration feature.
Facebook will not say which songs are covered by this agreement but said that streamers will be notified if they play a song that got their channel muted or blocked. They'll be advised to avoid the offending track in the future, though they have the ability to take the matter up with Facebook's gaming support team.
The feature is rolling out for Facebook Gaming Partners first, but will eventually also be available to Level Up creators. Until then, those streamers can still access Facebook's Sound Collection, which includes custom music and sound effects that can be used without any restrictions.
Get the Windows Central Newsletter
All the latest news, reviews, and guides for Windows and Xbox diehards.