Facebook's dormant Places service axed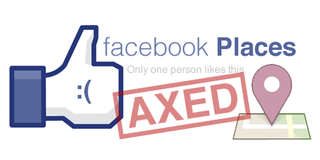 Facebook has finally killed Places, the seemingly dead check in service that's remained fairly inactive for sometime. It's available in the Facebook for Windows Phone app so what happens to users? Well, we have Foursquare of course, but if you don't use the service or another competitor there might be another option.
We recently covered Microsoft's We're In service (opens in new tab) which resembles Foursquare and this could well become an integrated answer for a large portion of WP7 owners. Unfortunately, for the time being it's only available to the U.S. and Israel.
On a personal note: my girlfriend uses Facebook Places quite a bit (only checking in), especially when she's in the UK. I've still not fully understood the concept behind letting everyone knowing where I am. If I look up nearby places I get the typical teenage act cool entries including "my bed (:", "cinema wiv sexy bf" and "sofa!!!!!". Surely we should be able to moderate entries in some way, I mean who's going to check into someone else's bed, sofa or cinema with the sexy boyfriend?
Via: Gizmodo (opens in new tab) and thanks to Ghost for the tip!
Windows Central Newsletter
Get the best of Windows Central in in your inbox, every day!
Rich Edmonds was formerly a Senior Editor of PC hardware at Windows Central, covering everything related to PC components and NAS. He's been involved in technology for more than a decade and knows a thing or two about the magic inside a PC chassis. You can follow him on Twitter at @RichEdmonds.
So if that means they have canceled the check-ins, what happens with the Mango check in feature?

The check in feature on Mango will still work as well as it always has.

Whilst at a mate's house I actually found a location called "In Bed with Alice and Benita"So I did the only thing I could, got all the guys to grab their phones and check in; friends news streams showed about 7 guys "in bed with Alice and Benita" :D

Alice:http://www.bypassfanpages.com/wp-content/uploads/2010/06/UglyGirl.jpgBenita:http://www.bypassfanpages.com/wp-content/uploads/2010/06/krisnet_r_10681...Not sure who'd want to announce that.

What the heck? just when I was starting to use it >=(

You'll still be able to use it fine. Nothing is changing in regard to how well it works in Mango or the official Facebook application.

I just checked, it's working. I used "Me" hub.EDIT: I am using it in Karachi, Pakistan.

That was unexpected.Two questions:1. What happens to the checkin option on the Mango Peoples Hub2. Could this be the reason why Mango checkin option can never create a new place to checkin and can only use existing ones?Shame really as I've just started using the service.

The check in option in the Me hub will still work perfectly, as the Places feature on the official Facebook application will.This isn't the reason you haven't been able to create a new Place using Mango. I've not heard of anyone not being able to create one before, but it could be because you aren't using the official RTM version.

That was actually my question when I emailed the guys about this. But, apparently, they not completely axing it. Just the mobile only aspect of it. I suspect the feature will still work, just not as originally expected.

"Tag Locations in PostsBefore: You could only "check in" to locations using the Places feature on a smart phone.Going Forward: Now you can add location to anything. Lots of people use Facebook to talk about where they are, have been or want to go. Now you can add location from anywhere, regardless of what device you are using, or whether it is a status update, photo or Wall post. Of course, you can always choose not to add location at all.As a part of this, we are phasing out the mobile-only Places feature. Settings associated with it are also being phased out or removed. (You can read more about how location works and settings affected here: http://www.facebook.com/about/location)"Doesn't sound like they are "axing" it. It sounds more like they are expanding it.

You are correct, this article implies wrongly, and people have also concluded wrongly after reading the article. The check in functionality in both Mango and the Windows Phone Facebook app will still work :)

This news article implies that Windows Phone check-ins will no longer work and that is completely incorrect. We will all still be able to check in using the Places feature on the Windows Phone Facebook application, and we will also still be able to check in using the 'check in' feature in the Me hub of Mango. Facebook are merely changing the way people will check in on different devices, and they are also no longer branding it 'Facebook Places'. Existing check in functionality on Windows Phone will not be affected.This article was also poorly researched: There are a few ways one can moderate Places. One can report a Place Page for incorrect information, or one can use the Places Editor to inform Facebook of any incorrect information (https://www.facebook.com/places/editor/)

President Obama just checked in at TGI Friday. Tomorrow morning news, hes found dead in the hospital.

why the f*ck would u say something like that you idiot!

Go watch Fox News or something, they hate Obama as much as you apparently do!

This article is a load of nonsense.

A load of **** Places is not being killed off, or stopped. They are simply moving it to be an option when you post a status. Much like Twitter and Google + do.So it wont effect Mango really, cause when you "check-in" to a place it asks for a status update! So at the most it will be a minor update if need be.
Windows Central Newsletter
Thank you for signing up to Windows Central. You will receive a verification email shortly.
There was a problem. Please refresh the page and try again.