FaceTime finally on the way to Android and Windows, but there's a catch
Windows and Android will finally gain support for FaceTime, but it will be through the web.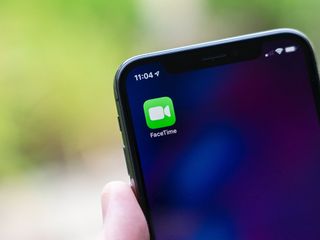 (Image credit: Windows Central)
What you need to know
FaceTime will be available on Android and Windows devices through the web.
The expansion of FaceTime could roll out alongside iOS 15, though Apple hasn't confirmed a release date.
Many FaceTime features will remain exclusive to iOS and macOS.
At WWDC, Apple announced that FaceTime is on the way to Android and Windows through the web. Facetime has been exclusive to iOS and macOS devices for years, so an expansion to other platforms will allow hundreds of millions of people to access it.
FaceTime coming to Windows and Android through the web may be the biggest news of the day about the service, but Apple also unveiled some other upcoming improvements. FaceTime will soon let you create a link of a scheduled call that you can share in advance, much like Zoom and Microsoft Teams.
Apple didn't share a release date for FaceTime on the web, but it could arrive with the release of iOS 15 this fall.
FaceTime will also gain new features in iOS 15, including a new grid option, spatial audio support, and the option to blur your background. Audio will also improve on iOS 15, thanks to a voice isolation feature. As you'd expect, it appears that the best FaceTime experience will be on Apple hardware, but it not being exclusive to iOS and macOS is a big deal.
All of these changes illustrate a shift by Apple regarding FaceTime. It's clear that FaceTime will be positioned as more of a direct competitor to Zoom and Microsoft Teams, regardless of what device someone uses.
This is a developing story, so we'll add more details as they come in.
Windows Central Newsletter
Get the best of Windows Central in in your inbox, every day!
News Writer and apps editor
Sean Endicott brings nearly a decade of experience covering Microsoft and Windows news to Windows Central. He joined our team in 2017 as an app reviewer and now heads up our day-to-day news coverage. If you have a news tip or an app to review, hit him up at sean.endicott@futurenet.com (opens in new tab).
Web only with less features. Not using it. Waste of time. Other full featured apps available.

It's not for us non-iPhone users anyway. The purpose is so iPhone users can finally Facetime family and friends who stubbornly refuse to switch platforms without having to download a different video chat app. Are we going to refuse those calls just because our side is in a browser-based client?

Just watched today's event. Nothing new in terms of UX. Most of features are already available on Android and Windows platforms.

Too late. Our family with and without iPhones use WhatsApp.

Never say that about Apple. They are always late. In terms of features, iOS is probably 5 years behind Android (see widgets and multitasking and mapping and foldables, etc.), but they *do get there* and they have a knack for dominating when they do (see Apple Watch).

They used Chrome instead of Edge in the presentation 😑

Chrome is still the market leader. Durrrr..

Honestly would you have expected anything else, not just from Apple, but from anyone really?

Edge lags alot than Chrome. I uninstalled Edge yesterday.

Maybe this can FINALLY stop being the default name for video chat for people that can't even use the service. Though I am sure they will still call whatever app they use to chat FaceTime.

I have no need for this, at all. A "talk with iPhone owners" app? Why not use one of the apps that's available for every platform, like communication apps should be? Also "FaceTime" is one of the dumbest names Apple has come with, in a long list of dumb names Apple has created. Really, it's dumb.

Who cares. The only reason is because FaceTime got pounded by Zoom, Google Meet and Teams during the pandemic. Apple is doing it for themselves. Never needed FaceTime.

I kind of love it, because it's live by the sword, die by the sword. The sword here is mindless herding. iPhone = smartphone, so FaceTime = video chat, but now Zoom = video chat, so Zoom = ... FaceTime? iPad = computer, BTW.

A non-starter. I hardly use any video conferencing apps, and when I do, I usually go with Google Meet or Teams, not with FaceTime.

Ummm, Apple doesn't know Enterprise!!!

"FaceTime coming to Windows and Android through the web may be the biggest news of the day" You forgot to add "for Americans".
Because outside the US absolutely no one gives a flying flamingo about FaceTime or iMessage. Not only are Apple users in the minority, the ones that exist have done the sensible thing and adopted universal messaging and video conferencing apps like Telegram, Signal, Skype, WhatsApp etc.

Your comment illustrates why this is a big deal. Apple users now have no reason to care what you use. They can just send you a FT link. Hell, they can start deleting those other accounts and installing those other apps once this launches. You are completely missing the point. This is not for you. This is for THEIR USERS. They are attacking the competition by cutting them off at the knees on their platforms, and this also affects macOS. Not just mobile devices.

I said before and I'll say it again, Apple and Google aren't going to rest on their laurels and will want all of that corporate pie. Microsoft's retrenchment from the consumer space specially a windows platform based mobile ecosystem was big mistake. So what if Windows Phone didn't have much traction every where. Windows phone had traction any many key markets. It's not like Microsoft has not balanced the books for a loss leader.
Bing and Surface come to mind. Had Ballmer balked at the cost of rectifying RROD as the current bean counters would have done. Then Microsoft wouldn't have a billion dollar profit generation structure infrastructure in Xbox. Let's face it everyone is jumping on the subscription bandwagon for games. Xbox has the lead all of the competition. Now the bean counters need to make more funds available to Xcloud infrastructure. As that will not only boost sales across the board - it's an effective marketing campaign for Azure's low latency capabilities. Which can then be leveraged to get more Microsoft Team activations and in turn more corporations signed up to office 365. Then these packages can be tailored, upsold etc. Or if savy enough Software assurance contracts for legacy systems and databases.

Wow, I can video call on my Android phone and PC? The future is now!

I'm going to uninstall Skype from everything and start sending FT links as soon as this launches.
Windows Central Newsletter
Thank you for signing up to Windows Central. You will receive a verification email shortly.
There was a problem. Please refresh the page and try again.