Fix your face with Facetune for Windows Phone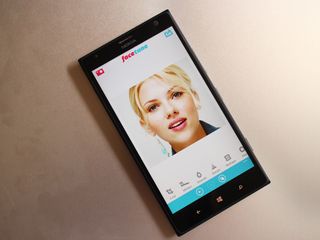 Were you born with a mug that only your momma could love? Or maybe your pores are acting up. Then you're going to love the new Facetune app for Windows Phone. It's a popular app on Android and iPhone that brings professional quality touchup to your photos. Use it to brighten your teeth, remove blemishes and more. Details and a download link can be found below.
Facetune ( Facetune.com) is a well-reviewed app in the Google Play Store and Apple App Store. It came out for Windows Phone a few days ago and can be yours today.
Here are some of the features you get with Facetune:
Perfect smiles
Beautiful skin
Penetrating eyes
Hair salon
Reshape facial structure
Vivid makeup
Photo enhancements
Mark art
Basically, you're going to use this app to get the 'perfect' selfie. With it, you can whiten and brighten your teeth, smooth your skin, change eye color, refine jaw lines, apply virtual makeup, remove grey hair and more.
This app will set you back $2.99 in the Windows Phone Store and currently lacks a trial. So we'll do a hands-on in a few days. But we wanted to let you boys and girls know that Facetune was now available for Windows Phone. In case you missed it from your iOS or Android days. Also, you'll need 1GB of RAM or more to use the app, sorry Lumia 630 owners.
Is anyone familiar with Facetune? Sound off below.
Via: WMPU
Get the Windows Central Newsletter
All the latest news, reviews, and guides for Windows and Xbox diehards.
Actually would be curious for this. If you guys do a review on it (you mentioned hands-on anyways, lol) and showcase how it works, I'd be willing to buy it. Good for LinkedIn and professional sites.

Def will do. I'll have a selfie photo shoot tomorrow.

Sweet, looking forward to it. :)

Selfie photo shoot hahah I know that feel.. Still in love with fantasia painter

Yes...Fantasia Painter is AMAZING!

It's my favorite too, I mean the Fantasia Painter. But i am just wondering, that program hasn't had an update since last year (pro and free version), so it made me wonder: 1. Was this program way ahead from all others in that time? 2. Is it that good made it, so it still beats the other photo programs today, including the original Adobe Photoshop Express. I think Fantasia Painter should have the name "Photoshop for Windows Phone" :)

Sam, start recording the video with taking the selfie and then using the Facetune and that way to make an app review. I can bet would be funny seeing you trying to take that good selfie :)

I'll purchase if its better than perfect365, after the review.

How well is this compared to Nokia glam me?...looks better though still confused..

RODNEY!!! WE'VE GOT AN APP FOR YOU!!!

The app helps to fix things. It doesn't perform miracles.

The Not 512 Supported icon could do with being red to differentiate. Maybe make the other green too. Easily spotted ;-)

I'm loving that new 512 MB RAM support banner :)

Agreed, it's a nice touch although the NO 512 support should have a red undertones while 512 support should have green undertones.

Ah so this is what Scarlett Johansson uses

Wow that's kind of surprising, this app requires 1 GB of ram. I understand some games, but this???

Its a very full on editing app, not your standard. Its like photoshop!

You must check out "Perfect365" with 512 support. @nist @jacob

If you've ever seen the amount of work needed for some faces..ahem Rodney.. Then you'd know why you'd need 1GB

I'm sorry if I offended you. Is your name Rodney?

Cool app but it works only with 1 GB ram when will release a 512ram v

"This game does not support 512 MB RAM" Do you think this is a game? -.-

Lol. You're pretty attentive to details. Didn't even read it.

How does it compare to Perfect365?

I'm so fucking handsome why I need this? HAHAHAHA lol

Did your mother told you that?

App should only force requirement to 1gb if you're really ugly

Wow!!! This is an app I've been waiting for. Best photo editing app I've used on ios, wasn't even on android last week... Impressed

Than you must be ugly as hell xD

The app is a lot better than perfect 365 in that it caters to both men and women a lot better , perfect 365 does have some great features but even more if you're a woman im a guy so some of the apps additional functionality is lost with me, I am really liking facetime

I find that most photography applications that deal with the human face do not deal well with those of us that were born with a tan ;). I wonder if this app falls in the same category.

Why would you need it? Don't you know that "black don't crack." ;-)

I guess now that there are three of these (at least), it might be time to ask for roundup reviews of: Facetune v. Nokia Glam Me v. Perfect 365.

This and Tindr go hand-in-hand.

You can edit your image all you want, but you will only be really good looking if you have the fat bank account to back it up. That said, will a future update make me rich, too?

I look good enough, but u never know :P

The "NO 512MB" sticker is a good idea. Though, perhaps as people have already suggested, make it red instead of indigo. It stands out more.

Paid app. :(
Thank God for Perfect365.

Never quite got the point of these kinds of apps. I can understand removing blemishes for a resume pic but not much outside of that.

Because the world is full of vain narcissists that's why

Ouch but not entirely untrue. It's unfortunate.

Just saw a video from a makeup artist/blogger who uses an iphone and this was her go-to photo editing app on her iphone. It is very popular over on iOS especially for the things like teeth whitening and blemishes.

I swear windows phone people are never happy. Complain about apps, gets new apps, then say this app/that app is still better blah blah.... Just embrace it people.

its not available for 620 :D

So, if a girl has an ugly face, she should just use this application. And she's going to send her modified photo to a handsome boy. He wants to meet her. No, he wants to meet the girl in the photo. Result: Lets thank God for creating us as we are.

Wish more people would learn to be happy with how they look.

So sad no 512 MB RAM support :-(

I've just bricked my phone on an attempt to fix my face :(

Pls make it free. I seriously want this app......

What the duck? Earlier games now Photo editing app needs 1gb ram. I will took my words back............. Throw this app out of the WP store...................

Pvt. Gomer Pyle approves this app.

Gonna try installing this on my 625 through a proxy hack. If my 512MB device can run Mass Effect: Infiltrator and Modern Combat: 4 then it can almost certainly run Facetune. Great app. I really missed it when I switched from my iPhone.

Please change the colour if the banner for not supported one.

Tip: Don't use this app to send pictures to people you'll meet in person, you'll only disappoint them.

Let Mark Guim do the hands on!

This GAME does not support 512 ram!Lolz for the game part!

well this gives a whole new meaning to getting your face tuned up

use " MeituPic " and its free too and even supports 512 MB Ram and supports language - English (US) only and Chinese.

This app has been removed from the app store. I reset my phone and this is one of the mobile apps i depend on and now its gone. The app "create a perfect selfie" can't compare. This truly sucks!