Fall Creators Update installed on over 5 percent of Windows 10 PCs, AdDuplex says
By Dan Thorp-Lancaster last updated
Just over a week after launch, the Fall Creators Update is off to a solid start, according to the latest numbers from AdDuplex.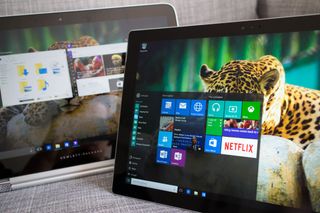 The latest monthly report on the Windows ecosystem from AdDuplex has arrived, giving us our first peek at how the Fall Creators Update rollout is going. Though the update has only been out for a week, AdDuplex reports that the Fall Creators Update is already installed on 5.3 percent of Windows 10 PCs. Though it's only based off of a week of data, the firm says the rollout is off to a "more aggressive start" than its predecessor.
As for the previous release, the Creators Update is now installed on 74.6 percent of Windows 10 PCs. That's just barely higher than the 72.5 percent coverage AdDuplex reported for the Creators Update a month ago. That's not too surprising given the that the Creators Update rollout had been slower than its predecessor, the Anniversary Update. For comparison's sake, the Anniversary Update claimed a 92 percent share of the pie when the Creators Update was released in April.
AdDuplex also provides an interesting look at the Fall Creators Update's spread among Microsoft's own Surface devices. As a whole, the rollout among Surface machines is ahead of the average, with Surface Book and Surface Pro claiming the top spots at around 20 percent coverage.
Keep in mind that AdDuplex's numbers are based on a sampling of 5,000 Windows Store apps that use its SDK. Real world figures most likely differ, but AdDuplex's reports are handy for tracking trends. The numbers for the October report were gathered on October 24. For more, including a final look at the landscape of mobile Windows OS versions, check out AdDuplex's full report.
Dan Thorp-Lancaster is the Editor in Chief for Windows Central. He began working with Windows Central as a news writer in 2014 and is obsessed with tech of all sorts. You can follow Dan on Twitter @DthorpL and Instagram @heyitsdtl. Got a hot tip? Send it to daniel.thorp-lancaster@futurenet.com.
Exactly my question... Even my old Dell got it by itself right way and I had to force the previous two after weeks.

5% is a LOT of machines. I think most people are not looking for the updates right away, or holding off for a bit.

Given the vast number of bugs in the fall creators update, I imagine people will be waiting a very long while before updating. At this current rate it may get dubbed the "failed creators update" imo, that's what happens when you sack all your dedicated programmatic testers... to rely on developers for QA and insiders for telemetry and feedback.

@techfreak1, Most are not developers but un qualified people in their basement sending feedback.

I still wonder...when the Store live tile will be repaired....since start I don't see it updating...or doing anything

All my live tiles are broken since the first release of Windows 10.

LOL, same here.... it's so sad :-(

My live tiles are ok, except for store...and of course FB but that's the fb issue since they don't update it more...another thing...why cant we have bigger live tile for FB and messenger to show more info or even people picture of who responded to message or posted to me something...they just don't care and try to earn money trough more and more advertisement...

With the plethora of bugs affecting the Surface Pro 4, you can -1 me from that list. I'm baffled that Microsoft can't even properly support their own devices.

really? I've had only a single bug with my SP4 and it was fixed with the last firmware update. What issues are you having?

After resuming from Sleep the multi-touch stops working along with the pen. Bluetooth "stutters" with both headphones and the Surface mouse, especially when opening the Start Menu. If you don't reboot once these start, the system will continue to slow and act erratically until it blue-screens. There are several mentions of these in the Feedback Hub with high upvotes. The touch/pen issue specifically has hundreds.

Actually you just mentioned Bluetooth and it reminded me of another bug, as well as an issue that isn't realy surface related. I haven't been able to sucessfully keep an Xbox controller paired to my surface. also Xbox controllers need an off button.

sleep and hibernate havn't worked reliably for me since 8.1

Same. I have to force shut off every other time

I'm ready to roll back too. For some reason I think a working touch screen on a Surface Book is important... Ridiculous.

I don't get it. The Surfaces are closed devices - there's only one configuration for them to deal with. They can grab one off the shelf and see the probelm for themselves. Very disappointed.

Update for me: Tried to roll back. It totally screwed things up. Ended up having to do a reinstall. Right now it is redownloading my docs on onedrive. Gotta admit, with the whole wiped and knowing the effort in getting it all back up, I'm inclined to just switch back to mac (I've been keeping my mac up to date with stuff so going back is easy). Really pissed about all this. Test your software MS.

Thats crazy. My dell 2 in 1 works perfect. touchscreen and everything....and MS cannot get their own devices working? wow!

Not a single issue on my SP2 and SP4 so what's not working?

I have updated my wifes dell 11 3000 2 in 1, and my son's acer S3 with no issue too. Going 4 for 4 with my ole acer 7720 this morning. See how that goes!

windows seems to be getting left behind, i'm looking a chromebook now it has play store, loads of apps

Yeah well, it is FULL of problems. Could possibly be a huge disaster for Microsoft. I'm running a clean ISO install (after several attempts at running an upgrade). Edge contantly locks up. IE crashes with Flash enabled sites., issues with Chrome unless you run with gpu disabled.

Not sure how many have a half day of free time to install it, not to mention taking up all your bandwidth. I started one at 7:30 am this morning and it took until 11:30 am. to finish.

This is what I wrote to Microsoft the other day, Am I the only one that thinks this!?:
this update is a disaster!!!
1. the most anticipated feature was files on demand for onedrive. great. neither my PC nor my SurfacePro4 got it. I had to search on Google to find out that many other people were in this situation and I had to download manually the latest version of Onedrive...
2. Cortana disappeared (on my Source only) also from the settings menu... are you kidding me??? do I have to set it up AGAIN???
3. Edge is the same disaster. I import favourites from Chrome, after a while or if I Sync with other devices, most favourites disappear.
4. the most important thing on my Surface is the virtual keyboard. with this update we have 4 step backwards:
01. to make the keyboard float I have to press 2 buttons instead of 1;
02. the anticipated swipe function doesnt work; 03. when I long press to type a number, the number appears on top left or right and it s confusing compared as before when the number appeared right on top...
04. keyboad appears each time I am on the start menu in tablet mode, sooo annoying!
I will downgrade to the previous Creator Update 1703, this is ridiculous.
And so I did, on the PC I kept 1709, on my Surface I am back to 1703.

For grins, I just installed several of the new Surface Pro drivers on my SP4. I did display, bluetooth, network and a few others that are compatible. Same problems. It would seem this is bigger than just drivers but who knows. Next time I'm buying an Asus or Lenovo; I thought buying MS would spare me from this crap.

Upgraded 3 desktops and 5 laptops. (One is an 8 year old Dell laptop). All working great. As use some for work from home this is a bonus. Was easier to install than first Creators update in August.

Love the FCU hey guys please update your device driver and firmware after FCU... any PC or notebook should have the latest version driver and BIOS

Asking the average joe to update their bios... if it's a mandatory requirement then this update fall flat on it's face before installation.

Zero problems with my Dell workstation and Surface Pro 4. How do you guys getting problems with a simple update lol.

Anything other than 100% is a failure since it's forced.

Is anyone having trouble playing Asphalt 8? The controller for the game is behaving erotic with this update of windows.

only 5%, kinda surprised...

Can't speak for surface pro 4, but no issues with my surface pro 2017. Though, I think I need to manually update onedrive

Since the update, Word opens 6+ instances on bootup...reinstalled office, no joy. MS you are ****.

Believe me, for Microsoft, 5% is actually a big number.

5% in a week is much more than Macs in 3 decades!

Yep. I just noticed my battery life is cut in 1/3. Some of the buttons in the notification center do not work either. Too good to be true I guess!

It took me several attempts over several weeks to finally get this update to install.
Windows Central Newsletter
Get the best of Windows Central in in your inbox, every day!
Thank you for signing up to Windows Central. You will receive a verification email shortly.
There was a problem. Please refresh the page and try again.