Fallout 76 'Stash' limit increases next week, bulldozer terrain manipulation coming soon (update)
Let's hope this fixes it.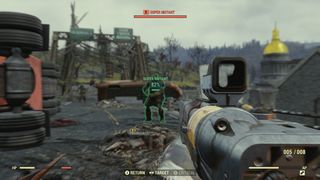 Updated December 7, 2018: The December 11 patch has been delayed on consoles to December 13. Bethesda said, "We are adjusting our patch schedule for next week's Fallout 76 update. The update will roll out for PC players on Tuesday and console players on Thursday. This is to allow further testing on consoles, where we can't hotfix unintended issues as quickly as we can on PC.
Fallout 76 is a shared-world multiplayer survival game for Xbox One, PC, and PlayStation 4. The title marks an all-new direction for Bethesda's establishing post-apocalyptic role-playing series, allowing groups of survivors to explore, build settlements, and uncover secrets of West Virginia. It's a multiplayer experience which requires you to work together and form alliances.
Bethesda has a reputation of creating unbelievably great stories, but their technical prowess is abysmal to say the least. Fallout 76 is the latest title to suffer from a host of issues at launch. Aside from the horrendous performance problems, there are server issues that need to be addressed, not to mention the broken quests. It seems like the studio is aware of all of these problems — they're hard to miss — and has promised a series of patches.
On December 4, 2018, Fallout 76 will get a new patch that increases the "Stash" limit, and improves various performance and stability issues. Plus, it also addresses balance and brings other bug fixes. Some notable changes are listed below.
Stash: The Stash size is being increased from 400 pounds to 600 pounds. According to Bethesda, "While this is somewhat conservative, we plan to increase the storage cap further once we verify that this change will not negatively impact the stability of the game."
Loot: Players should correctly receive two to three items after taking down a boss.
Cryolator: Players hit with the "Cryolator" are now "Chilled," "Frosted," or "Frozen" depending on how many times they are hit. The duration of movement speed reductions applied by these effects have also been decreased from two hours to thirty seconds.
Respawning: Overencumbered players will be able to respawn at the nearest discovered "Map Marker."
Power Armor: Fixed an issue where players got stuck in "Power Armor."
The next update after the one on December 4 is currently planned for December 11. Like previous patches, it will include a variety of bug fixes, but the team is planning on bringing some more notable changes and features to the game. Some important tweaks are listed below.
Leveling: After Level 50, you'll be able to choose between a new "Perk Card," or moving a S.P.E.C.I.A.L. point you had previously allocated.
C.A.M.P. Placement: Your C.A.M.P. will no longer be automatically blueprinted and stored if someone is occupying your location when you log into a server. Instead, you'll receive a notification that your space is occupied. If you decide to find a new home for your C.A.M.P. on that server, it will be free to do so. However, if you don't attempt to place down your C.A.M.P., you will be able to switch to a new server where that spot is vacant and your C.A.M.P. will be assembled there.
Bulldozer: This is a new C.A.M.P. feature that will allow you to remove small trees, rocks, and other obstructions so it's easier to create and place your C.A.M.P. when and where you want.
Patch Delivery: Bethesda added, "We know the size of our previous patch on November 19 was very large, and downloading it was a frustrating experience... we're working to reduce our patch sizes going forward so that you can get back into game as soon as possible.
The patch after that on December 18 will "continue focus on stability and other concerns raised by the community." It's great to see that the next patch is launching next week. Hopefully it'll fix the performance because, even on Xbox One X, the game runs very poorly. It's as if no optimization took place at all. In the coming weeks, PC players will also get basic adjusts like a field-of-view slider and push-to-talk functionality. It's a shame that the game shipped in such a state. This is by far the studio's least-polished title, and everyone played The Elder Scrolls V: Skyrim and Fallout 4 at launch.
Looking ahead, the team says that it wants to bring "new content and game systems" that add to life in West Virginia. New "Vaults" will be opening, and the game will even get a faction-based player vs. player mode. It seems that a lot of this content will be free, but there might be paid expansions down the line. The first step is to fix the broken game.
Keep an eye on WindowsCentral.com/Gaming for all the latest in Xbox and Windows 10 gaming, accessories, news, and reviews!
Get the Windows Central Newsletter
All the latest news, reviews, and guides for Windows and Xbox diehards.
Asher Madan handles gaming news for Windows Central. Before joining Windows Central in 2017, Asher worked for a number of different gaming outlets. He has a background in medical science and is passionate about all forms of entertainment, cooking, and antiquing.