Farming Simulator 17 will let you hire both men and women to work on your farm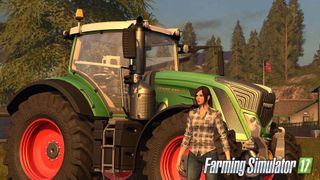 Farming Simulator 17, due out in October Xbox One and PC, will allow you to hire both male and female farmhands after vocal requests from within the game's community. The game simulates life on a farm, including working with farm machinery and vehicles.
From publisher Focus Home Interactive:
More features will be revealed for Farming Simulator 17 over the course of the year as the launch gets closer. The game will be released on October 25, 2016.
Oddly I love this franchise of games. I would really like to get a decent pedal and wheel setup for PC. My only problem is that there needs to be more automation with hired help. Like, if after harvest, you can have them also deliver to be sold, or deliver to the storage silos', or sell from the silo themselves and have some other NPC come pick it up. As it stands, having just more than a few fields auto harvesting makes it so all your really doing is spending all your time running harvests back and forth, leaving no time to even open another field.

I agree. It would be nice to become the farming king where I am in charge of about 100 workers and my focus becomes keeping them busy rather than doing the work myself accross thousands of acres.

How about illegal immigrants?

Too much realism even for a simulation game. :p

Nah, the farming states already rode them out, that's why their labor intensice crops rot on the vine.

You beat me too it. Although around here they're referred to as "seasonal labor".

About damned time. My sister is one of the toughest, hardest working farm hands there is. She can do it all, and does.

Hope there's a bikini mod for a more realistic farming experience.

To match the realistic female armour experience in action games. Armour on one's core, arms and thighs if for the weak; the men.

I don't leave the farmhouse without mine.

Will females get maternity leave if they get pregnant? I wonder if any management games deal with this scenario.

Well DUHH! Someone's got to cook and clean.

Lmao Posted via the Windows Central App for Android (Motorola Nexus 6)

17??? Who is playing these things? Posted via the Windows Central App for Android

It's referring to the year 2017. Also lots of people enjoy simulators Posted via the Windows Central App for Android

They're actually very good games. I have a 7 year old and a 4 year old, and the oldest been playing these games for 3 years now. I spend time playing it too. Sometimes it's a little boring and monotonous, but once you get a medium size farm, some bigger harvesters, and start managing the animals, the fun and complexity increase.

Boring and monotonous is what a lot of what real farming is all about. Driving tractor,, hoeing, or moving irrigation lines all day is not exciting.

The aspect of "hoeing" is what I'd be interested in. Does it have micromanaging options as opposed to GTA series?

Nice! Hopefully the women get paid less so I can hire more of them!!

Happy to hear this news. I really enjoyed Farming Simulator 15, so I'm excited to see the improvements in this year's edition.

why is that such a big deal? they could silenty add it to game but they choose "diversity" speech

It's a big deal because it's a feature that people want the game to have. The publisher would be foolish not to announce the addition of a long-awaited feature. Also, diversity is good. Appealing to more players is good. Opposing these things is illogical and harmful.

Sad to see so much misogyny and racism in the comments section. If you don't have something nice to say, just don't say it at all. Unless it's about Google, then anything goes.

+1000 Posted via the Windows Central App for Android

Most of misogynistic the comments on this story were simply joking. Only one seemed to legitimately be complaining about the inclusion of females in the game.
Windows Central Newsletter
Thank you for signing up to Windows Central. You will receive a verification email shortly.
There was a problem. Please refresh the page and try again.