How Farming Simulator Xbox One mods harvested a winning formula
By Matt Brown published
How Farming Simulator's modding and mud-spattered fields are a perfect pairing in 2019.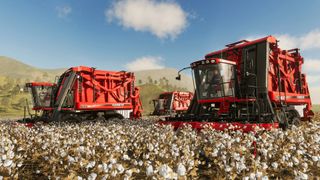 Loaded shooters and high-octane sports may steer modern gaming, but Giant Software's agricultural sandbox is a hidden gem of the simulation scene. Farming Simulator has steadily secured a passionate following, drawing diehard farmers and casual gamers with its accessible premise. The series enters 2019 as a sleeper hit, packing a deeper feature set and visuals in its newly-released installment. And yes, Farming Simulator 19 is soon headed to the mainstage, making its esports debut under the "Farming Simulator League."
Farming Simulator's growth can be attributed to many factors, but its biggest triumphs backtrack to its game modifications. Third-party tweakers have established a new lifeline for the digital farming scene, dictating a new philosophy for the studio, and forming an open platform on console and PC. We sat down with COO at Giants Software, Yann Le Tensorer, and Associate Producer, Laëtitia Sodoyer, exploring where Farming Simulator hit its stride, and where the series heads next.
Gear up
(opens in new tab)
Farming Simulator 19 for Xbox One
Fields don't farm themselves.

Farming Simulator packs the best digital agricultural sandbox yet, with deep systems and open possibilities to start and scale a farm of your dreams.
Taking mods seriously and how it changed the game
The Farming Simulator series is already revered for its portrayal of modern agriculture, packing deep systems and features for an extensive off-the-shelf simulation. Third-party modding support is now central to Giants Software's sandbox, backed by a self-sustaining community with fresh content for the game. Le Tensorer emphasizes the continued role of modding in Farming Simulator's success, amidst record-breaking adoption from players.
"There are a lot of mods, so users can create their own part of the game, then they upload it to the mod hub, and then people can download it. And we've reached half a billion mod downloads, 500 million downloads, really, really a lot. That's a lot of content created by the community. In general, the response is good. It's growing all the time. […] We don't see the end. There's always something new, there are too many ideas to make the game evolve."
"For example, we have the "Seasons" mod, which is a really great idea and we'd really like to at some point integrate this into the game," explains Sodoyer. "Sometimes we can just find ideas from the community. In the meantime, we just adopt the mod, and we have it in the game, but it's also an inspiration for us to develop."
With its latest 2019 entry now shipped, Farming Simulator has retained a tight-knit but recognized following. However, Giants Software attributes a share of franchise traction to its modding scene, far outpacing the studio's in-house content capabilities. "It's part of our identity," says Sodoyer, expanding on the community-first culture cultivated at its studio. This led to a dedicated team to support its growing pool of modders, incentivizing development for the farming sandbox.
"It's even part of our strategy," says Le Tensorer. "We master our technology, so we can give the tools out. Nobody is here to say, 'No no, you're not allowed, it's our own engine' or something like that. We can really give our engine so people can create the content, so people can make it compatible with all the software, 3DS Max, Maya, whatever you want to do. It's an open ecosystem and anyone can do something they want."
Backing its modding scene extends beyond community tools, with monetary incentives established for top Farming Simulator creators. This all comes with mods distributed for free, supporting the mod creators, while ensuring the broadest reach of creations. "We have this close relationship with modders," explains Sodoyer, "we give them money back when a mod is really successful."
"If they have 1000 downloads of their mod, we give them a bit of money, as a reward," Le Tensorer continues. "They can make a bit of money by creating mods, doing something they like." Giants Software has even hired select Farming Simulator modders as full-time developers, between its Zurich headquarters, alongside Germany and Czech Republic branch offices.
Bringing PC mods to Xbox One
After securing roots on PC, modding on console has established a key differentiator for the series. Highly-curated and polished content are fundamentals on a console, yet Farming Simulator 17 become one of few modifiable games, exploiting the shared architecture of current-generation consoles and PC. Giants Software is now among the few experimenting with full-fledged third-party console mods, alongside Bethesda and Paradox Interactive.
Microsoft is at the forefront of console mods, often giving developers increased flexibility over the PlayStation 4. While still far from commonplace, modding has injected new vitality well-beyond studio expectations. Democratizing content creation still comes with significant risk, battling with the rigorous certification process enforced on Xbox One software.
"For modding on the console, we had to explain to Microsoft that we can deliver mods of quality with security," Le Tensorer clarifies. "We proved what we have on the IT side, show that we're safe, have good servers, and have mod curation – something that is key." Giants Software cooked with a deal with Microsoft to handle curation internally, vital to making mods feasible. "All the mods are curated by us, so we can push them directly without going through some form of certification process via Microsoft, because obviously, that would be too long."
Among the first to ship mods on Xbox One with success, Giants Software has bolstered an already thriving component of Farming Simulator. Le Tensorer affirms Microsoft has remained supportive along the way, even with the early challenges at launch. "At the beginning, there's always a bit of suspicion because sometimes people think that developers can be unprofessional [...] But we're not just developers, we have a select model for our whole game, we're quite a big developer compared to some others. And we have proven we are really professional at all aspects. And quickly."
The studio's existing strong relationship with the platform holder was also key, as Sodoyer highlights. "We worked with them all along production because we have a lot of DLC, so we do [the submission process] with them all the time, so there is a trustful relationship created."
Wrapping our time with the Farming Simulator duo, the studio also touched on Microsoft's latest Xbox and PC bridge, with full mouse and keyboard support to Xbox consoles. Third-party developers with PC origins are among those onboard, and Le Tensorer believes it's an ideal pairing with Farming Simulator. "That could be really something that we can imagine, absolutely. I'm not sure it's in the pipeline right now, I'm not exactly sure of the status of this feature. It's something we have discussed and have considered. If it's going to be coming soon, but not very very soon."
The acres ahead
From its esports origins to maintaining traction, Farming Simulator has a big year ahead. With new expansions packs also on the horizon, Giants Software has some impressive challenges ahead amid its current successes. In the meantime, jump into the latest and greatest with Farming Simulator 19, priced from $40 on Xbox One, PlayStation 4, and PC.
Gear up
(opens in new tab)
Farming Simulator 19 for Xbox One
Fields don't farm themselves.

Farming Simulator packs the best digital agricultural sandbox yet, with deep systems and open possibilities to start and scale a farm of your dreams.
Matt Brown is Windows Central's Senior Games Editor, Xbox & PC, at Future. Following over seven years of professional consumer technology and gaming coverage, he's focused on the world of Microsoft's gaming efforts. You can follow him on Twitter @mattjbrown.
Windows Central Newsletter
Get the best of Windows Central in in your inbox, every day!
Thank you for signing up to Windows Central. You will receive a verification email shortly.
There was a problem. Please refresh the page and try again.