Feedback Hub now available for anyone running Windows 10 PC or Mobile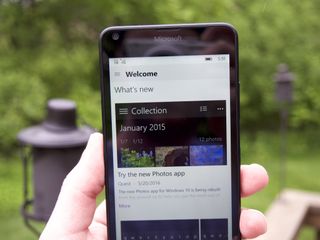 Previously only available for Windows Insiders on test builds of Windows 10, the Feedback Hub app is now available for all. First spotted by French blog TheWindose.fr, the Feedback Hub can now be downloaded by anyone running Windows 10 or Windows 10 Mobile, allowing everyone to submit feedback to the Windows team at Microsoft.
Though this does open the app up to anyone who wishes to make their voice known, it does appear that certain sections are still limited to Windows Insiders. However, if you're a non-Insider and would like to start reporting bugs or otherwise offer up your opinion on certain features, you should be able to grab the app now at the Windows Store link below.
Download Feedback Hub on the Windows Store (opens in new tab)
Windows Central Newsletter
Get the best of Windows Central in in your inbox, every day!
Dan Thorp-Lancaster is the former Editor-in-Chief of Windows Central. He began working with Windows Central, Android Central, and iMore as a news writer in 2014 and is obsessed with tech of all sorts. You can follow Dan on Twitter @DthorpL and Instagram @heyitsdtl.
Why do app download links always redirect me to Microsoft Store?

Where should it direct you???

The Windows Store. I want to download an app, not buy new hardware xD.

Something must be wrong on your end then. The links always take me to the Windows Store.

I think it has something to do with my region (Norway). I tried opening the link in an in-private tab, and it worked. Lol Microsoft needs to fix these region related issues asap.

The link in the post will take you to the online store, which is just the Microsoft Store now. It should then prompt your Store app to open.

It redirects you to microsoft store page which redirects you to the windows store just after that......just wait a second and you will see

@Antivist - I have an idea for your first bug report...

Why doesn't this come as an upgrade/update to feedback app present natively in non insider redstone release of windows? Another one of those instances where Microsoft is unable to convey the message properly. Should I use this one or the one present natively to report bugs and send feedback? How much more time Microsoft need to understand that there should be no ambiguity. No different/multiple apps for single purpose. Keep it simple Microsoft. Would wait for Microsoft to send it as an update prompt to previous feedback app for non insiders and to get rid of previous version completely.

Hopefully, they'll retire the Windows Feedback app since this new one is released.

The current TH2 feedback app is not listed in the Store and thus cannot be updated through it.

I totally agree. Posted from Windows Central for Windows 10
Using My Beastly 1520

Yeah, they should've just update the current Feedback Hub one. Though on PC where we will get Anniversary Update anyways, this isn't much of a big deal. On W10M where there are people who will stuck on TH builds, yeah I think they should just replace it. Keep it simple

What non insider release of Redstone? Are you from the future?

The first time I open it the list of announcements loads just fine but after that it just keeps loading forever. Anyone else with this issue?

Off the subject, but doesn't it seem odd that Windowscentral is not reporting on the Nokia sell?

No Posted from Windows Central for Windows 10
Using My Beastly 1520

How about the latest Q1 marketshare numbers that put WP at 0.7%?

I dare them to report the marketshare one.

It's odd that I haven't seen any WC article about that, while other sites just popping out this related news. Or we will get one but rather in editorial form maybe? Anyways, it's a small news though very bad one. The buzz related to it is starting to subside since it's been days.

What? If you mean the news that came out like 3 days ago, we covered it and moved on.

I didn't catch that article.. The one that states that Nokia will be making Android devices...

I think you miss the article.. They do cover the news Posted via the Windows Central App for Android

The Feedback section has been offline since I updated to build 14342. Else it shows "Be the first to send us feedback about this topic". Can't uninstall also. ~Sent from L830

Same for me. A hard reset seems to solve it but I'll wait till the next build.

I thought the Feedback Hub was the same as the app included in production builds. In my handset in Spanish it's called "Enviar Comentarios" (Send Comments). What's the difference between them?

I'm glad they have opened this up.

Indeed! Though it's odd why they didn't just update the existing one. Not much a big deal though when PC will have the update anyways.

The Insider Hub and Feedback are still there. I can remove the Insider Hub but not Feedback. Not sure if I should.

That's because you installed Insider Hub from the store, and Windows Feedback is a preinstalled app. I'm sure the Hub will replace the old Feedback app for the RS1 update. Windows Central for Windows 10-Nokia Lumia 830

Have they just forgotten the slow ring!

You're running the same Build as Fast Ring aren't you?? Windows Central for Windows 10-Nokia Lumia 830

When I moved from slow ring 14295 to fast ring 14342 I ended up with two "Feedback Hub" apps in my start menu. Only the first one works, but i have yet to figure out how to get rid of the second one. I am hoping this gets fixed in the next fast ring build (along with resolving the horrendous battery life issue that seems to have been introduced in 14342).

I've always had the feedback app on w10m. On my non insiders Lumia 950. I've left comments for non siders builds since the day the phone was released. I wonder if it's because I restored a back up from my Lumia 1020 which was on insiders preview in early days. I also have a 950xl on fast ring ☺

On my L950XL I already have 'Microsoft Feedback' while I never signed up for developer builds on this device (it was out of the box installed). Is feedback hub from te store any different?

Feedback Hub is basically the replacement for Windows Feedback. All Windows 10 phones come with Windows Feedback, and then Insider phones were supposed to come with an app called Insider Hub, to keep in touch with everything and complete Insider-specific tasks. After a lot of feedback, Microsoft combined Windows Feedback and the Insider Hub into Feedback Hub, and started adding new features like more advanced categories, Microsoft engineer responses, and comments. I assume the Feedback Hub will finally replace Windows Feedback for the Anniversary Update in July. Windows Central for Windows 10-Nokia Lumia 830

Ah makes sense. But for now, if I download it, I would have both apps because the feedback app cannot be uninstalled...

Basically. Windows Central for Windows 10-Nokia Lumia 830

Still not able to download.. Its says you need to upgrade windows..

lost my phone (lumia 650) today and thankfully it was at my mother in laws. before I found this out I used find my phone option which sort of work. Anyway long story short. I used "lock my phone" option which sounds like a great option. Worst case I had lost it proper I could at least let whoever finds it know to contact me. After a quick car trip to pick my phone up at the mother in laws I go my phone. Result. To my surprise no note on screen or passcode I had set when using "find my phone". In fact I'm still in shock. MY PHONE PIN CODE WAS DISABLED BY FIND MY PHONE!!!!!. Lucky I hadn't lost it proper other I would have opened the phone up to however found it. MS get in touch. Tried support to no avail. to be honest took them a while to understand what signin in pin was on window 10 mobile!!!
Windows Central Newsletter
Thank you for signing up to Windows Central. You will receive a verification email shortly.
There was a problem. Please refresh the page and try again.