Feedly RSS service crippled by ongoing DDoS attack [update]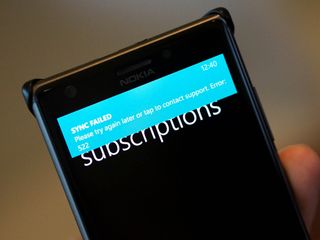 Update: It looks like Feedly was able to neutralize the DDoS attack that crippled the news reader service for hours today. "We have neutralized DDoS attack that began at 2:04am PST last night," the company wrote in a blog post, noting that "it might take a few hours for some of the 40 millions feeds we poll to be fully updated." Feedly should work now on the website and through various apps.
Original story:
RSS aggregator service Feedly has been down since early this morning. the victim of a distributed denial of service (DDoS) attack. Feedly, which has come away as one of the leading services for news junkies in the wake of the Google Reader shut down, ties into numerous third-party apps across all mobile platforms, as well as their own apps for iOS and Android, and a web client. The DDoS attack took down Feedly's service early this morning, and appears to be ongoing.
In a post on the Feedly blog, the company explained that the attack comes after an attempt to extort them for money. Feedly isn't the only service that's been struck — Evernote was taken down briefly this morning, but was able to recover within a few hours. Feedly went down at around 5:00 AM Eastern Time and as of publishing time was still more or less down.
A DDoS attack uses a network of remotely-controlled computers (often infected with and taken over by malware) to target a network or server with an overwhelming number of requests, bringing the service to its knees.
Feedly is near and dear to our hearts here at Mobile Nations, serving as most of our RSS readers of choice since Google Reader went the way of the ghost. Having Feedly down is an inconvenience, of course, but it's also emblematic of the problems that providers of internet services face — pay up or we'll burn down your house.
We'll let you know when Feedly returns (we'll be excited too), but in the meantime, how are the Feedly users out there coping?
Source: Feedly
Derek Kessler is Special Projects Manager for Mobile Nations. He's been writing about tech since 2009, has far more phones than is considered humane, still carries a torch for Palm, and got a Tesla because it was the biggest gadget he could find. You can follow him on Twitter at @derekakessler.
Due to this Nextgen Reader is down too as it uses Feedly.

Side note...Microsoft Accounts are having problems when adding a new account to a new PC. Tough day...

I shall continue to not care until they make a WP app

Use Nextgen Reader. It's really good on both Win 8.1 and WP.

...or Phonely, really nice as well. I just wish collector added feedly support, would go there in a heartbeat.

Feedly is one of the services you don't need to wait for it's official app because it'll work just like Nextgen reader.

Totally agree. I use Nextgen on my WP and Windows devices. Works great. At work (Windows 7), I use the Feedly site and it syncs perfectly with my devices. Today being an exception. Hopefully they can get back on line soon. I will have a lot of unread articles to go through!

This is sad. More details available on the exhortation perhaps?

Need my daily fix of news! Just came home and not having a good flow of stuff to read is bad!

Evernote got hit yesterday as well. Posted via Windows Phone Central App

Nextgen is hands down the best RSS app on any platform. Hope they get the DDoS under control soon. I see Cloudflare hosts feedly, I am surprised they aren't mitigating the threat since that is their claim to fame.

Nextgen does not sync since this morning. Hope feedly gets fixed soon.

Magnify doesn't seem to be syncing today. Makes sense because it uses feedly. Hope everything gets resolved

I use NewsSpot app. I have a Feedly and The Old Reader account. Not too big of a deal for me since I have a backup plan.

Pheeb isn't working as well.

Well now I know why Phonely didn't work this morning! Thanks

I have to reboot my PC each time I move my mouse an inch or more

I use Newsblur (with Metroblur on WP), which I find to be superior to Feedly.

(political statement incoming) If the NSA can't step in and arrest the people behind DDOS attacks or crypto ransoms, what good are they? If they demonstrated "beneficial" uses of their insane powers instead of just destroying democracy and civil rights all day, maybe we'd hate them less. If the truth is that with all their power they can't even find the source of these attacks, well, yeah they're useless.

"Due to this Nextgen Reader is down too as it uses Feedly."....... Yep....since early this AM (PST) :(

I was wondering why phonly was acting weird today...

Great service but it's a shame that it doesn't have official Win8/WP8 apps. I knowe "they're coming", but when, in bazzilion years?

Bark bark. The fixers are onto us.

Serves them right for not supporting Microsoft accounts.

Feedly does support MS accounts. They also have OneNote integration. Read their blog.

Yeah, they finally added this. Not sure when, but I noticed it about 6 weeks ago, maybe. That was my last tie to G****e.

As long as they don't give in and pay these criminals, I am fine with waiting for Feedly to come back online.

Last night was working again (for a Little bit), but now is down again
Windows Central Newsletter
Thank you for signing up to Windows Central. You will receive a verification email shortly.
There was a problem. Please refresh the page and try again.