Fhotolens updated again, gets SkyDrive support and more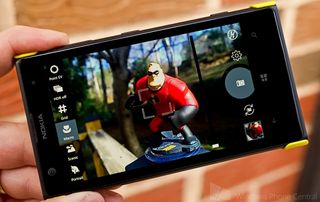 It feels like it was just yesterday that we reported on an update for the Windows Phone photography app Fhotolens. Well, the developer is at it again. Another update just hit the Windows Phone Store for Fhotolens and another one is in the works.
For those not familiar, Fhotolens is a Windows Phone camera app with a virtual 10-24mm lens and HDR capture capabilities. The latest update takes Fhotolens to version 1.3 and most notably adds SkyDrive support and sharing options to the growing list of features.
The SkyDrive and Sharing options can be found when you review your most recently captured image (tap the little thumbnail that appears in the bottom right corner). A series of control buttons will line the bottom of the screen that will allow you to:
Pull up another photo from your Windows Phone Pictures Hub to compare against the image just captured
Set your image to Fhotolens's Live Tile
Edit the image in Fhotoroom
Share your image via NFC, email, SMS, apps such as 6tag, etc.
Upload your image to your SkyDrive account
Along with a few minor bug fixes, additional changes with the version 1.3 update include:
Fast app loading
Faster image capturing
Point EV bugs fixed
It is our understanding that a version 1.4 update is almost complete and should be submitted for certification shortly. Version 1.4 will increase the load and capture speeds of Fhotolens even further and fine-tune existing features such as tap to focus.
Fhotolens is a fun photography app for Windows Phone that gives you a creative tool for your camera. It is nice to see how proactive the development team is to improve Fhotolens. My wish list for the version 1.5 update would have HDR settings added to let you adjust things a little.
Fhotolens does have a trial version and is available for both Windows Phone 8 and 7.x devices. The full version will run you $1.49 and you can find Fhotolens here (opens in new tab) in the Windows Phone Store.
Windows Central Newsletter
Get the best of Windows Central in in your inbox, every day!
George is the Reviews Editor at Windows Central, concentrating on Windows 10 PC and Mobile apps. He's been a supporter of the platform since the days of Windows CE and uses his current Windows 10 Mobile phone daily to keep up with life and enjoy a game during down time.
So many of these apps and I can't keep up with them lol. I'm not sure if I used this one yet but I am a download whore so I will give it a shot haha

We really need to be able to save apps to the storage card. I have only 4gb left on my 1520, and 48.52 left on my Storage card..
I only plan to add 10gb more music to the card, so all the other space is wasted.. They need to make it to where we can pick and choose witch apps go on the card.. We need a proper file system like in Windows Mobile... Please tell me we're getting a file manager in WP8.1!!!! please❕❕❕❕

We are. You're not. Sorry Rodney.

I can't figure it out.. Am I special❔

In a short bus kinda way.

You're on a roll tonight.. Me and your mom are having a lot of lol's tonight off your comments..
Hey NIST.. How old are you anyways❔❔❔❔ Unrelated question..

Definitely agreeing... This app is going on my wish list until I can save apps to my 32gb SD on my 8S... At the moment I'm rolling on single megabytes!

Speaking of wish list.. That's exactly what we need in the Store.. We need a section that we can save apps in for purchasing latter.. A quarantine, or add to cart, or favorite's section, so we can come back later and download apps that we find... For example, all the apps that we hear about here on WPC aren't always remembered, or you might not have sufficient storage space, or even funds to immediately buy the app, but it's annoying not being able to go back to newly discovered apps in a flash... Good idea?

I was reading and the only reason why Samsung makes windows phones is because they use patents Microsoft owns and that's the deal for them to use those patents.

I can believe that... But, if that's true then MS is giving away rights for next to nothing.. Who's getting the short end of the stick with that deal❔

Yeah pretty much since Samsung uses those patents in the galaxy/note line of there phones.

And, they can't even make some exclusive WP hardware... Lol.. At least HTC made some for MS.. Whatever happened to that?..
Microsoft got scroogled by Samsung.. Lol❕❕

HTC is just about done as a company.

If they change gears and start focusing primarily on WP then they would have a fighting chance.. But, they would have to do as much as Nokia does, maybe more, to support the platform, and their devices.. Mark my word.. Microkia will have some serious competition one day soon against Lumia devices.. Nobody gets to own over 90% of a single market forever without someone eventually giving them some serious competition.. This is something we can look forward to.. Its either going to be HTC, Sony, LG, or Samsung.. In that order...

No they wouldn't. HTC could put out the ultimate W8P device and Nokia fan boys would dog it. Just read any comments from a HTC or Samsung article on here. I've had a 920 (Rogers), 925 and a ATIV S (TELUS) on Tmo. My ATIV S is way better to me. The Samsung battery last about 5 times as long. Perfect size. I just love it. The only thing I miss is the Nokia glance clock.

Who cares if Nokia fans doged the device.. That's besides the point.. HTC has never done as much as Nokia has for their devices, and WP.. I'm talking about HTC actually competing with Nokia, or MS.. What you're talking about is the past, and what has already been done, and failed... Actually competing with Microkia would be to do equal, or better, than what the Lumia line has to offer... Nobody has done that yet, but it can, and will be, done one day.. It's just a matter of who's smart enough to take advantage of second in the WP market..

Doesn't have a work on Windows Phone 7.x, its not avaiable.

At&t saying 1020 only available for $99.00. Anybody else see it for $49.00?

I wish as an original purchaser,of Fhotoroom on WP7 I would get this app,for free as it adds some of the camera functions from the WP7 ver that was missing on the WP8 ver. I wonder why they separated it into another app? I'm not sure if i would use it over Pro Cam and Pro Shot. HDR is the biggest differentiater but i cant seem to get a non-blurry image with it.
Windows Central Newsletter
Thank you for signing up to Windows Central. You will receive a verification email shortly.
There was a problem. Please refresh the page and try again.