Fhotoroom gets an updated, adds in-app store and new editing tools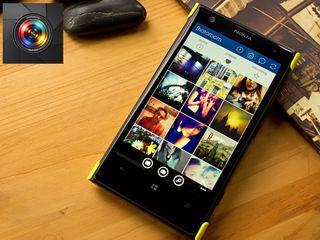 Fhotoroom is a popular Windows Phone photography app that is part social network, part photo editor and part camera app. Fhotoroom can be used as a standalone app or you can register to share your photos with other Fhotoroom members. The Fhotoroom photo editor covers the basics, filters, and frame while the camera app offers you a decent amount of control over the Windows Phone camera.
The Windows Phone 8 version of Fhotoroom was recently updated to version 11, which has a healthy change log. The most notable additions with the update include an in-app store with free and paid for filters and a few new editing tools.
The official change log for the version 11 update includes the following features.
Over 40 new Icons throughout the app
Live Preview of filters in presets
Filters are now grouped into categories
New Fhotoroom store with new free/paid filters
Light Leaks supports flip horizontally or vertically
Textures supports flip horizontally or vertically
Updated Color Corrections, replaced Clarity with Tint fine-tuned balance
Updated Sharpen for Blur and Clarity Sharpening
New Highlights and Shadows Filter
New HQ Grundge Frames
Updated Tilt Shift filter for better quality results
Camera Tap to Focus in landscape fixed
New Undo/Redo support
The update also adds a new splash screen and the traditional minor bug fixes and tweaks. All in all, the update spruces up the overall feel of Fhotoroom and gives the editor a little more meat on the bones.
Fhotoroom is a free app, available for both Windows Phone 8 and 7.x devices. Just keep in mind that this update only applies to the Windows Phone 8 version of the app.
You can find Fhotoroom here in the Windows Phone Store. There is also a Windows 8 version of Fhotoroom that you can find here in the Windows Store (opens in new tab).
George is the Reviews Editor at Windows Central, concentrating on Windows 10 PC and Mobile apps. He's been a supporter of the platform since the days of Windows CE and uses his current Windows 10 Mobile phone daily to keep up with life and enjoy a game during down time.
Isnt the heading incorrect?

This app is truly amazing. Kudos to developer(s).

thank you so much a lot of time was taken just listening and talking to users.

Just to be clear, all the filters that were FREE before are still FREE the 4 new paid filter collections are completely NEW and are very laser focused filters designed for different photography conditions and styles. We even brought back the Grundge Frame but in HQ and they are free. In this update you loss nothing only gain but things have move around a bit to allow you to make fhotoroom even more personal.

I'm really impressed by how Fhotoroom has improved over the years. When I first tried it on Windows Phone 7 it was already a pretty impressive app. But nowadays it's a fully featured app that works as my personal standout of photography apps on the platform =) Keep it on! I'll have to buy some of those new filters to support you guys now =D

ty Anchelspain, those filter are very special and each took a very long to create. To illustrate the Ansel Collection looked at how Ansel Adams processed his photos as he worked on particular styles of black white. The Glacier filter looked at his work during his visit to McDonald Lake, Glacier National Park and the Forest was a close look at his work during his visit to Grand Teton National Park. So you see each and every single one of those filters has had a lot of thought put into them rather than just an excerise of offering a wide selection of presets of different setting values.

Wow...I really have to try these now! Love the work you guys are doing. 90% of my pics on my lumia 1020 are edited with fhotoroom. I hope maintaining a 41mp resolution output after editing is somewhere in your plans in the near future. I am still a little unsure when I am using the straightening tool in the app. Personally I would like the grids to be a lot smaller. This way, I could use any point in my pic as a reference point while straightening. Otherwise it is just trial and error...over and over again! Hope you can look into that. Rest is perfect!

wow. you should include this trivia information somewhere in the app. Amazing work! I owe half my instagram likes to your app.

Then let me say that every single filter has it's source, Tsar and Tsaritsa are names of Russian Royalty and the birth place of Lomo but technically France does have a minor connection in it's earliest of days. Velvia X comes from the 1990's FugiFilm Film made very popular by landscape artists as it brought out brighter and more color accurate results. I just thought this stuff bored ppl so i never talked about it.

This actually shows how much passion is put into everything. But I can see how everyone may not be interested in the names...but for some of us...it is interesting. I think it would be very helpful to new users if you uploaded a tutorial / link of tutorial. I have been using your app for quite sometime but still have not got a hang of the 'classic vogue' and 'hue splash' tools :|

Very cool to know that others find it interesting, my passion for all things photography both technical and artist is definitely in fhotoroom. I do tend to post video tutorials but they get old, the tech move faster then the tutorials. I do apologize for that. Let me use this moment to let you know how to use those 2 filters. - Hue Splash is like Color Splash but instead of being based on a region it is based on a specific Hue and all it various Tones. Hue is the color and Tone is the different shades of that color. All the users has to do is tap or drag their finger around the photo to select the color say the blue sky and leave all the rest alone. A user once did this filter on a flower garden and isolate each set of flower colors. The invert lets you decide how to isolate the Hue and it's Tones. - Classic Vogue was my original film filter that dates back more than 4 years for me. It is a stepping stone filter to produce beauitful film effects. Try this: Step 1: Classic Vogue Red: 100, leave all other colors alone. Step 2: Exposure Brightness: 32, White Point 186. Step 3: Fade: 25 This will give you a beautiful film effect and you can optionally desaturate your photo if necessary. I hope that helps and i will try and write more.

I realize this is for iOS but the filter is identical. http://www.youtube.com/watch?v=1Jfji0yCSns

Do you have a website or blog for fhotoroom app tips and tricks? I would like some advice from fellow fhotoroom app users on how to use the editing tools, filters and effects more effectively. Love your App. Thanks!

Our blog is blog.fhotoroom.com and our site fhotoroom.com, but i would encourage you to feel free to ask or even do a search for specific filters like #classicvogue which will surface photo where the photographer shared their recipe.


Thanks a lot! That was really helpful of you. The 'hash tag' search is great.

I love it. I bought all the filters and frame. :)
Windows Central Newsletter
Thank you for signing up to Windows Central. You will receive a verification email shortly.
There was a problem. Please refresh the page and try again.