FIFA 15 now available for digital preorder on Xbox One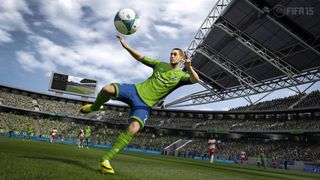 FIFA 15 is coming out in less than two weeks on the 23rd of this month. Can't wait to play? Great, because you can now preorder and preload FIFA 15 to your Xbox One.
Head to the Xbox Games Store and you'll be able to grab the standard edition of FIFA 15 and the Ultimate Team Edition. By digitally pre-ordering and pre-loading FIFA, you'll be able to play the moment it's digitally available in your region.
Check out our hands-on gameplay above from the FIFA 15 demo, also now available on the Xbox One.
FIFA 15 can be yours for $59.99, while the Ultimate Team Edition goes for $69.99. With the Ultimate Team Edition you get access to the adidas All Star Team, the adidas Predator boot collection, three new goal celebrations and more unlockable content.
Are you going to be playing FIFA 15 in a few weeks?
Windows Central Newsletter
Get the best of Windows Central in in your inbox, every day!
Maybe not in two weeks, but definitely before the end of this year :D

Will play for 6 hours 5 days prior to launch

Already did, enjoying the demo for now

Great! FIFA way much better than PES

Graphic wise PES looks better than ever but play wise still needs a lot of work, physics still sucks.

Have you seen what the grass looks like in pes? And graphics in pes look SO fake! They look better if you don't know who the players are. If you actually know what they look like, you'll see.

Playing the demo at this moment, i think im gonna preorder, i like it and imo it feels diferent from the 14 version, :D im going to subscribe to ea Access to get that 10% off and (as the guy above me) play the game 5 days early yaaiii!! :P lol y like football ;)

Can we please not turn this into one of those stupid debates again? How about football/soccer?

No. Just football :@ !!!!!

The ultimate team edition too? SWEET! Curious, what does this offer that the disc doesn't? Does it have EA early access? Do I get all the codes that I would get in the physical version, like the paper stuff? (Like for FIFA 14, we put in a code to activate Legends) Should I cancel my disc pre-order and get it digitally instead?

If it's like the Destiny preorder, you purchase a bundle that has the game plus all the little extra items you usually get codes for on paper. Then it downloads, and once they get to 100% they all wait in Queued until launch, at which point you get a notification saying that they're ready.

Is it a seperate download?

Each item is a separate download, just like they were on previous gen with the redeemable codes. However because you pre-order a package rather than the actual game, all the DLC pre-redeemed for you. You see the 'package' in your 'Ready to download' area, and when opening it you can either download items individually or just use the 'Install All' option.

So in the UT edition case, I will have to install the legends and other stuff that would be codes in the physical copy seperately, but it's all in the ready to download area?

Yep most likely the UT feature will be DLC. Technically it is separate, but because you have the Install All button you don't have to worry about it.

Early access is available to all EA Access users, you don't even need to buy the game. The idea is that you try before you buy

I just got the email regarding this and it said the downloadable demo allows you to play 8 different teams but the one I downloaded and the one Mark Guim reviewed a couple days ago went straight to a Liverpool Man City match. Anyone been able to demo the other teams? Email also stated EA Access memebers can download it 5 days before release free for a limited time. Sweet cause I must say I'm not impressed with the demo so far and will trial it before I buy. It's like they've tried to make it over-real and over-natural and movements seem un-real and un-natural in the end. I may just need to get used it but hopefully playing full version for a few days will change my mind.

Finish Liverpool vs Manchester City game and you'll have access to those teams and 2 Ultimate Teams also

You actually don't have to finish it, you can just press the menu button and end the match. :)

I don't understand why my friends like Pro Evolution Soccer better than FIFA!

Some think PES is like more entertaining for playing against others but graphics and playing experience it's better on FIFA. On the other hand PES doesn't even have the actual names of Premier League teams.

Because it plays a better game of football. :) I also prefer PES over FIFA. I've tried the demo, it's good, but I'm waiting for the PES demo before I can make any statements for this years' iterations.

I really love digital preorders!

I agree... On the 360 I had 90% discs but I have 17 games on the One and no disc... EA Access is a lovely bonus to...

Do we get this 5 days early with EA Access?

Still think FIFA World Cup 2002 was the best FIFA ever.

My first FIFA was '98 with blur - song 2 as a main soundtrack, but that doesn't mean I'm gonna play that shit right now

To be honest, I just played the Fifa 15 Demo and didn't like it: Lots of bugs, players movements very strange and in some cases the graphics of 14 looks better than 15. Very disappointed...

notifications no working, this is ocurring a very people en latam

Forums in wpc app broken... Sorry off topic but being reported elsewhere, Nokia 930 Last flagship to carry nokia branding with 730/830 last of all models to. Windows phone name also axed. So Lumia by Microsoft mobile running Windows it is from October onwards. Thoughts?

There's a new opera mini beta update btw

Meh im waiting for the evil within far more interesting :)

Opera mini updated again..,

Did it fixed the crashes?

Don't know!! Have not tried it after the update..

Yup!! Fixed on Lumia 520. But still html 5 missing

EA are really milking the series, I must say...

Still I don't know if I should buy it right now with 10% off or wait (maybe 3/4 months) for it going into EA Access'vault....but they'll never tell us when they will add it :-\

I want. I really want. But those damn games are so expensive...
Windows Central Newsletter
Thank you for signing up to Windows Central. You will receive a verification email shortly.
There was a problem. Please refresh the page and try again.