Find nearly all the answers to a question in 94% for Windows Phone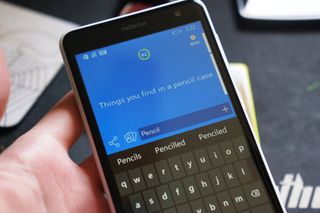 6studios has released a new title, called 94%. The game asks you various questions in which you are tasked by finding 94 percent of the answers. When asked questions like "something you eat with your hands?" you'll need to rely on what comes to mind first.
There are hundreds of questions available, based on not only words, but expressions and images too. You'll need to reach that 94% mark to win the round, of which there are many to go through. Should you happen to get stuck, the special Joker is available to lend a hand, for a fee.
We recommend you give the game a try and see how you get on.
Download 94% for Windows Phone (Free)
Rich Edmonds is Senior Editor of PC hardware at Windows Central, covering everything related to PC components and NAS. He's been involved in technology for more than a decade and knows a thing or two about the magic inside a PC chassis. You can follow him over on Twitter at @RichEdmonds.
That title is very confusing. I had to read it 3 times to figure out what it was talking about lol

...and I have never touched the WC live tile so excited, seeing that 94(...) http://i.imgur.com/Z6jnMrR.png *sigh*

Damn, always network error shown even I'm under full strong wifi support in WP central app, what are you doing MS.

Why are you blaming it on MS? It's WC's app or server that has the problem, i think.

It's Microsoft's fault. Everything is Microsoft's fault. Microsoft caused the 1930s depression.

Bah. Can't argue with haters. Because they never listen. Good luck with your hatred bro :)

He was being sarcastic. But seriously, Microsoft's got nothin to do with Windows Central app network error...

I believe its MS' fault, most apps give me a "connection error" message every now and then even when I have a full internet connection. Even IE does that to me, there's just something wrong with the WP network hardware or something. Its something I noticed about WP when i jumped ship & bought a 730

Honestly, i myself is using a lumia 730 but got no errors like you do. Only in WC app. If you are experiencing that on other apps, then contact the dev for that app. It git nothing to do with MS. Your device might also be faulty.

Could be any of the possibilities really

I had some problem with the Store in the morning but nothing like you said did I face, so far.

Recently, there was an internet breakdown, most probably caused by TM (Telekom Malaysia and Level 3 or something) it has also affected users across the globe.

It's Rudy Huyn's 6Studio, not 6Studios.

C'est sympa de te voir ici ! Le jeu est excellent mais malheureusement, il n'y a aucune mention de Windows Phone sur scimob.com. Si tu pouvais les solliciter à ce sujet, ça serait top.

Parfait ! Toute la communauté te remercie. Et continue à nous surprendre avec de nouvelles applis ! ;)

Article says it's from 6Studio, but it looks like it's Scimob. I'll give it a try either way

Yeah, I'm willing to give most any WP original a shot.

I don't think this is a WP original. Is available for IOS and Android as well.

Maybe 6studio developed the game for scimob.

I guess it's possible, but Scimob (http://www.scimob.com) seems to have several games on iOS and Android and is likely capable of making it themselves. Even if Rudy developed it for them, Scmobi should get the credit since they own the rights to it and it's published under their name.

(very cool) Game created & managed by Scimob and developed by my company/me.

Good to know. Thanks! Probably should be a mention of Scimob in the article, though.

They have another two apps as well. 94 seconds and 94 degrees.

Sounds like solo version of family feud. Could be fun.

Beautiful app, well done!

Another game that is not available here in Brazil.
I'm trying to contact the devs by months! :(

Mude seu país para EUA e baixe o jogo. Depois pode voltar pra Brasil. Just change your country to USA and download. After you can go back to Brazil.

Is SCIMOB and 6Studio same???

Scimob is the company owning these games (94%, 94 degree, 94 seconds). 6studio is my company, we worked with Scimob to develop these cool games on Windows Phone. Same relation than Cyber Dust, Dropbox, etc... for example

Brilliant apps. Had such fun.

Excellent game. Highly recommend
Windows Central Newsletter
Thank you for signing up to Windows Central. You will receive a verification email shortly.
There was a problem. Please refresh the page and try again.