Firmware updates available for original Surface Pro - fixes Touch and Type Cover issues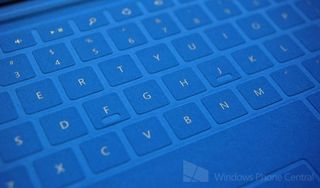 If you are the proud (or disappointed) owner of a first generation Microsoft Surface Pro, then you might want to check Windows Update for a new firmware updates that are available today. The new updates for the Surface Pro improve compatibility with the second generation Type and Touch Covers.
The new firmware updates, numbered 1.0.279.0 and 1.0.280.0, fix issues in which the newer Covers being used on the first generation Surface Pro caused stability issues. There should be no more worry about inaccurate typing or less than perfect touchpads after you load up the latest patches.
If you don't feel like waiting for Windows to automatically grab the update for you, feel free to grab it yourself via the Windows Updated. To do so, simply open the Charms Bar [WIN+C], select "Settings", select "Change PC Settings", and then select "Windows Update".
Let us know if any of the firmware updates have fixed issues for yours Surface Pro and Microsoft's high-tech keyboard covers.
Source: Microsoft
Slightly off-topic but a question for the (first gen) Surface RT owners who've upgraded to W8.1 RT. How's your standby battery life (not when you're actively using it)? Mine sucks. If I put it to sleep overnight, I'm lucky if it powers up in the morning. Horrible!

I'm seeing the same thing as you...the battery seems to drain more quickly now when in sleep mode.

Yes! I swear everytime I just close it and come back it has a flat battery!

I don't have any battery issue even on standby.

I'm not experiencing this issue.

Try turning on Bluetooth and see if that fixes it for you. In 8.1 preview that's what Microsoft said to do. Maybe that problem remains in official 8.1

Mine I notice only when I have my touch cover plugged in... Makes no sense to me. Kind of a shame, because it's annoying taking off the cover every time I want to just let it sit.

Mine's great, pretty much no power consumption.

I'm experiencing same issue on my surface pro 2.

Yes I definitely have this issue. And I hate the way it handles low battery, it turns off instead of a going into a inactive standby state which resumes once you charge it

If anyone updated Surface RT from 8.1 Preview to 8.1 RTM, the wireless adapter power policy wasn't migrated. Instead, the power policy is set to a default value that consumes more power both during use and in the connected standby state. FIX - 1 - Press WindowsKey + X, click Command Prompt (Admin). 2 - Paste this and press <enter>: powercfg -setdcvalueindex SCHEME_CURRENT 19cbb8fa-5279-450e-9fac-8a3d5fedd0c1 12bbebe6-58d6-4636-95bb-3217ef867c1a 3 3 - Then paste this and <enter>: powercfg -setactive scheme_current Then battery life will slightly trickle down when in standby state.

+1 for this solution, I came across it too when Googling this problem. Standby battery now seems better than it was with Window 8.

I can't thank you enough, this fixed it for me!!

After Microsoft's recent record with firmware updates, I think I'll wait a few days...

Same here; the past year has been a disaster when it comes to MS updates, never had so many update issues with Windows 7 and Windows 8 as I did in the past 12 months.

Not seeing that issue but bought mine 8.1 preinstalled

This is also an issue with the Surface 2 (RT). If you own both a type and touch cover, the latest firmware caused the device to not recognize one or the other - usually the one you don't have in use at the time of the update. I did a system "refresh" (renamed restore) and re ran the updates and that seemed to somewhat fix the problem. The Type Cover 2 can be a bit iffy at times, but it does work. The BlueTooth is also a bit flaky since the update. Sad to say, but.... We need ANOTHER update.

Does anyone notice heavy battery drain with the Surface RT and the original touch cover in standby

Check and see if Bluetooth is off if so turn on and see if that fixes

Not Surface RT, but on Surface 2 w/ Type Cover 2. If I hit the Power button to manually lock, close the Type Cover 2, put it in my bag, it'll be dead by the morning. Not sure if it's the cover that's causing it to wake and stay awake or what. Aggrivating for sure.

"high-tech keyboard covers"? Well, after having to replace my Surface RT after only 6 months, also my Type Cover 1 had to be sent back to Microsoft because the keyboard simply stopped working.
I wouldn't consider any recent Microsoft-hardware "high" at any stage. I would consider it low. low-durability, low-quality...etc etc. If I hadn't bought it directly from Microsoft, I would think I was buying from Samsung...

I know its so horrible that a few bad apples make it past Quality check. They should fire them all just to make you happy ;)

Gee, what an awesome coincidence... two defective products sold to the same person, in the same package. Or maybe it's just the quality that sucks. Yeah. I'm going with option two. From personal experience. Also...they don't need to fire anyone. They just need a decent quality control. And higher quality standards.

Oh don't get all worked up we all know you think the surface sucks as you tell us in every post.

Do you ever post about anything else?

Update for Nokia Lumia 2520 as well!

I'm very happy with my Surface Pro (first Gen). We are starting to deploy the Pro 2's at work and are getting some positive feedback!

Good news. Is your work running standard Windows 8 or an Enterprise version? Any legacy desktop applications?

We are doing the same we have just over 50 in the field now, I don't think I've heard a negative comment. No failures yet either. Plenty of legacy apps.

Also off topic, but my wife spilled an entier glass of cherry Koolaid on my Type Cover 1. I thought it would never work again. I then proceeded to run the entire thing under the faucet with soap and everything for a few minutes. After drying it overnight under a lamp, it worked in the morning. The only issue was with the clicking on the mouse pad. It sticks a tiny bit. Impressed that it pulled through. I also got a Type Cover 2 on my Surface Pro 1, and it has been working flawlessly. Havent had any stability issues. Just noticed lately my Pro has been shutting itself off when I close the cover for long periods of time. It should be going to sleep .I should not loose all my open apps and programs should I? But this all started bck when I had Type Cover 1 still....

I have had that too. I thought it was just me. But yeah randomly the surface turns off when it should just be going to sleep.

I would only be disappointed if I didn't know what I was buying. I love my surface!

Having a minor issue with the Type Cover 2 on my Surface Pro 2, where the trackpad is recognized as a normal mouse after the tablet goes to sleep, so it loses inertial scrolling and all gestures. Can be fixed by just plugging the keyboard out and back in, which is pretty easy so it's not a huge deal.

I have had zero issues with my surface pro 1.

Any news about the firmware update for Surface Pro 2?

Someone please buy my surface rt.... Before I give it to my dog as a dinner table.

Looks like the firmware is only for Windows 8.0.

ok, it's monthly update now, I see several updates available for my Surface RT as well.

Just switched to Type Cover 2 and I think the touchpad is worse than on Touch Cover 1. It lags when moving windows (multitouch gesture) and can't tap pad to grab window and move which works great on Touch Cover 1. A bit disappointed.
Windows Central Newsletter
Get the best of Windows Central in in your inbox, every day!
Thank you for signing up to Windows Central. You will receive a verification email shortly.
There was a problem. Please refresh the page and try again.