The first episode of Minecraft: Story Mode is out for PC, Xbox One and Xbox 360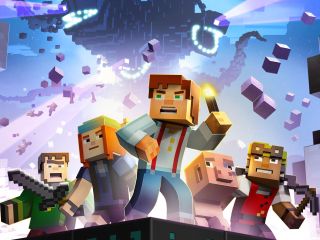 One of the most popular games in the world, the sandbox game Minecraft, finally has a spin-off title. Developers Mojang and Telltale Games have released the first episode of Minecraft: Story Mode for the PC, Xbox One and Xbox 360 for $4.99.
The game offers up a narrative set in the blocky and retro-graphics world of Minecraft. The first part of the five-part series features an impressive voice cast, including Patton Oswalt, Paul Reubens and more. Here's a quick description:
You can also go ahead and purchase access to all five episodes now for $24.99 online. There's also a Season Pass retail disc version that can be purchased for $29.99 for Xbox One and Xbox 360 platforms that will be shipped on October 27.
Pre-order Minecraft: Story Mode Season Pass disc at Amazon / $29.99 (opens in new tab)
I think MS should ship windows 10 with Minecraft preinstalled.

Eh, I don't know if that's the best idea. They invested a ton in it. They need to make sure they see their investment do well, and giving it away isn't really the best way to do that.

Never give away free what people are already buying in droves.

Funny coming from you Posted via the Windows Central App for Android because it's superior to the Windows Phone one

Why is that funny coming from me?

Minecraft will be very popular when HoloLens is more mature, and can be sold to consumer gaming market, at that point, giving Minecraft for free will be a bad idea since many gamers will probably want to pay $100 for Hololens Minecraft.

Just go this, so far amazing!

Is it? I've been curious about it. My inital hope was it was going to be an addon to Minecraft that adds a story and still allows you to free build and stuff like that. I'm guiessing this isn't anything like that though. I might have to youtube some videos, I'm sure there will be a million by tomorrow lol.

Well to be honest it is a really good game as a standalone but Its nothing like Minecraft at all and is basically an excuse, in my option to make money. However it is really well made with a - so far - exciting story and good voice acting. :)

So it sounds like it's just a Telltale game with Minecraft "lore" and art style then. I can get behind that. Won't be a day one buy (too many other games and toys I want) but It will make it's way into my library most likely.

The first telltale game I got was the Game of Thrones series - The disappointing thing for me was that the choices didn't seem to necessarily change much - Not the actual outcome of each episode at least. I still want to get the remaining episodes for that, but the ones I played seemed to only have a single ending

Why can't I get it from the Windows Store? C'mon...

Yeah, would love to have it as a universal app :P

why exactly, can you elaborate?, some games like Star Wars Battlefront require high specs so you will never see them on phones,tablets or standard PCs, only on PC with discrete graphics or game consoles. Universal apps are good for mobile games, not for high end AAA games.

You realize other telltale games are on IOS?

I've never played games from Telltale and I don't have an iOS device, but I'll look out. I'm convinced that mobile games are 10 years behind console games, so we shall see about this minecraft story mode. Thanks for the heads up.

And don't forget Android.
If that doesn't say anything than you don't understand. Posted via the Windows Central App for Android because it's superior to the Windows Phone one

Windows Store with Xbox achievements please. :(

Windows store or Steam or Blizzard, or Origin, who cares? Windows 10 is so great you can have multiple game download clients which let you play a wide range of games. That's why I think a PC is better than a Game console.

Because Telltale doesn't want to have anything to do with Microsoft's efforts, be it on desktop or phone.

I thought it was announced for Windows 10. Definitely it was on the Xbox News Wire intimating an Xbox for Windows 10 release, bit it wouldn't surprise me if that doesn't come to fruition. I wish this deal had started before Microsoft bought Mojang. The results probably would've been more friendly.

Im sure this game was in sale in steam this last weekend.

I think it officially came out last night.

Thanks, I'm checking tonight if its available for me.

Is this available to download for PC in Mexico? I'm at work right now and my company is blocking access to telltallegames, I hope I can get this game from Steam

Buying this for my kids. But, I'm probably more excited to show them. The gift of giving.

After being let down by Microsoft Studios regarding D4, which I bought a year ago and am still waiting for Season 2 to release, I will never buy another episodic game again until all seasons are completely released.

That's good but it's telltale. Can't wait to download it when it comes to iOS and Android unfortunately never windows Phone Posted via the Windows Central App for Android because it's superior to the Windows Phone one
Windows Central Newsletter
Thank you for signing up to Windows Central. You will receive a verification email shortly.
There was a problem. Please refresh the page and try again.