Here's a look at Halo 5: Forge PC multiplayer running on Windows 10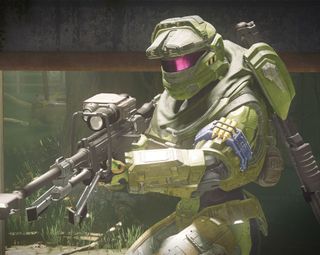 The first footage of the upcoming Halo 5: Forge map editor for Windows 10 has been released. The clips show how the maps look in 4K resolution, along with a glimpse of Halo 5 multiplayer on the PC.
One of the videos, as posted on GameSpot's YouTube channel shows how Halo 5: Guardians' multiplayer maps like Molten, Coliseum and Plaza look at the higher 4K resolution that's possible with the Halo 5: Forge map editor on Windows 10.
The second clip shows gameplay on the new Mercy map while playing Halo 5: Forge on the PC. Mercy will be one of the new additions for the upcoming Anvil's Legacy update, which will be released both for Halo 5: Forge as well as Halo 5: Guardians for the Xbox One. You might be able to notice that the UI in the game has been made for a mouse and keyboard, so that players can quickly adjust settings like look sensitivity. The game can also be played on standard controllers as well.
Halo 5: Forge will be released for free in the Windows Store on September 8. Late last week, Microsoft revealed the system requirements needed to run Halo 5: Forge on a PC in minimal, recommended and ultra settings.
Windows Central Newsletter
Get the best of Windows Central in in your inbox, every day!
I guess it looks good, I'll have to watch it elsewhere because video playback is so horrible on the WC app.

I'm surprised to see that more people aren't excited about Halo 5 multiplayer coming to Windows 10.

Isn't the full multiplayer experience though. Posted via the Windows Central App for Android

Wonder if we are able to cross-play with those using controller.

No, cross play isn't coming to Windows 10 Forge. You can build and share maps between X1 and PC, but you can only play custom games with other PC users: https://www.halowaypoint.com/en-us/news/a-whole-new-level

What are the minimum specs ?

Right in the article. http://www.windowscentral.com/halo-5-forge-map-editor-will-need-some-dec...

Check out @OscarRMejia's Tweet: https://twitter.com/OscarRMejia/status/770349490817478656?s=09 (halo forge link) Posted via the Windows Central App for Android

Fun fun I don't make make

What's the gameplay differentiator for people to want to play this? I mean, what makes it different from other fps mp games with people running and shooting others?

The weapons, the sounds, the graphics, cool suits, the way the game feels, controls... You know, if you like it.

If you haven't played any of the Halo games, then you won't understand. If you have played, then you don't need any explanation.

Uhm? This game plays way more then a call of duty then any halo before. Haha they literally went with gameplay changes to keep up with modern games. Which ****** the hame uo big time in my opinion. Gameplay wise this aint a halo anymore Posted via the Windows Central App for Android

Since nobody else will give you an answer... Halo 5 (like 1,2, and 3 before it) is an arena shooter , therefore it is unique in a few ways: 1. Even starts - Everybody starts with the same wepons and abilities, everything else is picked up on the map. There are no loadouts or kill streaks. Gaining more powerful weapons/abilities is all about strategy and timing. 2. Longer time to kill - Because of the energy-shield mechanic, Halo allows for players to get a kill even if they did not see their opponent first. 3. Balanced sandbox - 343i has done an excellent job of providing a plethora of different weapons that have strengths and weaknesses depending on the situation. I also love H5 because it feels great to play. All of the mechanics seem to be very well implemented, and moving to other FPS games feels like a downgrade after a session of slaying.

Mercy new map?? It's literally a rehased halo 4 map lol. Heaven it was called. Recycling old maps wont save 343 from themselves ruining the franchise xD Posted via the Windows Central App for Android
Windows Central Newsletter
Thank you for signing up to Windows Central. You will receive a verification email shortly.
There was a problem. Please refresh the page and try again.