Editor's desk: First impressions of the AT&T Samsung Focus 2
Samsung is back in...white...with the Focus 2 on AT&T. What do I think of it after a few hours? Let's find out.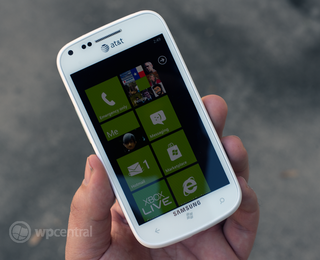 For many of us, the original Samsung Focus (review) was our first foray into the Windows Phone world. And truth be told, it was an excellent experience. With it's 4" Super AMOLED screen, slick design, light body and decent (for the time) camera, the Samsung Focus set the precedent. Recent numbers also reflect that status with upwards of 90% of AT&Ts first generation Windows Phone being the Focus.
Today, AT&T and Samsung have released the Focus 2, a moderate update to the original design (check out today's unboxing video). Eschewing glossy black for the new hip white, dropping in a faster 1.4GHz CPU and adding 4G LTE are the most notable changes. Adding a more rounded design with some updated sensors and cameras are the more under-the-hood type differences.
So how does it stack up in the first few hours I've been toying with it? For $50 on contract or $399 off, the Focus 2 is a nimble little guy that has certainly caught my attention.
The feel of the device is really good in the hands albeit a touch slippery. The roundness of the device, while slick, makes it a joy to hold and at 4" for the screen size, it's a more natural fit. The chrome accent adds a touch of class and while the device is very plastic, it doesn't feel cheap. The buttons have an interesting layout with the volume keys to the left, power and camera to the right. While odd, it does make it less confusing than the Lumia 900's where they are all lumped together on the same side. Travel of the keys is good and they're tactile with no rattle.
The Super AMOLED screen is really brilliant but obviously not as good as the Lumia 900's. Still, it holds its own and it's great to look at while not getting to grimy.
Audio quality is moderate with very little distortion when maxed out. It's a touch tinny but not by much.
The camera is surprisingly good even at 5MP, in fact forgetting the loss of resolution, it's as good if not better than the Nokia Lumia 900's. While it doesn't really contain any advanced settings e.g. no anti-shake or panorama, photos are well detailed and pleasing to the eye. We do however recommend turning up sharpness and contrast a smidge more to make the most of it.
Any extras worth reporting on? No, not really. There are the advanced GPS settings (GLONASS) and Samsung's "extra settings" present but other than that it has the same wallpapers as other Samsung Windows Phones and their regular cheesy ringtones.
Overall though, we're impressed and like the Focus 2 a ton. It feels great in the hand, is fun to use and makes a solid addition to AT&T's lineup. I'm going to have little problem adding it to my repertoire of Windows Phones.
Check after the break for a few more pics of the device and a couple camera samples (compared to the Lumia 900)...
Out in the sun, both phones perform admirably well with the 900 slightly edging out the Focus 2
Camera sample - Focus 2 (Left) and Nokia Lumia 900 (Right)
Camera sample - Focus 2 (Left) and Nokia Lumia 900 (Right)
Macro camera sample - Focus 2 (Left) and Nokia Lumia 900 (Right)
Windows Central Newsletter
Get the best of Windows Central in in your inbox, every day!
Daniel Rubino is the Editor-in-chief of Windows Central, head reviewer, podcast co-host, and analyst. He has been covering Microsoft since 2007 when this site was called WMExperts (and later Windows Phone Central). His interests include Windows, laptops, next-gen computing, and for some reason, watches. Before all this tech stuff, he worked on a Ph.D. in linguistics, watched people sleep (for medical purposes!), and ran the projectors at movie theaters because it was fun.
"volume keys to the left, power and camera to the left." lol

"it's doesn't feel very cheap".. Not being rude, just a suggestion, but type on word first, then copy and paste to the website :) Helps the site look very professional.

That is the one design I wish Nokia had also did, the button layout. I'm so used to my Omnia 7 layout, that I'm still trying to adjust to the L900.

I love the button layout on the 900! Couldn't have it any other way after this way. When I grab my Radar it doesn't feel right. My 900 though, having all the buttons on the one side, feels completely natural. Hope they keep it this way for future Nokia phones.

How is the button setup on the Radar, never got a chance to use it. I'm sure in time I will get used to the L900 setup. Just was so easy to have two buttons on one side and that volume rocker on the other side and not have to really look to see if I pressing the correct button.

It had all buttons on the same side as the 900, save for the power/awake button on top. That's what always threw me of about most WP's, was the button up top.

Focus is a good phone but I never liked the button layout. Often accidentally turn phone off when adjusting volume. Others taking picture with it for me confuse the camera button and power, end up turning it off.
Nokia's layout is much better. Personally, I think the power button is best on top of phone, to the right. But Nokia's buttons all on one side is pretty good looking.

I think the off contract price is too high...$279-299 would've been fair.

Nice Review
left some question on the thread I started this morning
http://forums.wpcentral.com/focus-2/

ok, so maybe I missed this.. but is there really a statue of an xbl avatar somewhere? first time I saw this on the site, thought it was just digitally added-in, but now it's there in photo samples?!

We answered that the last time ;-) http://www.wpcentral.com/follow-bringing-your-xbox-live-avatar-life

ah, I see. guess i missed that, pretty cool. the images though made your figure look huge, thought it was a statue or something..?!
(p.s. just used the in-comment links feature of the app v2.2 for the first time, awesome!!)

It's called FigurePrints you can also get your avatar on Fathead wall art and T-Shirts and other items.
http://www.xbox.com/en-US/Live/unleash


Anyone else think the focus takes nicer pictures, with the exception of vibrancy?

To me the focus snaps look fuller and more like that taken on a real camera. Though I guess it's quite a subjective thing.

My initial impression is yeah, Focus 2 takes better pics. They're a tiny bit dull on default but if you up the saturation, they look nice. The Focus 2 also tends to overexpose slightly. We'll do a separate "versus" camera shootout in a couple of days where you guys can decide.

You r so right. If u look at the bike picture, the "ribs" on the engine are clearer on focus2 pics.

AFAIK, since Nokia N8, Nokia has started doing less software artifical processing,meaning not doing over-brightening or over saturating images, which do look better, but do not always resemble the actual subject closely. Nokia tries to present pictures to try to portray the subject as closely as possible. Hence, several of Nokia's shots look dull when placed next to over saturated, over brightened pictures of another camera phone. It's human tendency to like brighter colors, though they may not be the actual representation. Though there may be other folks who prefer more "real" pictures.
That doesn't mean that there is no room for improvement. I am sure, they will improve the camera with future updates, but may still not be as good as Titan II, but good enough.

The camera appears to blow away the 900 to me.

ANY Windows Phone camera blows away the 900. My Radar takes much better pics than my 900, by far.

Not really. Took amazing pics with my 900. Amazing outside. Ok inside. So so in low light. Sometimes need to use flash.

That is very subjective because I have the Lumia 900, the Radar and HD7 and have taken several shot with all three phones both in Low light and in well lighted settings and the Lumia in both settings blows the others away. I do admit to the fact that Nokia could have done better with their Carl Zeiss optics on the Lumia than this but the camera on the Lumia 900 is that bad.

It's subjective. To me, the F2 pics appear over saturated and brighter than the actual real subject. Only Daniel can testify that, who took the pics.
I believe,since he said, pump the saturation a bit and they "look" better, I am guessing,that he means that pics looking pleasing to the eyes due to extra brightness, but the real subject was not as bright as in pics, which Nokia tries to capture.
It's a different philosophy that Nokia is following here, I believe.

Would you say hart those with a Focus S should probably stick with it instead of moving to a Focus 2 unless they need LTE?

Damn it does hurt me that the camera pics from the Focus 2 look better than my Lumia. Do you think there might be a software update to help the Lumia take better pics or is it hardware with the lens? Find that odd considering "Carl Zeiss" optics but there is no way this phones camera should should not take stellar pics compared to the Focus 2.

They just announced a few days ago there would be an advanced camera app from Nokia. But a firmware update is anybody's guess.

I've read other posts where some thought this phone was 'fat' but it really doesn't look like it to me; I've seen the video review at PhoneArena as well, and it seems like a decent size. Phonearena also does a balanced video comparison of the HTC Titan II vs. Lumia 900i, so I'm anxious to see if they do a comparison as well. Definitely, having choices in color, size, and price, helps WP. I just hope that the Focus 2 doesn't have to deal with the update issues that some of the original Focus owners did.

What does this max out on memory? 16gb I assume?

Only 8gb like the Focus Flash
if you need more then get the 900 which has 16gb or titan 2.

Drop the extra 50 and get the 900

Sounds like a no-brainer to me:)

Good idea. But lots will say the 900 sucks. It rocks.

Wow, how did the photos come out better than the Lumia 900? That's pretty impressive.

I personally think the lumia looks better I feel the focus is over saturated but maybe I am a little biased lol

Saturation is adjustable though and you can easily turn it down on the Focus 2. What I look for is sharpness,detail, accurate focusing, white balance and exposure. For most of those, the Focus 2 out performs the 800/900. But the Focus 2 does over-expose a bit. During a bright sunny day, both cameras will perform just a well and the 800/900 will have that extra 3MP of data which is better for cropping. The Focus 2 camera is average or slightly above average, it's nothing amazing. This is more about how bad the 800/900 camera is though--when the bar is set so low, it's easy for "lesser" phones to catch up, at least in regards to this one specific area.

Daniel can u please tell me what ios , meter centering ,etc what all the camera features mean on windows phone so I can get the best out of my photos please

We did that a few weeks ago already: http://www.wpcentral.com/understanding-your-windows-phone-camera

THat handset looks like the perfect size to me. Great job Samsung.
L900 and Titan 2 just feel to large to me. With this having a 4 inch screen and stilll being the size of most 3.7.
I LOVE IT.
The light up buttons are cool to.
Finnally Win Phone 7 gettin gloads of great designs.

Though I like typing and gaming on a 4.7" device, this really does feel perfect in the hand and to carry around. It's a nice design.

Give me a 16gb option (or 32) and this would be my phone. I really don't get the hype around the 900. Maybe it was the demo unit I tried, but I found the display of the 900 to be sub-par, it seemed grainy and choppy during movement. Also, the USB should be on the bottom as it is the focus 2. Back to the focus 2, its really a shame that I can't expand the storage, why would I buy a phone that has less memory than my current focus?

True I wished the new focus didn't have the wierd back and Samsung should of stayed with the grooved back as the focus 1 had the 3 touch buttons light up super bright I like that alot I'm just glad Samsung brought the shape back

See I knew my Samsung took better detailed pics but it also depends on the settings and lighting

Well I actually feel that the colors are MORE vibrant on the Lumia's than on the Focus'... However everything else seems nicer on the Focus. I am interested to see how the photo shoot goes when it is posted! I think that if I owned both phones, I would prefer taking pictures on the Focus, then just editing them with something akin to the HTC photo enhancer app that I have on my Trophy... Which I think does a nice job brightening my photos when I need it.

Boy I wish I had posted this up further where I meant it to be posted >_
Windows Central Newsletter
Thank you for signing up to Windows Central. You will receive a verification email shortly.
There was a problem. Please refresh the page and try again.